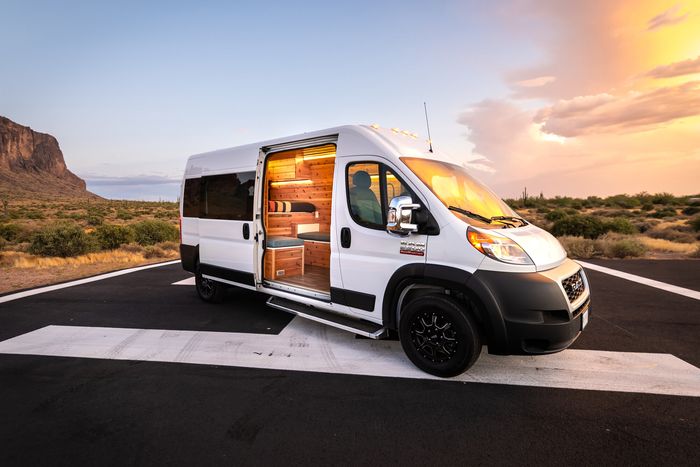 Phoenix-based Boho Camper Vans converts Promaster High Roofs into livable camper vans with well-lit wood interiors.
Photo: Courtesy of Boho Camper Vans
This story was originally published by Curbed before it joined New York Magazine. You can visit the Curbed archive at archive.curbed.com to read all stories published before October 2020.
If Instagram has anything to say about it, #VanLife isn't going anywhere any time soon. And that's fine by us, especially because we can't get enough of all things camper-related. Love campers and trailers? Come join our community group.
However, if camper vans have any drawbacks compared to teardrop trailers, vintage campers, or your run-of-the-mill travel trailers, it's the fact that they can be expensive. Custom conversion companies are rolling out gorgeous rigs, but some of them cost over $200,000 and vans by industry heavyweights like Airstream and Winnebago both cost over $130,000. That's out of reach for most customers and may seem downright ridiculous to some.
Fortunately, there's a new class of camper companies looking to deliver the van life experience but at a fraction of the cost. You'll have to sacrifice a few things — like dreams of a 4x4 Mercedes Sprinter — but these five companies show that you can have a sweet camper van for under $70,000 — van and conversion included. This is van life on a budget.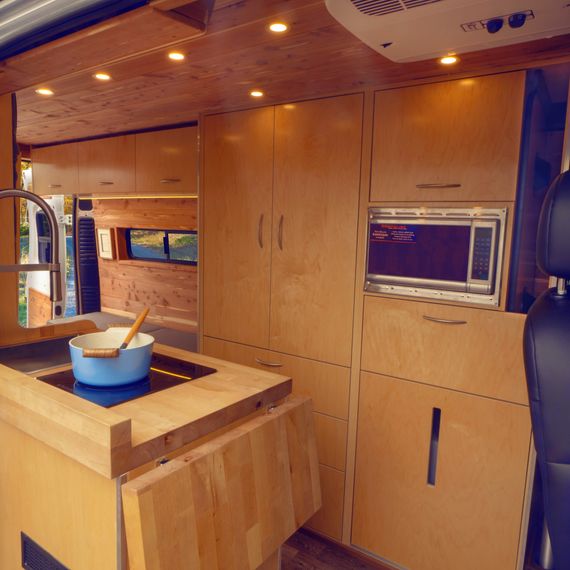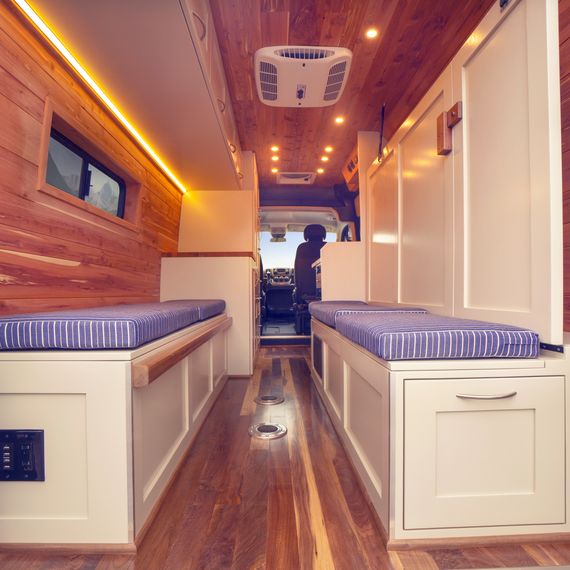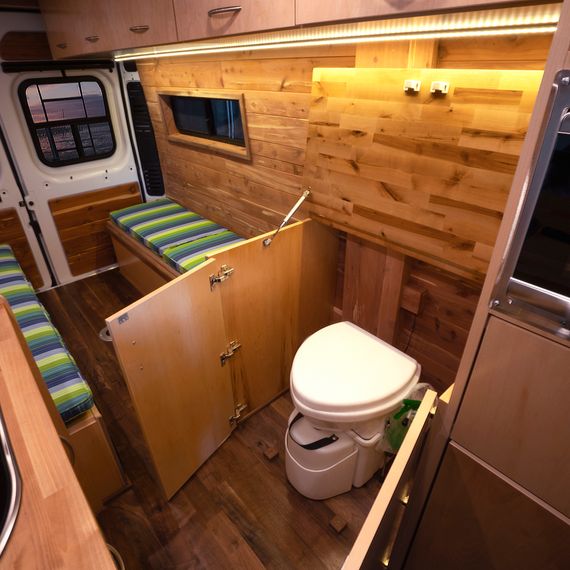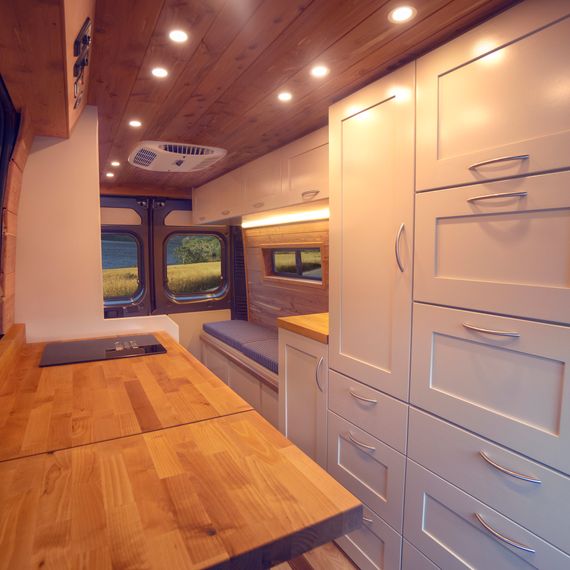 Cost: With 2020 Ram Promasters starting around $30,000 before options, the cost of a brand new van with Off Grid Adventure runs from about $67,000 to $70,000.
Key Features: We know $70,000 may not seem affordable to most, but Off Grid Adventure Vans aims to produce a more environmentally sustainable, budget-conscious van, and these vans are much cheaper than most conversion van companies.
The company offers four different layouts. The Rambler — which costs $36,500 for the buildout — is their most popular layout on the 159-inch Ram Promaster. In this model a full-size Murphy bed sleeps two and folds up when not in use. In its place are two long bench seats with a removable table in between for working or dining. Overhead cabinets and built-in cabinetry provide storage, while a galley kitchen includes a refrigerator, butcher block countertop, stove, and sink. Interested? Head over here to read about their other layouts.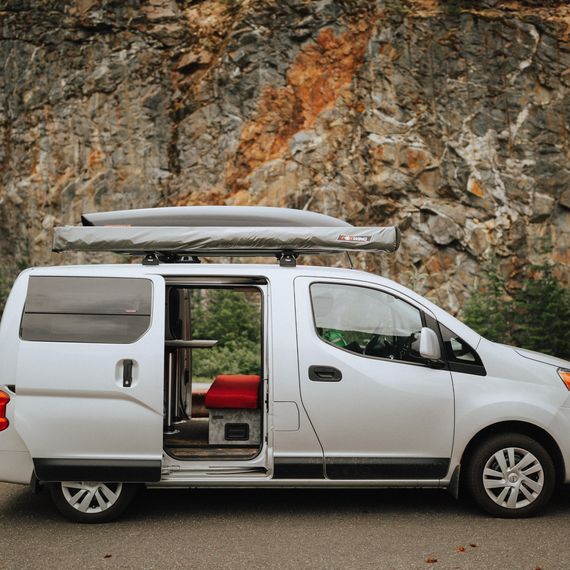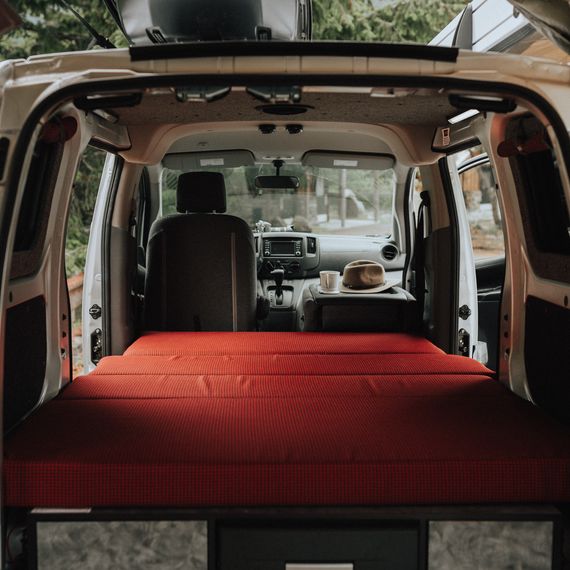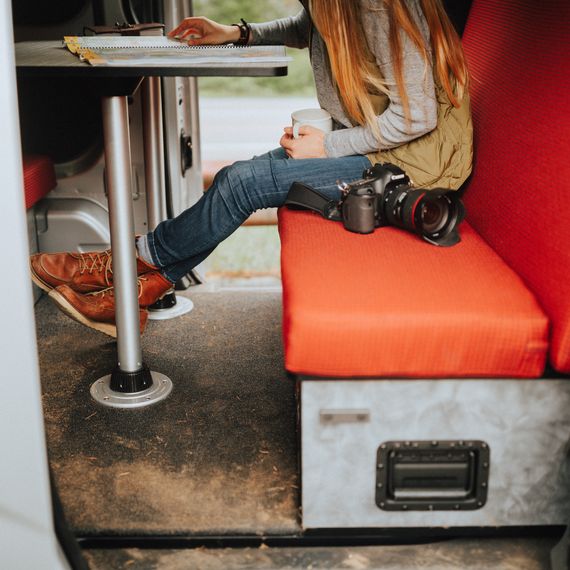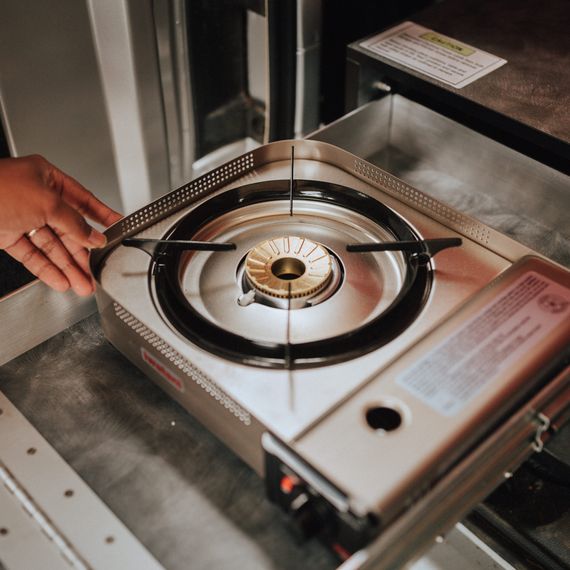 Cost: Starting at $38,100 for van and conversion
Key Features: Built on the Nissan NV200 cargo van, the Free Bird uses a convenient slide-rail system that makes switching from camper van to cargo hauler a cinch. The slide-and-glide system allows all of the components to be installed or removed in about two minutes.
The main cabin is a series of boxes that hold everything you need to camp. The kitchen is accessed from the rear in a slide-out kitchen box; it consists of a portable butane stove and two storage drawers. Another large storage box behind the front two seats houses a deep cycle auxiliary battery that powers the dimmable LED lighting, two USB power ports, and the 31-quart fridge. Head over here for more info.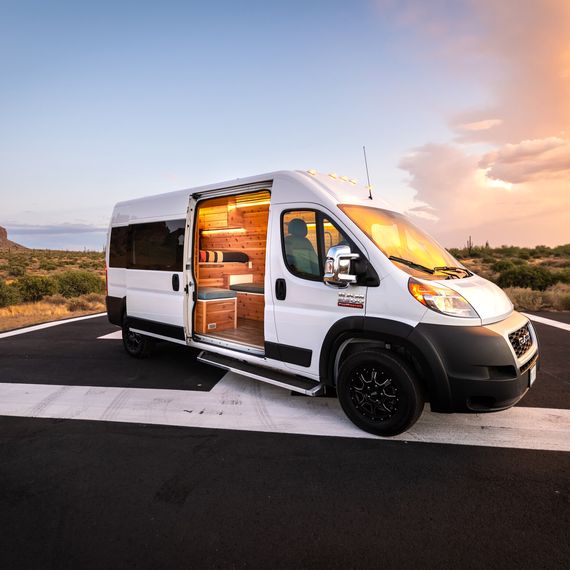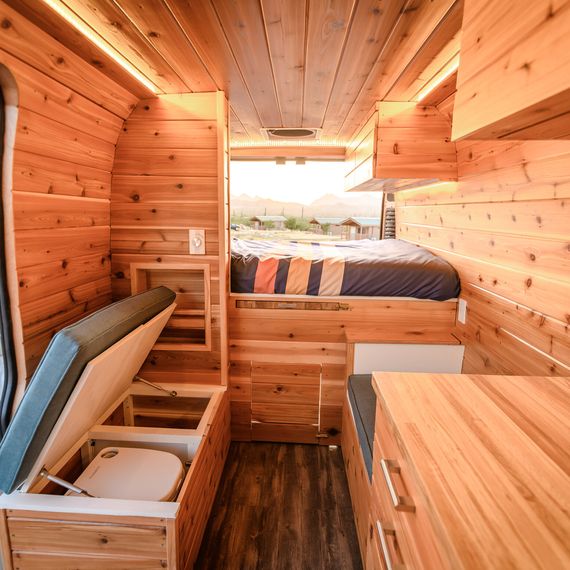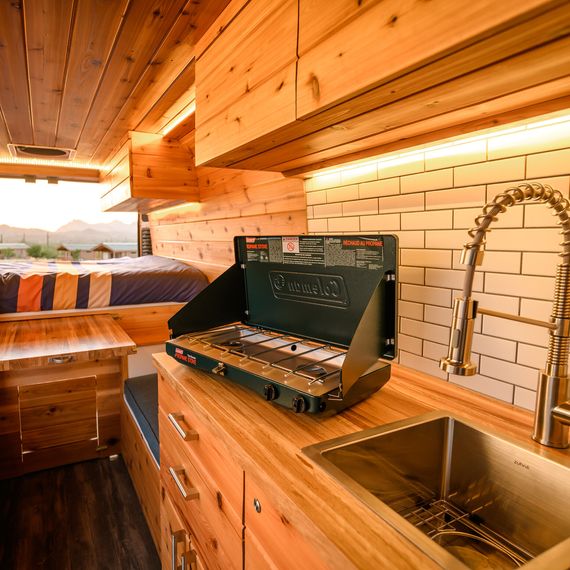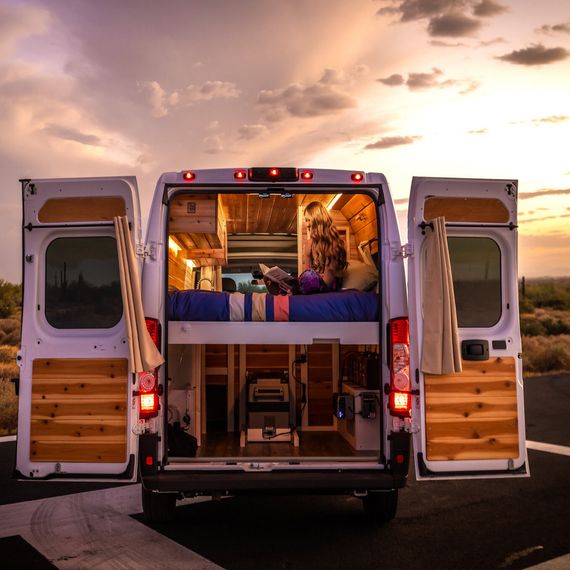 Cost: The price of the buildout is $36,500, and vans will cost between $30,000-$37,000.
Key Features: Founded as a camper van rental company, Phoenix-based Boho Camper Vans has worked with different types of vans — like this one-ton commercial passenger van — to outfit them with a streamlined and downright Instagrammable look. With their vans in demand due to coronavirus, Boho Camper Vans have focused all production on the Boho Tall, with wood-focused interiors on a RAM 2500 High Roof 159. Each build out includes 340 watts of solar, an electric dual zone fridge, a portable toilet, and storage cabinets. The bed is located in the rear with a garage below, and there's a small pull-out table in the sitting area. While the floorplan comes stock, you can customize the tile, floor color, interior base paint color, stain options, bedding, and curtains.
Find out more details, this way, and see examples of their builds here and here.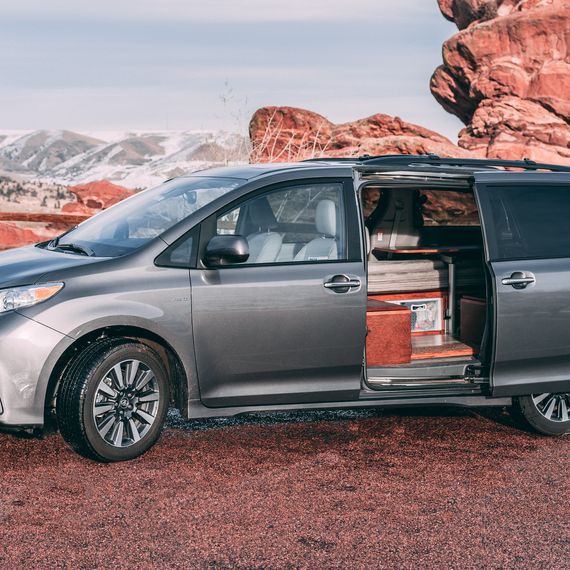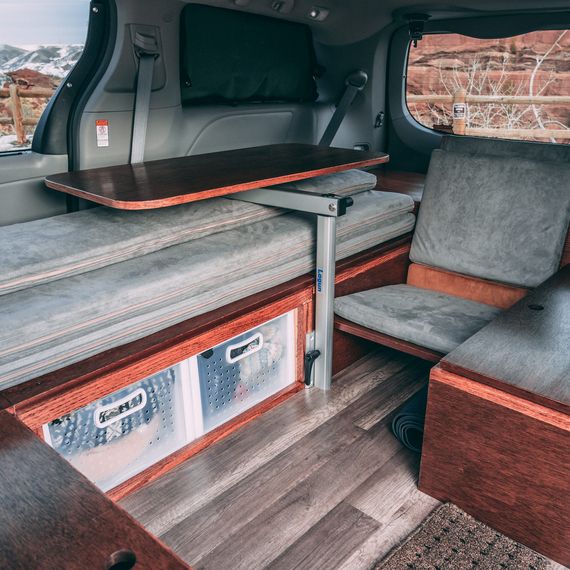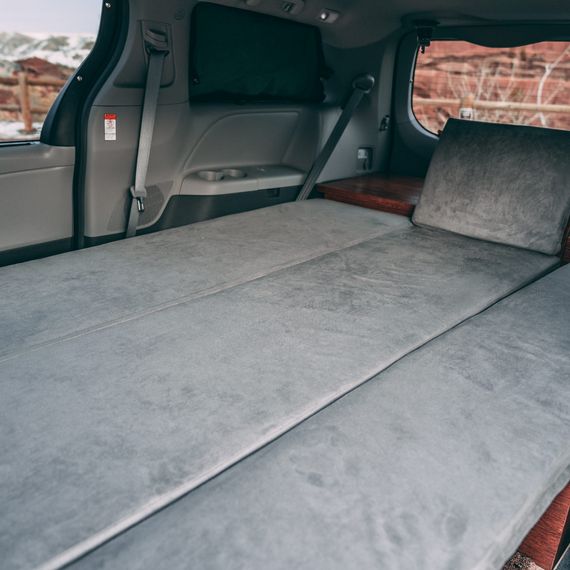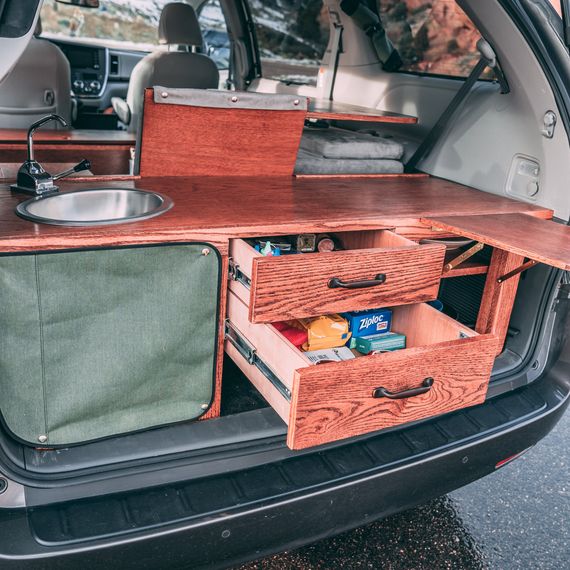 Cost: A full van conversion is $8,500, although design changes can raise or lower the price
Key Factors: Unlike other small camper van companies that use Nissan or Mercedes vans, Colorado-based Oasis Campervans converts the all-wheel-drive Toyota Sienna minivan into mobile homes-on-the-go. Oasis Campervan conversions include a main living room with pull-out drawers, a finished floor, and a moveable table for working. One of the most innovative parts of the design is a foldable chair that transforms into part of the bed with a helpful back rest, and when in the sleeping position the full-size mattress can hold one or two people comfortably.
Similar to a teardrop trailer, the van's rear area accesses a small kitchen with a sink, running water, drawers and shelves, and a large countertop. Dinner prep is made easy thanks to a fold-up kitchen table, and in certain van layouts, the kitchen can also fit a slide-out drawer that fits a cooler or refrigerator. Head over here for more.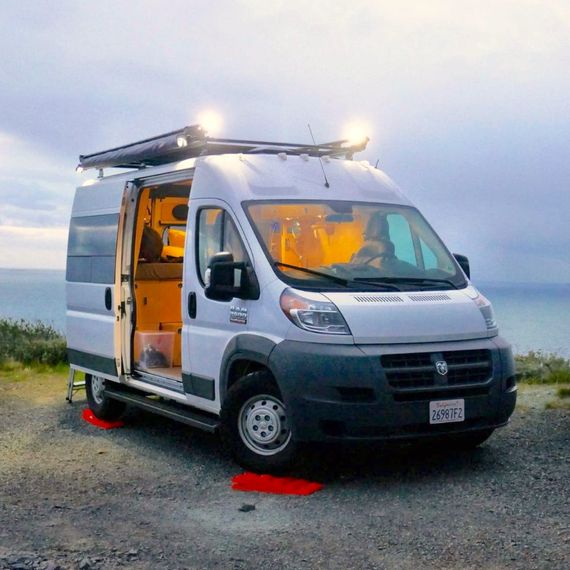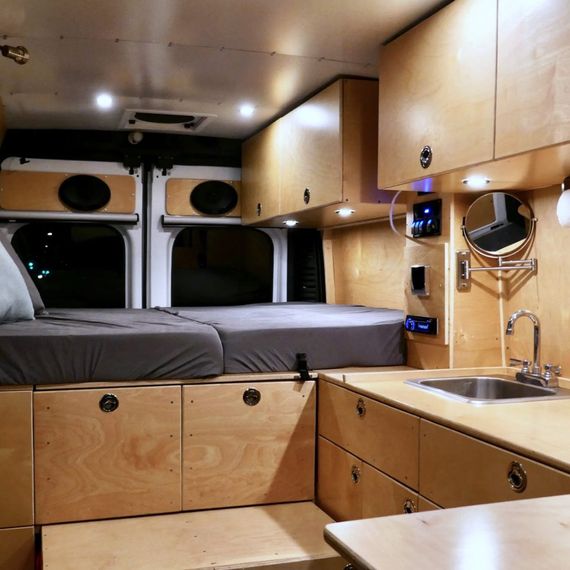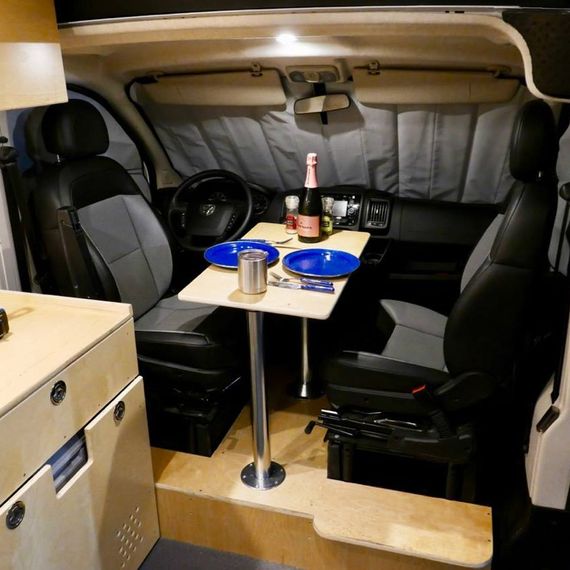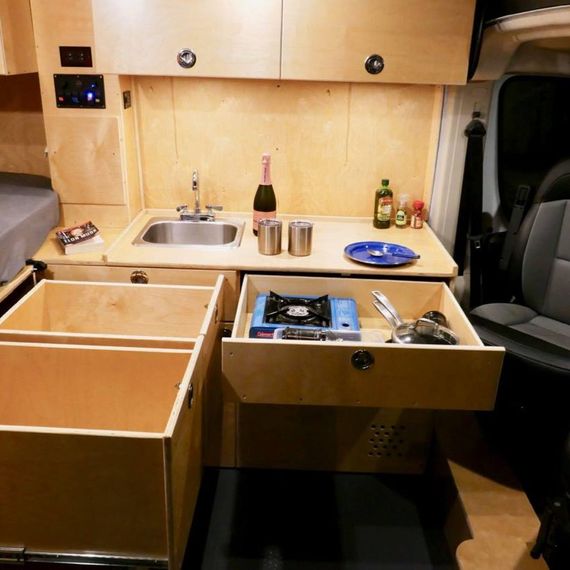 Cost: Core build packages start around $29,000, plus the cost of the Promaster van — which starts around $30,000.
Key Features: San Francisco-based Glampervan wants to capitalize on this trend by building clients a "multi-use vehicle" that can take you on vacation, work as a mobile office, and still haul things like a truck. Using a 136-inch wheelbase high-roof Ram Promaster (the medium-sized model in the Ram lineup) Glampervan maximizes space with a build customized for two people.
You enter the van in a galley kitchen loaded with cabinet and storage space. In the back, a Murphy bed sits on the passenger wall and allows space to haul gear or supplies whenever you're not resting. When in the sleeping position, the bed is just shy of a queen size, and overhead cabinets provide more storage. Read more, this way.