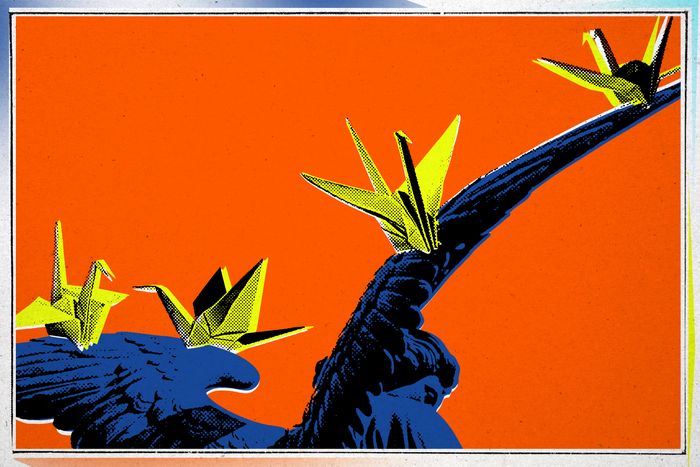 Photo-Illustration: Curbed; Photos: Getty
For
Greeting
Cards
and
Vintage
Stickers
Greenwich Letterpress, 15 Christopher St.; 212-989-7464; greenwichletterpress.com
In 2005, sisters Amy Swanson and Beth Salvini — whose parents and grandparents were in the paper business — opened Greenwich Letterpress with personalized stationery, wedding invitations, and baby announcements, all made in-house or at their letterpress in Brooklyn. Now, the pastel-pink walls of the shop, which is tucked into the first floor of a townhouse in the West Village, spill over with greeting cards. Their specialty is situational, actually kind-of-amusing cards, like one for new parents that says "Don't Fuck It Up" — there are racks and racks of them. They also have a sticker center in the back of the shop with wheels of vintage "Peanuts" characters; unusually scented scratch-and-sniffs (onion, pineapple); and glitter letters, shapes, and animals, which is what brings in Sarah Isenberg, a digital-marketing coordinator at MoMA PS1, regularly. "As a certified Snoopy girl," she says, "I always have to pick up a couple sticker sheets whenever I come in."
Goods for the Study, 234 Mulberry St.; 212-219-2789; goodsforthestudy.com
Founded as a desk-supply outpost of McNally Jackson bookstore, this little shop (and its second iteration on 8th Street) is stuffed to the brim with notebooks, weighty brass scissors, and a particularly impressive selection of writing utensils. The "pen wall" at the Nolita shop — stocked with a rainbow of Le Pens and Kaweco Sport fountain pens and many, many others — has become a favorite among authors, calligraphers, and artists. "If I have an upcoming project I'm nervous about completing, I go and buy a new pen. It's like a tiny accomplice," says artist and Know My Name author Chanel Miller, whose all-time-favorite purchase at Goods for the Study is the hard-to-track-down OHTO Horizon GS01 Ballpoint. The knowledgeable staff is also a draw, says calligrapher and engraver Ranisha Singh. "They're always able to help when I have a specific question about inks and what would work best on different textures," she says. "I was able to test out the nibs and ink flows of the pens prior to purchasing, which was helpful." And it just feels good in there, says author Sloane Crosley: "There's no wall of pastels that's been there since the 17th century, but it's a similar sensation to entering one of those places lined with glass jars of pigment — you know that you're in a spot that happily serves experts and aesthetes but also dilettantes like me who are glad to be in proximity to those who know."
City Papery, 23 W. 18th St.; 212-463-7035; citypapery.com
The card stock and note cards at City Papery come in quite literally every color one could want — Bordeaux, Prussian blue, and Vulcan gray. This, combined with its convenient in-house printing, embossing, foil-stamping, and letterpress services, makes the shop an easy one-stop for custom invitations and personalized stationery. It's always painter and calligrapher Nancy Moy's first choice when starting a project. Once, she says, she was able to find Tiffany-blue card stock to create a friend's baby-shower décor. "I was shocked they had it in stock," she says, "as I could not find it anywhere else." Gala Phipps, who runs an event-design studio and makes stationery for weddings, says City Papery just knows how to get the job done, quickly and efficiently. "Because a lot of my designs use color card-stock paper, I am huge on seeing things in my hands before purchasing," she says. "I know that most of the time I can run in to City Papery, find what I need, review it in person, and order as much as I need." Not only does it have lots of colors to choose from, but it has unique styles of paper as well — Phipps's favorites being large-size specialty paper, including marble and glitter options, and handmade paper embedded with leaves and seeds, which she recently used for an envelope liner on a greenery-style invitation suite.
Measure Twice, 225 Court St., Cobble Hill; 718-576-3424; measuretwiceshop.com
On a stretch of Court Street well populated with the kinds of small independent shops that feel surprising to see open in the city these days — a gift shop called Wanderlustre, Pizzazzz Toyz — sits Measure Twice. It's a very charming, well-curated gift-slash-card-slash-stationery shop, filled with excellent last-minute presents (cookbooks, New York–themed puzzles) and an especially nice selection of rare greeting cards, pens, pencils, and notebooks. "My favorites are the Rollbahn, which I have bought in three colors and which I have also bought for my children because they kept stealing mine," says writer Emma Straub, whose shop, Books Are Magic, is right around the corner. She also likes to peruse the store's pens and pencils from brands such as Baronfig, Lamy, and Delfonics and has picked up the occasional fancy pencil sharpener because "I can never leave without buying something." Interior stylist and rug designer Anna Albury, who is the founder of coolstuff.nyc, stops in frequently. "It's the spot I go to for my favorites and must-haves in my stationery drawer," like spools of neon ribbon, she says — it has every color imaginable plus an unusually wide assortment of ginghams. It also has actually nice-looking wrapping paper, something that's hard to find even at other stationery stores — Measure Twice's comes in English toile, subtle flower patterns, and plain powder blue.
Niconeco Zakkaya, 263 E. 10th St.; niconeco.com
Walking into this Japanese-stationery gift shop in the East Village feels like entering a well-stocked craft closet in Tokyo — it's filled with traditional Mino and origami paper, Japanese-character stamps, Goro Goro Nyansuke stickers, and rolls of patterned washi tape, all housed in wooden shelving units. Owner Siming Vautin, who spent ten years living in Japan before moving to the U.S., started out as an Etsy seller in 2015 and opened the physical location of Niconeco Zakkaya four years later. Its name comes in part from the Japanese word zakka, which loosely translates to "miscellaneous goods." Illustrator Ria Sim grew up with Japanese stationery and is a former stationery collector herself. She regularly pops in to Niconeco Zakkaya for the gifts. "You'll find things in here that are unique and can't really find in other stationery shops," she says of its stock, such as floral-printed origami paper, metallic sealing wax, and mid-century-modern-furniture-themed stickers. Sim recently stopped by and found presents for a fellow sticker-collecting friend.