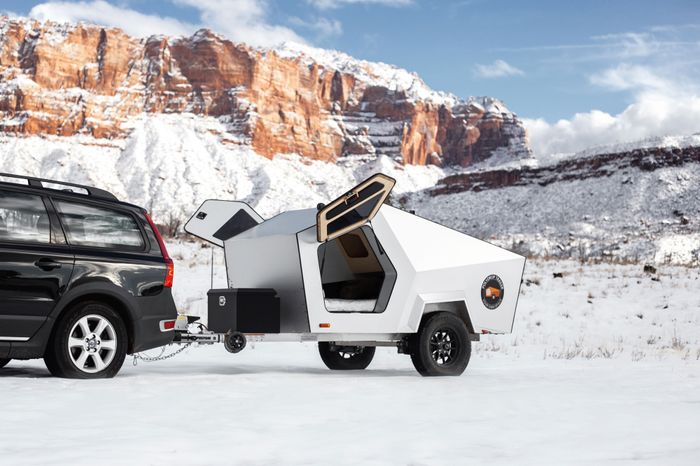 This story was originally published by Curbed before it joined New York Magazine. You can visit the Curbed archive at archive.curbed.com to read all stories published before October 2020.
There are many types of campers out there, from huge Class As to midsize camper vans. But one of the most iconic styles of campers is the teardrop. Despite falling out of fashion in the 1960s, the teardrop trailer is making a comeback thanks to its swooping shape, light tow weight, and sensible design. Love campers and trailers? Come join our community group.
Curbed is dedicated to the camper beat, and we've tracked the best camper vans, lightweight trailers, and family campers in the past. Today, however, we're helping you find the best teardrop on the market, from tiny campers to larger units that can sleep a family. Behold, five teardrop trailers you can order right now.
Cost: The Mini model starts around $17,000
Details: Lithuania-based Tiny Camper makes teardrops in colorful graphics and with a fresh feel compared to the rather stale designs of some American campers. The Mini (1,410 pounds) is Tiny Camper's most popular model, meant for two people to sleep on a queen size bed with storage above. It's made with natural Baltic birch wood, extra large doors, and a panoramic window that makes the cabin feel airy and bright.
Prices don't include shipping costs, and although Tiny Camper does not have any U.S. dealers, they can ship to the United States for an extra fee. Tiny Camper also sells DIY kits made up of different parts so people can create their own teardrop trailer. While it's a bummer that this teardrop is located abroad, we think it's unique enough to warrant inclusion here.
See more photos, this way.
Cost: Models start at $13,995 and go up from there, depending on options.
Details: A bit like a spaceship and a teardrop trailer had a baby, the Polydrop trailer uses wood and skinned aluminum to create an all-new take on what a modern camper can look like. The trailer features an aluminum chassis and wood structure to clock-in at a very lightweight 900-1150 pounds dry, depending on the model. It also only has an 160-pound tongue weight, which means you can easily maneuver the trailer into place when it's not hitched.
Inside, strut-assisted butterfly doors display a clean and simple cabin filled with a 48 by 75-inch mattress. The light-colored pine walls give off a Scandinavian vibe, and the well-insulated camper also boasts a roof vent, LED lighting, and leather trim. There's not a ton of storage compared to other, larger teardrops, but three small cubbies get the job done.
See more photos, over here.
Cost: Pricing starts at $13,200
Details: The Pika is about one-third smaller than a standard teardrop, making it perfect for one or two people. The length clocks in at just under 12 feet, and it's the smallest of the trailers sold by Timberleaf. Even though it's compact, you still get about 36 inches of headspace and a skylight that helps the interior feel larger.
The sleeping space also features LED reading lights, a multi-speed fan, dual USB ports, and cargo-net storage. The best part might be the dual-access door and two extra sliding windows; the Pika might be small on space but its thoughtful, airy design means that you won't feel cramped.
For more photos and detail, head this way.
Cost: Starting at $30,549
Details: Made by Canadian-based Safari Condo, the Alto is an ultra-light travel trailer that has an exterior height of only 83.5 inches, allowing it to fit easily in a garage. But the seamless aluminum roof pops up electronically to reveal 7 feet of interior space.
Once in the up position, the Alto R Series reveals crescent-shaped windows made with tinted tempered glass, flooding the camper with light. Inside there are two available dining areas — a two-seat and a five-seat dinette — and both dining areas convert to sleeping quarters with room for 3-4 people.
Cabinets and a kitchen allow campers to cook, clean, and store everything you'd need. The camper also comes with a fixed flush toilet and an interior shower with curtain. That's a lot of features in a compact space, and the aerodynamic drag coefficient is 75 percent lower than that of a traditional 16-foot travel trailer.
See more, this way.
Cost: Prices range from $14,500 for the smaller versions to $18,500 for the largest
Details: Created by Britton Purser, a design-school graduate and former carpenter, the campers aim to combine "an appreciation for art and design and the romance of vintage travel." Featuring a welded steel frame, anodized aluminum exterior, and an interior made from Baltic birch wood, the trailers pay homage to Danish design with a healthy does of Colorado charm.
The company has three models and two different sizes of teardrop campers, with the largest model boasting a queen memory foam mattress, bug screen, and a pull-out writing desk.
See more photos, here.