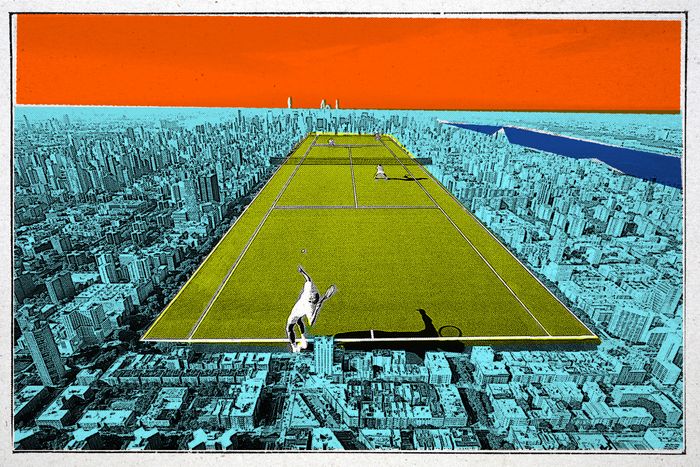 Photo-Illustration: by Curbed; Photos Getty
For
When
You
Don't
Have
a
Permit
Hudson River Park Courts, between Piers 34 and 40; hudsonriverpark.org
Located just south of Pier 40, the three public tennis courts in Hudson Square (one of which is for singles play only) are run by the Hudson River Park Trust rather than the Parks Department. This means they're carefully maintained (they were just resurfaced over the winter) and, crucially, they're not subject to the moving target that is the Parks Department sign-up rules, which seem to differ from court to court. There is no attendant, each party gets an hour on the honor system, and players who overstay their hour or flout the rules are subject to gentle but public shaming by others waiting. "They're an oasis of democratic tennis in a public-parks ecosystem of general chaos," says Craig Shapiro, host of The Craig Shapiro Tennis Podcast and a former stringer on the ATP Tour. On a sunny day, you may wait up to two hours, but the system is orderly and downright genial. Every group of tennis partners occupies a park bench and moves up a slot when a court becomes free. "Get on line, bring a book or your backgammon set, do your stretches, talk tennis with the regulars," Shapiro says. "It's a very civilized way to spend a morning. You just can't be in a hurry."
CityView, 43-34 32nd Pl., Long Island City; cityviewracquet.com
Playing tennis on even-surfaced clay courts indoors should not be as uncommon as it is in New York City, where any indoor private club is rare, let alone one with clay courts. That plus having the option of a shower in a clean locker room, a pregame workout in a gym, and a postgame lunch with tennis on the TV are all reasons to play at CityView in Queens. "It offers the best of a traditional club without the pretension," says James Perkins, a visual artist and recent tennis convert. "The staff is amazing, the locker service is great, and they set up matches between members, which makes it fun and easy to meet others and play. I don't know if I have met more businesspeople or artists at the club — it's just a lovely mix of tennis enthusiasts." The coaches have strong résumés, having been accomplished juniors, former college players, or even players with WTA or ATP points (i.e., who were low-level pros on tour), and the pro shop offers the services of the legendary Roman Prokes, who strung racquets for Andre Agassi. Three of the courts were recently redone, and there is free valet parking, which, again, is practically unheard of in the city. Says Perkins, "It is just a brilliant place to play during the colder months." Depending on the membership tier, monthly dues run from $100 to $390, not including an initiation fee and hourly court fees.
Lincoln Terrace Park, Crown Heights; nycgovparks.org
These 11 hard courts "are a visual delight," says Nam Nguyen, the chief of staff at Giphy. "There are three rows of literally terraced courts," he adds, which are stacked side by side in this heavily Caribbean section of Brooklyn. The players are mostly locals dedicated to improving their game — the courts are home to the long-running Lincoln Terrace Tennis Association, a volunteer-based nonprofit that organizes well-subscribed, inexpensive tournaments and clinics for neighborhood residents of all ages. It's also extremely accessible: The nets are up year-round, which is ideal for those freakishly warm winter days, and it's almost always possible to get a court at your desired time. And not for nothing, says Nguyen, "there is some pretty decent street parking right in front." Also conveniently close at hand: the dozen or so Caribbean restaurants on nearby Utica Avenue, including the beloved Ali's Roti Shop.
Oscar Hijuelos Tennis Courts, Riverside Park at 96th St.; rcta.tennisgroups.us
These ten red clay courts nestled in Riverside Park are fairly idyllic with unusually handsome plantings, friendly volunteers, and sailboats bobbing on the water nearby. "There's a sense of place I have playing at 96th Street that I have felt on few other courts, public or private," says the tennis writer Gerald Marzorati, who also volunteers at the courts, manning the sign-up clipboard and playing "adaptive" tennis with special-needs kids one day a week during the outdoor season. Although you need a Parks Department permit or single-play ticket to play there, the courts are managed by the nonprofit Riverside Clay Tennis Association, so they're considerably better maintained and administered than most city courts. A dedicated staff keeps them flat, moist, and just generally nice. But the volunteers are what really make the place special. "I mean, how many public tennis courts have volunteers gardening the parkland surrounding the courts, tending flower beds and native plantings they have worked back into the landscape?" says Marzorati. You have to sign up for a court in person on the day you want to play, but two of the courts can be booked in advance online for a $15 fee.
Billie Jean King National Tennis Center, Flushing; ntc.usta.com
When they're not being used during the U.S. Open by Andy Murray or Coco Gauff, the dozens of indoor and outdoor courts at the National Tennis Center are open to the public — with the notable exception of Arthur Ashe and the other stadium courts. They have the same surface and paint setup used for the tournament, meaning that each year the court speed is adjusted in the same way it is on the show courts, whether to cater to the extreme spin of a Rafael Nadal or the hard shots of an Aryna Sabalenka. "When you're playing there, you feel like a pro," says Vicente Muñoz, a visual artist and occasional tennis instructor. "The courts are fast but have a lot of bite, so the bounces are high and true, which allows you to think about your timing and setting up and hitting the perfect shot." The courts are also cleaned regularly, which, sadly, is unique for New York City's public courts, and those indoors are impeccably lit — the LED lights are balanced so there are no dead spots in the lighting or weird shadows. The booking system is organized and easy, and the courts are quiet, especially in the morning. "It's insane that we get to play on the same courts they use in a Grand Slam," says Muñoz.
McCarren Park, Williamsburg; mccarren.tennis
In the fall, when tennis moves indoors, the options become severely limited in New York City, especially for public courts. But from October to April, a bubble is erected over the five public courts in McCarren Park, and they become run by the McCarren Tennis Center, a private company. The courts are easy to book online and cost as little as $45 per hour during off-peak times, "though open court times evaporate quickly," says the DJ Adrian Bartos, a.k.a. Stretch Armstrong, who adds that because McCarren is one of the only viable indoor options, it's a magnet for players citywide. "Every October when the bubble goes up, it's like a mini-reunion — all the winter regulars reunite." Be advised, however: Court One has no doubles alleys and very little space on either side of the court, so savvy players will make their ball exit the sidelines (sending their opponent tumbling into the net that divides the courts). And in general on all of the courts, the lighting could be better and the lines are a bit slick, which causes tricky bounces at the baseline. Clinics are available for all levels, as are private lessons. "For New York City in winter, it's the best and only choice," says Stretch. "Just know that if they put you on Court One, you're getting shafted."
Washington Market Park, washingtonmarketpark.org
Many public-court stalwarts don't even know the "secret" court in Tribeca's Washington Market Park exists, most likely because it's a single and abuts the Tribeca Bridge. The sign-up sheet is posted at 7 a.m., and times are often snapped up by the neighborhood's retirees and residents-at-leisure. Members of the early-rising finance crowd tend to go for the prime evening slots even if they don't end up playing (which is often, so swinging by with your gear is occasionally rewarded). The court is built east-west instead of north-south, so the setting sun can be a major problem for one player in the afternoon. The locals, however, take excellent care of it. It's got a nice, private feel, and having a working water fountain is a plus. "The massive effort that goes into securing a tennis court is part of the experience of a summer of tennis in the city," says Gianmaria Schonlieb, the creative director for Lyft. "I don't sleep late, and I don't do brunch. My whole weekend is now in service of tennis. It makes the reward richer when you're able to secure a prime slot in Tribeca."
David Shaftel is editor and co-founder of Racquet magazine.