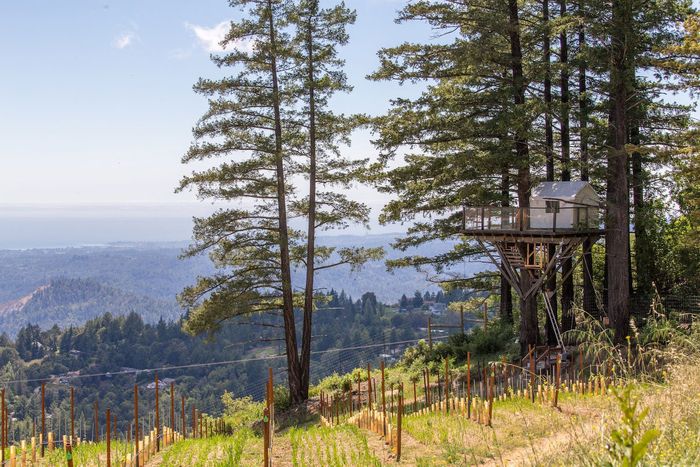 Photo: Courtesy of Airbnb
Finding the perfect tree-house rental is slightly more challenging than booking your average A-frame. Some are rustic, with bathrooms located in an outhouse and no running water (if you can't make it through the night without peeing, perhaps look elsewhere). Others are downright homey, with toilets, showers, and full kitchens. And no matter the tree house, you'll likely have to climb up ladders or steep steps to enter. It's complicated, in other words, which is why we've done the hard work for you, combing through hundreds of listings and exhaustively reading the reviews of people who have stayed there in the past two years to find the best tree houses for rent in the U.S.
Tree houses of all stripes, it should be noted, are incredibly popular on Airbnb or Vrbo, and many of the places listed below are booked solid three to six months out. Consider planning a vacation during a less popular time; several are located in mild climates or offer good heating and insulation, making a January or February escape feasible. Better yet, stay on top of the listing calendars and book your trip early — some tree houses release their dates six months in advance, while others are already booking for summer 2021.
Photo: Courtesy of Airbnb
A 15-minute drive from the town of Woodstock and about two hours north of Manhattan, this two-person tree house sits on a pond that shares 34 acres with the property's main house. Huge windows look out onto the forest and water, and the home also has a sizable covered patio. There's no cell-phone service or Wi-Fi on the property — so one reviewer suggests downloading music to your phone before arrival and connecting it to the Bluetooth speakers (there's also a "killer record collection"). Reviewers love the huge shower, comfy beds, and wood-burning hot tub, which is apparently slow to warm, so you should "start it in the morning if you want to get in it by sunset."
Photo: Courtesy of Airbnb
This two-person tree house ten minutes north of downtown Atlanta features three separate living areas connected by rope bridges. The sitting room has 80-year-old glass windows with butterfly wings pressed between the panes. A bedroom features, as one reviewer described it, Parachute linens and a roll-out bed that lets guests sleep inside or outside. Finally, there's a deck area with a hammock hanging next to the "Old Man," a 165-year-old pine tree that supports the tree house. According to multiple reviewers, the host, Peter, provides "wine, snacks, tea, filtered water, and cleaning supplies" and "alerted us to our breakfast basket of delicious coffee and toast each morning by clanging a bell." One guest appreciated that the tree house is "easily accessible by eight or nine steps and is not as far off the ground as some pictures may indicate" but advised bringing mosquito repellent, as the bugs tend to swarm on ground level. The restroom and changing room are in the basement of Peter's home, a 50-yard walk from the tree house, and there's also no air-conditioning. Still, the tree house is enjoyable no matter the weather. "A fan keeps the bedroom cool even in Georgia's worst summer days," says one reviewer, while another appreciated the bed's mattress-pad heater when temperatures dropped.
Photo: Courtesy of Vrbo
Built by the DIY Network's Treehouse Guys and supported by five trees on a hillside in North Carolina's Reems Creek Valley, this one-bedroom, two-bath tree house sleeps four. Reviewers report that the dog-friendly tree house's "workmanship is exquisite," and the home is packed with "all the amenities you could need … a full kitchen, satellite TV, central heating, and AC." You won't find any tents or rickety ladders here; the home features "heated floors in the bathroom" and a "Serta adjustable foam vibrating bed" that one reviewer's wife didn't want to leave. A 1,000-square-foot deck has rocking chairs and a much-praised outdoor shower, despite being (according to several guests) a "bit close to the highway, so you can hear road noise." You'll need a car to access hiking in Pisgah National Forest or the brewery scene in Asheville, and reviewers also suggest asking the host, Eva, for dining recommendations in Weaverville, ten minutes away, where they enjoyed surprisingly good restaurants.
Photo: Courtesy of Airbnb
Located in the Santa Cruz Mountains, one hour south of San Francisco, this tree house is a 400-square-foot platform built into giant Douglas-fir trees with a glamping-style tent housing a queen bed. The main draw is the "breathtaking" ocean and vineyard views, but reviewers also rave about the "five-star hotel"–style bed and 600-thread-count sheets. Most guests recommend booking a tour of the 44-acre Lago Lomita Vineyards offered by hosts Robin and Mark, and the hosts also score high points for supplying homemade blueberry muffins and plenty of drinking water. The bathroom is located on the bottom floor of a nearby house, so, as one reviewer states, "be prepared to get down from the tree house and walk a minute or two when you need to use the restroom." A provided headlamp and pair of closed-toed shoes make the up-and-down ladder process easier, and a pulley system brings luggage up safely. Like in most tree houses, you might see bugs and spiders — using the complimentary bug swatter and zapper help a lot, according to one reviewer — and the provided space heater keeps out the chill when the ocean fog rolls in.
Photo: Courtesy of Airbnb
Located in the foothills of the Adirondacks, just nine miles from Saratoga Springs, this tree house features a winding staircase that leads to a sleeping area for two and a covered porch. Meals are prepared in an outdoor kitchen, and reviewers report that the host provides a "grill, charcoal, wood, tea and coffee, an electric hot-water pot, paper plates, cups, dishes, and silverware." Wi-Fi works throughout the property so you can watch a movie while you roast s'mores, and the firepit is situated next to a small pond. The bathroom is in the main house, a short walk away from the tree house, so one reviewer advised bringing a lantern or headlamp to light the way. And while it's best to avoid June when the mosquitos are the worst, don't be deterred by cold weather. According to one reviewer who stayed in early December, "Even with 18 inches of snow, it was nowhere near as cold as we expected. The tree house was warm and cozy all weekend."
Photo: Courtesy of Vrbo
Located slopeside at Whitefish Mountain Resort, three tree-house chalets stand on 30-foot stilts with views of Glacier National Park mountains. The largest of the tree houses sleeps ten while the other two tree houses sleep six, or you can book all three and bring the whole crew. The location is the draw here, with reviewers praising the "true ski-in/ski-out [location] off of Hope's Slope and a short walk down the hill to the village bars and restaurants. Personalized hat and glove buckets greet guests upon arrival, and reviewers rave about the tree house's hot tubs, heated beds, and host, Gail, who can help with lining up a "chef, babysitter, rental equipment, and ski instructors." The bunk beds in the loft work best for children (one reviewer quipped that you "may have to lay diagonally if you're 6 foot 4 inches"), and light sleepers should know that in winter, "you will have periodic disturbances at night when the ski groomers come by the slope." That doesn't stop these luxury tree houses from feeling like "pure magic," however, and if you can snag a holiday reservation, the "New Year's Eve fireworks [visible] from the unit were incredible."
Photo: Courtesy of Airbnb
Despite its modest 250-square-foot footprint, this tiny tree house in the eastern foothills of San Jose manages to sleep four thanks to its two queen beds. Reviewers report that "the tree house strikes the perfect tone: Our senses made it feel like we were camping [in] tree branches, the crickets were chirping, the birds were singing, and there were roosters reminding you when it's morning. On the other hand, we had Wi-Fi, a toilet, running water, a shower, a microwave, and a stove." Still, it's a tight space and tall people should pay attention. One guest says that while "I'm not the tallest guy in the world, I banged my head a few times," while another reports that the "only small gripe was the shower head … I had to bend down a bit to get under it." Reviewers universally seemed to enjoy the sunsets over Silicon Valley, though several noticed creaking sounds, especially on windy nights; "There was a substantial amount of noise with the branches whipping around and the tree house swaying."
Photo: Courtesy of Airbnb
Tucked away in the woods on Whidbey Island, you'll find this 250-square-foot octagonal tree house with a cedar tree rising up the middle. The space sleeps four total, but three adults would be more suitable because there is a queen-size bed and a sofa bed that's only slightly larger than a twin. Reviewers noted that the bathroom is located in a shower house a short walk away, but "the outhouse was kept clean and the compostable toilet did not smell at all." One guest wished they had brought a better bathroom tote to carry things back and forth, and though the host's house is visible from the tree house, it doesn't impact privacy. Several reviewers enjoyed watching deer from the back porch, and almost everyone loved that the host, Ken, delivers a light breakfast to the tree house's mailbox every morning. The tree house is a ten-minute walk from the beach, and several guests commented that "the twinkling lights in the trees at night were downright magical."
Photo: Courtesy of Airbnb
Located a little over two hours from Washington, D.C., near the town of Harrisonburg, this riverfront 400-square-foot tree house sits 16 feet high and is accessed by a spiral walnut staircase. The loft bedroom sleeps two in a queen bed, and the tree house also includes a bathroom with marble tile in the shower. Reviewers love sitting next to the river in hammocks and appreciate the provided "high-quality soaps, posh bath towels, throw blankets, coffee, tea, and organic honey." A two-person tub on the deck doesn't have jets but does have very hot water for soaking, and a fireplace means that recent guests enjoyed the tree house even when it was 25 degrees. Still, it's hard to beat summer, and reviewers who stayed during warm weather "couldn't get enough of the complimentary kayaks when exploring the river" — just be sure to apply the provided bug spray. Wi-Fi is reliable and fast, and the easiest way to book is to monitor the calendar; the tree house releases dates six months in advance.
Photo: Courtesy of Airbnb
Getting to this one-bedroom tree house built into a 200-year-old fir tree requires some effort: Reviewers recommend taking heed of hosts Rocky and Gianni's advice to have four-wheel drive on the three-mile dirt road. Despite being 20 minutes from Park City, the tree house sits at 8,000 feet, and "I wouldn't want to get stuck in a sedan trying to make it up" the steep and potentially muddy or icy roads. But upon arrival, the secluded location is the draw. Guests often see moose, elks, and mule deer, and the bedroom features a skylight that gives you "unobstructed views of the stars with no light pollution." A small marine-style half-bath with a standing shower, a toilet, and a sink can "feel a bit cramped," according to one reviewer, and there's no shortage of stairs, but amenities like strong Wi-Fi, a private front deck, and complimentary yoga mats and foam rollers balance out any irritations. One reviewer mentioned that it can "get a bit cold at night if you come in the winter" but that extra blankets, space heaters, and robes are provided.
Photo: Courtesy of Airbnb
Two hours from Boston is this newly constructed carbon-neutral tree house in Sanford, Maine. Despite measuring 350 square feet, reviewers say the tree house feels much larger, with two separate queen-size sleeping areas. A well-stocked kitchen makes quick work of meals, and one reviewer mentions that the bathroom and "stone shower were truly special for a tree house." A deck provides a high perch to observe nature, and in warm weather reviewers loved swimming in the adjacent lake "which felt incredibly private and exclusive just to us." Another reports that the "dock has an inflatable raft for two," and "drifting around in the pond (with not another soul in sight) was paradise." Other amenities include fishing rods, a canoe, an electric grill, firepit, and strong Wi-Fi. Don't miss watching a movie on the complimentary projector — according to a recent review, just "bring a cord to connect your device so you don't have to make the trek to Walmart."
Photo: Courtesy of Airbnb
Nestled into the treetops with views of Washington's Bellingham Bay, this one-bedroom tree house sleeps two in a simple one-room building close to hiking in the Chuckanut Mountains. Reviewers loved the water views from the tree house's deck and the hot tub in the forest, and they also note that the pull-out bed is "surprisingly comfortable" and the home comes equipped with helpful items like "coffee, books, and even binoculars." The bathroom is a short walk from the tree house on the lower level of the main residence, and one reviewer suggests bringing slip-on shoes for convenience. The hosts are also up front about potential train noise from nearby train tracks; one guest heard the train five to eight times per night and used the provided earplugs, while other reviewers said they slept through it. Cell service is spotty, so download all instructions and music before arrival. According to one reviewer, the Wi-Fi was fine but "not reliable enough for work."