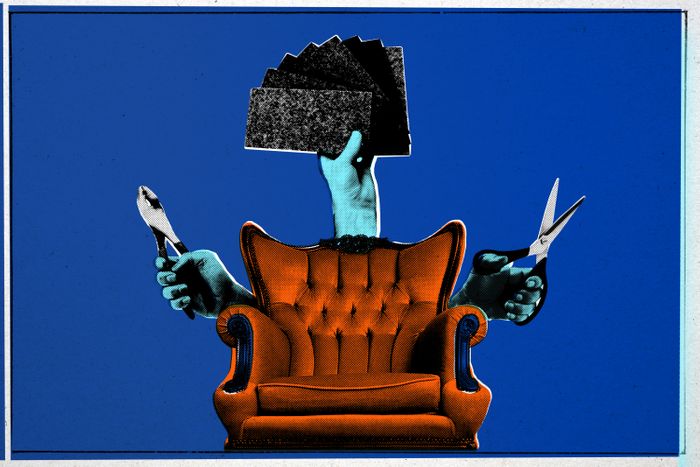 Photo-Illustration: Curbed; Photos: Getty
For
Tight
Handiwork
at
Half
the
Price
Estilo Upholstery, 612 Grand St., 212-473-1735
This 25-year-old (2016 "Best of New York") upholsterer is a "cult figure among interior designers," we wrote, for its low prices — the "high volume that owner Hector Diaz bangs out, from firming up old pillows to grafting entire six-piece sectionals, allows him to charge around $475 for a job that might cost $800 elsewhere — and the attention is to detail. When Noah Turkus of Weiss Turkus Projects needs a set of velvet bucket chairs reswathed in lambswool, he swears by Diaz's tight handiwork and good prices." Recent work includes a pair of Eero Saarinen armchairs (done in Knoll bouclé fabric), a slipcover for a white Ligne Roset Togo love seat, and some 1950s lounge chairs in Maharam pebble wool.
Ecua Interior Upholstery, 784 Woodward Ave., Ridgewood; ecuainteriors.com
Carlos Asmal, owner of Ecua Interior Upholstery, is an ideal collaborator for upholstery projects with tricky fabrics and unusual curves. Need a custom U-shaped banquette done up in mohair? Asmal will get it done, says artist Sophie Parker; she and her boyfriend, the furniture designer Micah Rosenblatt, always work with Ecua for their custom pieces, like a curved, shimmering two-toned velvet sofa Rosenblatt recently designed for a Brooklyn client. Asmal turned it around in under two weeks for $1,700. (Asmal once upholstered a Rosenblatt-designed outdoor bench with a custom headrest for $300.) Rosenblatt, who originally shopped his sofa design elsewhere before settling on Asmal's very unassuming shop on a mostly residential strip in Ridgewood, says, "Carlos was as affordable as other quotes but also understood the technical aspects of the project I laid out to him and was willing to take on something weird." Ecua has a quick turnaround time, especially for more straightforward projects — like a green velvet Ethan Allen chair found on the curb and reupholstered with new green canvas fabric — generally needing no more than a week.
For
a
Lamp,
Table
Legs,
Or
Even
a
Bedroom
Door
VH Upholstery, 12920 143rd St., South Ozone Park; 718-937-9411
Victor Hernandez will gladly upholster anything — truly anything. He has outfitted an antique lamp in orange leather, upholstered speakers, and cushioned a bedroom door with custom leather designs. Hernandez's passion lies in such odd projects, like the 300 silk-and-cotton throw pillows he recently completed for one client's Southampton home. "Victor is a total perfectionist. He doesn't rest till the job is perfect," says chef and artist Laila Gohar, who recently had the legs of a dining-room table upholstered by Hernandez. "He takes so much pride in his work, and you can tell."
Tania Kovalenko, Ltd., 113 Franklin St., Greenpoint; 718-383-0792; taniakovalenkoltd.com
When artist and architect Leyden Lewis found a very worn vintage Vico Magistretti chair in desperate need of a complete overhaul, he immediately took it to Tania Kovalenko. Though she primarily focuses on creating window treatments and custom drapery, she's an excellent upholsterer, Lewis says — something he found out through an antiques dealer he had worked with in the past. In the case of the Magistretti, "it was dirty and hadn't been taken care of. She honored the integrity of the original construction with matching stitches. When she finished, the chair was covered in mohair velvet and looked like heaven. It was tailored, beautiful, and refined." For vintage work, Kovalenko addresses the original frame before diving into reupholstery. Some other recent projects include a pair of green velvet slipper chairs and pink silk-blend drapery for fashion designer Adam Lippes and furniture, drapery, and custom beds for Alex Reed–decorated homes in Connecticut and on Long Island. Restoring and reupholstering a vintage club chair will start at $1,000, whereas a simple dining chair will start at $120.
For
Pattern-Matching
a
Couch
Redthreads, 253 36th St., Ste. B317, Sunset Park; 212-925-6519; redthreadshome.com
Redthreads, which moved to Industry City six months ago, is known for its high-end window treatments and bespoke bedding collections, but the studio is especially adept when it comes to pattern matching, keeping an intricate design lined up across seams. George Venson, who designs patterns for the textile and wallpaper studio Voutsa, enlisted sibling co-owners Yien and Leon Wong to upholster a pair of painterly floral Italian-linen slipper chairs for his 200 Lexington showroom. If you're looking to reupholster more straightforward items, Redthreads might do a side chair (seat and back) for $275, a Parsons chair for $375, a wing chair for $750, a headboard for $950, and a loose-back sofa with three cushions for $1,650.
For
Restoring
Mid-Century
Chairs
Foam R Us, 30-60 Steinway St., Astoria; 718-255-1639
After Jack Wilson successfully acquired a rare Jean Gillon leather chair this winter, his first call was to Foam R Us, a bright-blue storefront situated between a dog groomer and a hair salon on Steinway that he has been working with for more than two years. "The original foam had completely crumbled. They managed to reconstruct it using a series of sculpted foam pieces," says Wilson, who runs the Instagram account Angular Vintage. The company patched rips, replaced missing straps with matching leather, and added new nylon backing — all within budget and ahead of deadline. On a day-to-day basis, Foam R Us is most likely to be giving new life to sagging cushions on ordinary recliners, sofas, and window seats (prices start at $75 for couch cushions and $45 for dining-room chairs). But Wilson swears by the shop for high-end vintage repairs: He has referred clients there to repair the likes of Wassily and Pollock chairs.