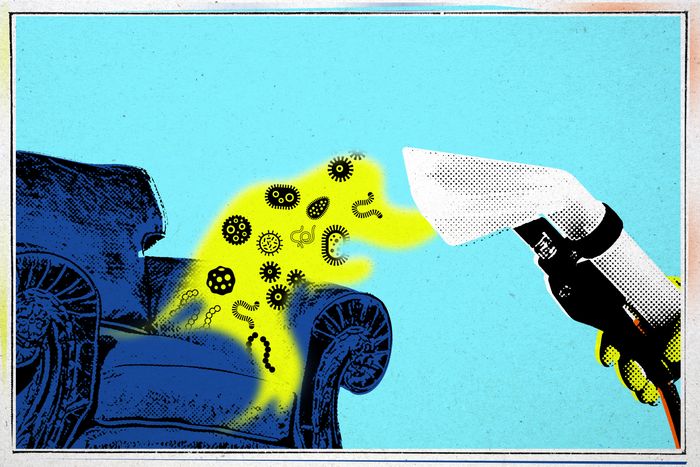 Photo-Illustration: Curbed; Photos: Getty
Jeeves New York, 212-570-9130; jeevesofbelgravia.com
An international business that arrived from London in 1979, Jeeves is known as one of the city's best luxury dry cleaners, adept at handling expensive and one-of-a-kind items like Chanel sets and vintage sheepskin coats. It also does a masterful job on everything from curtains to bedding. Ellen Playford of Gramercy Park says she was impressed with how the father-son team of Jerry and Zach Pozniak meticulously hung, steamed, and dressed her floor-to-ceiling drapes. Steven Rosa, who works in real-estate finance, agrees that the Pozniaks' level of care is evident in every aspect of their work and says Jeeves especially excels in "high stakes" situations involving valuable pieces: When Rosa had his horsehair-and-cashmere mattress cleaned by a different company, it was left dirty and waterlogged; Jeeves quickly undid the damage and cleaned every inch of the mattress, leaving it in near-perfect condition. Ian Sherman, an estate manager, says he has used Jeeves for six years for everything from a wedding dress to a white linen-upholstered couch that Jeeves managed to save from muddy paw prints and dog drool. (On-site furniture cleaning is available for jobs beginning at $800; $2 to $10 per square foot for most draperies and rugs.)
For
Essentially
Any
Issue
Cleantex, 212-283-1200; cleantexny.com
Based in Long Island City, carpet-and-upholstery cleaner Cleantex has been around for nearly a century, which means it has long-long-term loyal customers — like interior designer and author Sheila Bridges, who has been using it for over 25 years and says it's as efficient and versatile now as it was when she first called. This relationship allowed her to remain serene when her puppy, Wheeler, relieved himself on her new Tibetan wool-and-silk carpet after a long car ride. Cleantex easily erased all traces of Wheeler's mishap. (Carpet cleaning starts at $4.50 per square foot or $6 for more delicate materials like silk.) Bridges recommends the service to her clients and appreciates that Cleantex comes to your home for carpet and upholstery cleaning. The service's pickup and delivery options were the selling point for We Should Not Be Friends author Will Schwalbe, who appreciates how Cleantex gave him tight time windows for pickup and drop-off and stuck to them, even allowing him to track the driver's progress online. Schwalbe first heard of Cleantex when he realized his two delicate, light-green carpets hadn't been cleaned in "years and years" and he called their manufacturer, Fort Street Studio, to ask for a recommendation. Cleantex exceeded his expectations, leaving his carpets looking brand new and adding a stain-repellent carpet shield, which Schwalbe hopes never to put to the test.
For
Delicate
Antique
Rugs
Costikyan, 800-247-7847; costikyan.com
Over the past 137 years, Costikyan has made a name for itself in the rug-cleaning and restoration trade, operating mainly out of a sprawling Long Island City warehouse. It specializes in cleaning antique and luxury rugs using delicate, centuries-old handwashing methods. Costikyan tailors its cleaning approach to each client, developing a plan of attack based on the particular rug and its condition, whether that means reweaving holes, hand-tinting faded areas fiber by fiber, or simply giving it a careful clean. Flutist Sue Ann Kahn recently used the pickup and delivery service to get a 20-year-old wool rug deep cleaned. It came back with fresh-looking colors, an anti-moth treatment, and a new pad. Interior designer Amy Lau, who was referred to Costikyan by a high-end rug dealer, first used the company to restore and clean a family-heirloom Persian rug made with mineral and vegetable dyes that run easily. No color was lost, and Lau was so satisfied she has since recommended Costikyan to several clients, including one whose party guest spilled on their brand-new custom silk rug, which Costikyan restored to mint condition. (From $8 per square foot for a basic rug cleaning.)
Always Green Carpet Cleaner, 347-344-5807; alwaysgreencarpetcleaner.com
The selling point for Always Green is that its professionals conduct their carpet, rug, and upholstery cleaning with exclusively safe, nontoxic, and chemical-free solutions — meaning it's better for the children and dogs who may be lounging on said carpets, rugs, and upholstery afterward. (Its main agents are Biokleen, a phosphate-, chlorine-, and ammonia-free product sold at Whole Foods, and diluted hydrogen peroxide.) This is what prompted Meg Carrigan, a creative director and mother of two, to call the shop after a vomit-related accident involving a Miles Talbott chair with blue-and-white upholstery. Always Green came the next day, easily removed the stain with a deep clean, then applied a protective treatment to defend against future spills. (From $84 for a basic steam cleaning; protective treatment is an additional $25 to $50.) After buying her dream sofa, a Kravet couch with custom blue-and-ivory houndstooth upholstery, Carrigan says she had Always Green return to apply the protective treatment to that piece as well, which has saved it from potentially devastating episodes — including the time Carrigan's older son "flying squirreled" himself onto her while she was enjoying her morning coffee, spilling some of it onto a couch cushion. It came off easily — Carrigan was able to blot it up quickly with some paper towels.