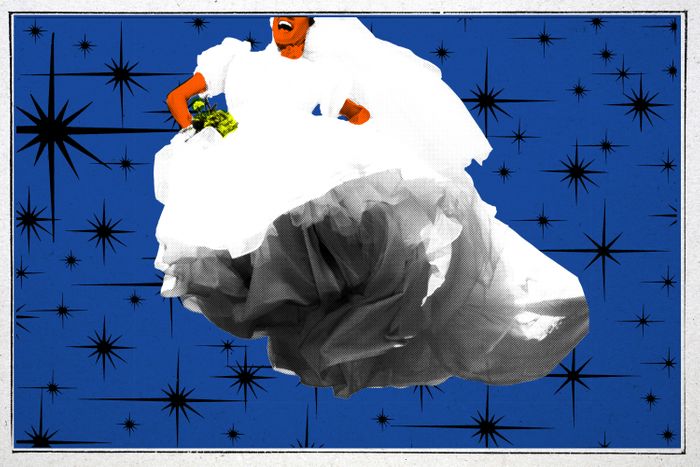 Photo-Illustration: by Curbed; Photo Getty Images
Spina Bride, 132 Tenth Ave.; spinabride.com
Most wedding-dress shops keep their gowns in a back stockroom, making even the savviest shoppers reliant on salespeople to interpret their likes and dislikes. Chelsea-based salon Spina does not. Its entire selection — which includes Santos Costura's Grecian "Columbia" gown ($8,550) and Chana Marelus's ethereal "Moor" dress ($9,500) — hangs on the floor in full view of the clientele. The options struck Kyra Burner, senior director of guest relations at Major Food Group, as an antidote to the gowns she had seen at other bridal retailers. She ended up with a pearl-encrusted dress from Budapest brand Daalarna Couture. Years later, she says she has never seen a bride in something similar. Kelli Bartlett was drawn to a J. Andreatta gown for her wedding; the VP of experience at Ever/Body did wonder whether the sheer, ostrich-feather-festooned creation would give her mother a heart attack, but the Spina team could see what she had seen in it: It was a knockout.
For
Highly
Personal
Service
Danielle Frankel, 260 W. 39th St., Ste. 1401; daniellefrankelstudio.com
Danielle Frankel Hirsch has built a reputation as the go-to bridal source for the kind of women who line up for a sample sale of The Row. Her label, Danielle Frankel, doesn't do sequins or over-the-top lace; recent collections have instead leaned on corded lace, silk wool, and pleated tulle. Alexandra Daddario wore a version of the "Scarlet" dress ($9,990) to her New Orleans wedding, and AnnaSophia Robb sported the "Anika" gown ($13,990) for hers. When Harling Ross Anton, co-founder of Nice Thing Going, came in for her appointment, Hirsch gave her a "hands on" experience. Anton explained her vision, stressing that her gown needed to match her "wedding shoe of choice" — white ballet flats. Hirsch helped her choose a dress with an empire waist, a décolleté neckline, and a flowing skirt. When Anton asked to lower the waistline, Hirsch's team didn't just comply; it "took care to make sure it hit in exactly the right spot," which Anton says "took multiple iterations." She gave the finished dress her highest possible praise: It was "extremely comfortable."
For
Avoiding
the
Manhattan
Bridal
Scene
The One Bridal, 68 34th St., Bldg. 6, sixth fl., Ste. C649, Sunset Park; 347-529-4600; theonebridal.com
Industry City is home to a West Elm outlet, the Nets' practice facility, and the One Bridal Boutique, a simple salon stocked with wedding dresses from modern, minimalist brands like Halfpenny London and Lola Varma. Graphic designer Carly Klaire heard about the One from a friend of a friend and felt relieved to discover it was well-stocked with unembellished but sophisticated dresses at relatively low prices, such as a simple shift dress from Sophie et Voilà ($1,500). After Klaire tried on a few dresses at her appointment, the shop's creative director, Sudhey Reyes, broke in with a suggestion — a slinky, Champagne-colored dress that looked "like a piece of fabric, nothing special," on the rack but transformed into a showstopper on Klaire. "I was like, 'Okay, fine, I'll try this little nothing dress on,'" she says of the Cortana silk-satin "Rouge" dress ($2,900). Reyes was spot-on. "It hit me in all the right places," Klaire says.
Etéreo Vintage, 649 Morgan Ave., Ste. 2B, Greenpoint; etereovintage.com
The appointment-required boutique Etéreo doesn't specialize in bridal, but owner Zabrina Estrada has a knack for uncovering unusual finds that work well for weddings, such as a 1977 white Halston suit ($2,850) or a 1988 Chanel silk-crêpe gown ($3,798). Yoga teacher Chloe Kernaghan paid Etéreo a visit as she plotted an all-vintage series of looks for her wedding weekend. "I felt like I was walking into a friend's incredible closet," she remembers. Estrada listened to Kernaghan's vision, then whipped out "this incredible pleated, lace wrap skirt that tied on the side with an open slit that exposed major leg as I moved." Estrada paired it with a ruffle-front Chanel blouse, making Kernaghan feel like a "patroness of the arts."
For
a
Rush
Job
That
Doesn't
Look
It
Sarah Seven, 180 Lafayette St., seventh fl.; 646-901-9070; sarahseven.com
Most bridal boutiques recommend that shoppers begin looking for a dress between nine and 12 months before their wedding. Those with less time should try Sarah Seven. Last summer, Lindsey Simcik, who hosts the Almost 30 podcast, resolved to plan her entire event in about ten weeks. So she made an appointment at the brand's downtown studio, convinced by the description of its wares as "wedding gowns that look like something you'd actually wear" — including the "Brontë," an off-the-shoulder, open-neck dress with sheer sleeves, and the "Agatha," with a thigh-high slit and a corseted bodice. After Simcik tried on a handful of options, a salesperson on the floor helped her slip into the "Capri" ($2,950). Its plunging neckline and fitted column skirt charmed her in an instant. "I was like, 'I think this is it, and by the way, I'm getting married in two months.'" The staff at Sarah Seven wasn't fazed and promised it could be done. "I was floored," Simcik says. She had time for two full fittings and was never made to feel that the team was "under the gun or rushing." When the gown was finished, Simcik, a fit model in a previous life, says she scrutinized each seam and snip: "I have an annoying eye, and the quality of the dress and then the fit and the way they tailor were unbelievable. They nailed it."
For
a
Department-Store
Selection
in
a
Boutique
Mark Ingram Atelier, 110 E. 55th St., eighth fl.; 212-319-6778; markingramatelier.com
In New York, bridal retailers tend to be divided between soulless department stores (with lots of choices) and charming boutiques with more modest selections (or the madness of David's). No wonder scores of frustrated brides head to Mark Ingram Atelier, a bridal emporium that splits the difference. The midtown showroom carries over a dozen designers, including Elie Saab and Mira Zwillinger, and the full in-house Mark Ingram collection but retains the feel of a jewel-box shop. Its expert staff can pull such looks as Eisen Stein's Grace, with a dramatic mermaid silhouette and off-the-shoulder puff sleeves ($8,050), and Ines Di Santo's cowl-backed Nera ($5,490). When she visited, Diana Arzoomanian was counting on having a wealth of options with just six months until her black-tie reception. The time constraints might have alarmed her had the atelier's bridal consultant, Jill Muir, not steered her toward designers who would be able to deliver in her time frame. "I appreciated how quickly we were able to narrow down the selection," says Arzoomanian, chief of staff at a wellness company. "It was the opposite of overwhelming." She nabbed a Carolina Herrera dress that arrived with time to spare, her alteration appointments went off without a hitch, and the results, per Arzoomanian, "were perfect."
For
a
Handmade
Custom
Gown
Samantha Sleeper, 148 W. 24th St.; samantha-sleeper.com
There's "made-to-measure" and then there's Samantha Sleeper, who designs and sews bespoke gowns for each of her clients. Her approach has attracted women looking to deviate from the ultratraditional, whether that means incorporating subtle color into their gowns or hand-painted flowers or all-over beading. "I am a function-over-form kind of person, so I wanted something practical that was beautiful," actress Jamie Gray Hyder says. "Sam was great at deciphering my requests and putting them into design terms." The process — with gowns starting at $5,000 and tending to fall between $6,000 and $12,000 — requires an investment of time and resources, but Sleeper's fans prize her collaborative methods. "Sam and I went through a series of iterations before we landed on the final version," Hyder says. "I decided on a two-piece number with a delicate lace overlay for the ceremony that I could lose for the party to reveal a strapless jumpsuit underneath. It was the perfect mix of feminine and funky." Freelance stylist Stacey Cunningham had Sleeper make her two gowns, one of which was covered with "all the feathers, all the beads — it was so much fun." Still, she appreciated how Sleeper spangled with intention. To avoid a glittering Big Bird vibe, she hand-trimmed feathers to accentuate Cunningham's waist.