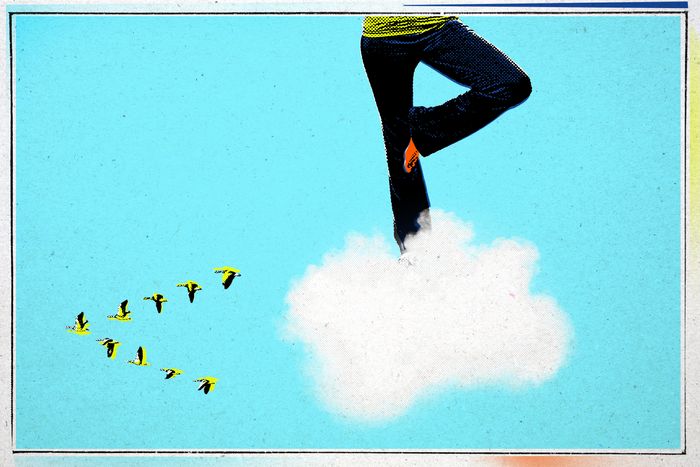 Photo-Illustration: Curbed; Photos: Getty
For
Less-Oppressive
Hot
Yoga
Lyons Den Power Yoga, 267 W. 17th St., second fl.; 646-964-4583; lyonsdenpoweryoga.com
Unlike bikram yoga studios, which are steam-heated to 105 degrees, Lyons Den is warmed with infrared light to 90-to-95 degrees. Its 60-minute power vinyasa classes are designed to quickly build strength and endurance. Tatiana Boncompagni, founder of food-delivery service Eat Sunny, who is also a certified personal trainer, was surprised by how tough it was. "Not every yoga class is a workout," she says. "I remember doing a crow pose three-quarters of the way through and hearing sweat run off the top of my head and hit the mat like rain. I had never felt so physically challenged and inspired by yoga. I was hooked." The 90-minute Sunday Service, often taught by founder Bethany Lyons, has since become Boncompagni's weekly reset. Lyons offers hands-on physical adjustments and energizes the room by reading poems or playing songs. "Something about the practice is so spiritual," Boncompagni says. "People sometimes cry. We all walk out transformed."
Prema Yoga Brooklyn, 976 Fulton St., Clinton Hill; 718-622-2373; premayogabrooklyn.com
On top of its wide array of new-mom classes (a seminar on baby-wearing basics, another on the essentials of modern birth), Prema Yoga has a standout prenatal yoga class. It's explicitly meant to prepare expectant mothers for birth, and is taught by Gayle Lemke, a certified yoga instructor and doula with 25 years experience. "A lot of the flow is to encourage flexibility and opening of the pelvic floor, stretching the hips," says content strategist Cristina Cala, who started the class at 25 weeks pregnant. "When we do warrior pose, she has us press our palms on the sacrum and press downward to aid labor." Cala adds the moves were doable through her third trimester and Lemke didn't judge her for needing modifications: "It made me feel better about what my body can do during pregnancy instead of feeling bad about what it can't do." After class, there's time to connect with other expectant parents. The very intentionally fostered community spirit has been invaluable to her; one classmate suggested an acupuncturist who helped turn Cala's baby out of the breech position.
Kula Yoga Project, 85 N. 3rd St., No. 113, Williamsburg; 917-472-7499; kulayoga.com
No class in this cozy, dark-paneled space is shorter than an hour, and the focus remains a wide variety of yoga styles. Photographer Thea Traff, a student here since 2015, describes it as a "true yoga" studio. There's a three-hour Mysore Ashtanga class, in which students do a specific set of poses at their own pace; open-level Iyengar yoga; prenatal instruction; and Kula Reset, a restorative practice. Traff says the longer classes make her experience even more Zen. Her favorite is Honey Flow, held on Friday evenings; it's an hour of vinyasa followed by 30 minutes of Yin yoga during which poses are held for five minutes for the deepest stretch. Traff says, "It feels like the perfect way to close a week or start the weekend."
For
a
Mat
Beside
Phoebe
Bridgers
Sky Ting Yoga, 17 Allen St., No. 7; 212-203-5786; skyting.com
Since 2015, Sky Ting has expanded from a small Chinatown studio into a yoga empire with a library of online courses, European retreats, a full merch line, and a celebrity-heavy clientele (Phoebe Bridgers and Tommy Dorfman are both regulars). "They've done an incredible job curating an aesthetic," says musician Abner James. He started attending classes at Sky Ting in 2022 and has since made it part of his daily routine. "As I've become a bit more experienced, I feel like I'm able to bring more to class, but I never felt like I couldn't participate because I was a beginner," James says. "It sounds cliché, but I feel like there is something for everyone there and that the collection of classes offers a holistic, well-rounded approach." The namesake flow combines multiple disciplines, including vinyasa, Katonah, Taoist theory, Iyengar, kundalini, and hatha principles. For ballet dancer Jenelle Manzi, it's one instructor in particular that makes her a regular. She hits a few yoga classes a week around the city, but her hands-down favorite is with co-founder Krissy Jones. "Between the plants, the light-filled space, and Krissy's voice guiding you through the movements, I end up feeling so rejuvenated and aligned," Manzi says.
Three Jewels, 5 E. 3rd St.; 646-964-5736; threejewels.org
Every class in this tiny, Buddhist-inspired East Village studio, hidden behind a mirrored wall in the back of Three Jewels café, ends with a guided meditation. Each is tailored to a specific theme such as self-care or letting go of patterns that don't serve you. And the practice begins with a Dharma talk, an intention-setting discussion for students to mull over as they move. "Those things are missing, intentionally or not, from a lot of yoga practices," says Jessie Lucking, a Parsley Health coach. She recently took a breath-focused class at Three Jewels. "The talk was about self-care and serving others," Lucking says. It lasted only about five minutes, but "the instructor offered to let us stay if we wanted to dig into the topic more deeply. I love that they incorporate mindfulness and meditation with movement."
For
Donation-Based
Classes
Yoga Agora, 33-02 Broadway, second floor, Astoria; 718-626-0680; yogaagora.com
After moving to its sunny, exposed-brick Queens studio in 2010 with $5 classes, the class price has only risen to a still exceedingly reasonable $10. "You get everyone from very advanced yoga practitioners to newbies," says painter Omar Chacon, who's been a regular at Yoga Agora since it opened. Though the clientele is very close-knit, he adds, it has "never been cliquey. It has a family vibe." The studio offers a pay-as-you-wish class every morning — these enticed caterer Benjamin Gordon to try one in 2018, and they have been attending three times a week ever since. "The people there are dedicated to the place," they say. "I've taken fitness classes where I felt like if I wasn't keeping up, I was falling behind. But I've never felt that at Yoga Agora, even in the tougher classes. You don't feel like you're showing up to perform."