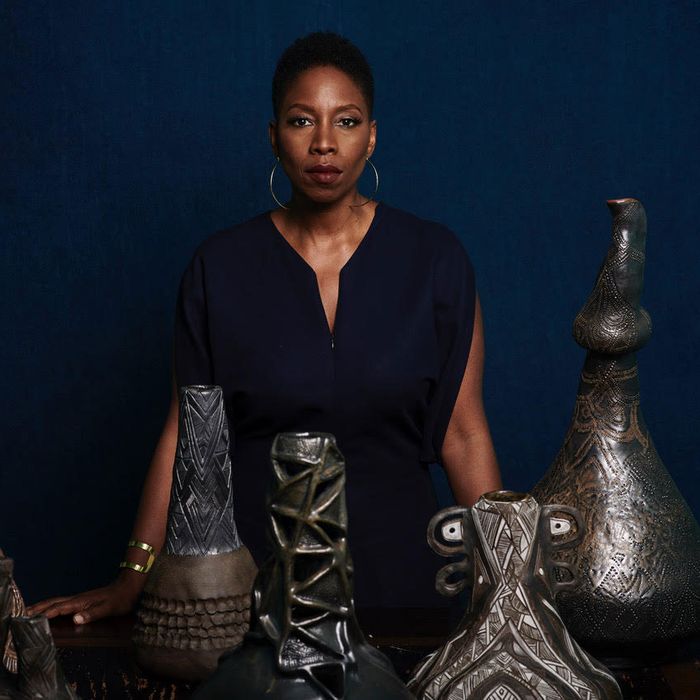 Malene Barnett, founder of Black Artists and Designers Guild.
Photo: Credit Alaric Campbell
Artist Malene Barnett started the Black Artists and Designers Guild in November of 2018 — she described the organization then as "a curated collective of black artists and designers throughout the African diaspora," committed to the fight against systemic racism and historic oppression against black people. We profiled several of those represented artists on The Cut last year, and on Monday I spoke with Malene about what is coming next for the Guild and its members: a virtual four-bedroom concept house that imagines a new future for black families. This is an edited version of that conversation. To donate to BADG, visit their website.
Tell me the latest news from the Guild.
Yes — we are working on a project we're calling the BADGUILD Concept House. We want to get rid of the word showhouse because a showhouse is a fantasy; it's not reality. We want to create something that taps into the black family narrative — and to create an actual space, post COVID, as well. The location is going to be Oakland, California. And it's going to be really badass.
Which artists are involved?
Leyden Lewis and Nina Cooke John are going to be the architects leading the actual design of the home. Once they design the actual structure of the house, any interior designer, maker, or artist in the Guild who wants to participate can. So an interior designer will partner with an artist, a maker will partner with an architect to create the bedroom, or the living room. The house will be rendered realistically in 3-D online, as well — and each room will have several iterations, so as to properly represent multiple different family lifestyles. If you're single with no children and an artist, you'll be able to tour the house online with that lens in mind. Or if you have a partner and a kid and your mother-in-law lives with you, you'll be able to tour the home based on those facts. We're infusing smart technology into this project.
Will you be partnering with any companies for this?
Yes, but anyone who we partner with is going to have to be willing to take an oath to change the narrative of this industry. And besides believing in the mission of the Guild, they need to make a declaration and share with their employees and their audience that they are no longer going to stand for racism and that they are working towards demolishing that system, and sharing steps on how they are doing it. This week we are working on creating that declaration and an "anti- racist design tool kit," so people can have a sense of what they can do to get started. But everyone has to understand that all of this is just a start; it has to be implemented every day in all aspects of their lives.
A Primer on Black-Owned Businesses Represented by BADG:
Ceramics
Bauhaus Design (@baughaus), Savanna-la-mar, Jamaica
Hadiya Williams (@hadiyawilliams), Washington, D.C.
Malene B (@malene.barnett), Brooklyn
Textiles
Johanna Howard (@johannahowardhome), Montclair, New Jersey
Yaël & Valérie (@yaeletvalerie), Port Au Prince, Haiti
Furniture
Jomo Furniture (@jomofurniture), Springfield, Virginia
Marie Burgos Design (@marieburgos.design), New York
Bymaking (@bymakingdesign), Port of Spain, Trinidad & Tobago
Crhule (@crhulestudio), Trinidad & Tobago, Caribbean
Oi Studio (@oistudio_), New Orleans
Aziza Design (@azizadesign), Ikeja, Lagos, Nigeria