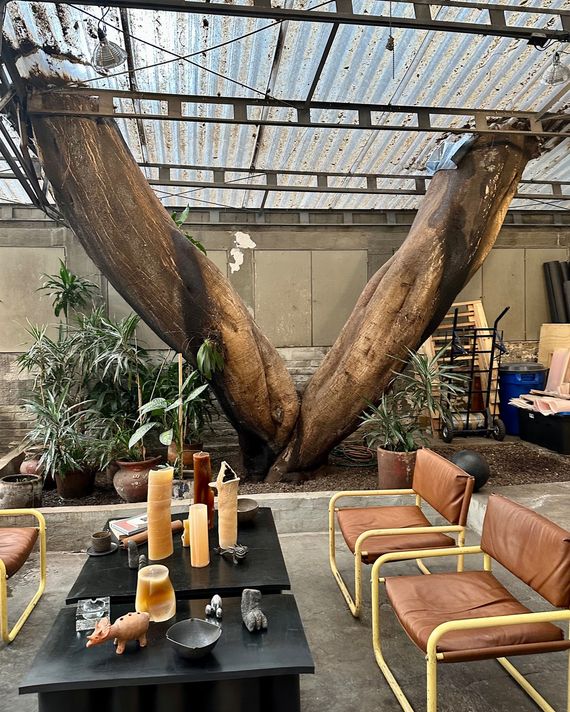 A Ficus tree grows in the studio.
Photo: Wendy Goodman
In 2015, California native Brian Thoreen, an artist and designer, was on his way with his son and his brother to the Yucatán when a hurricane hit, so they ended up diverting their trip to Mexico City instead. "I instantly fell in love with it even though I didn't know anybody," Thoreen recalls. He kept coming back, getting to know the community of artists there, until finally, in 2018, he ended up renting this space — there's a studio, a kitchen, two bedrooms, a patio, and a dining area — from artist Thomas Glassford. He and his wife, Tess Lochanski, who is French, have an apartment in Paris, but they spend most of their time in Mexico City when Thoreen is not traveling for exhibitions of his work. To make it perfect, Thoreen says, "I basically didn't have to do a whole lot."
I was in Mexico City recently on a trip organized by the Design Leadership Network. Every year, the DLN, which was founded 17 years ago by Peter Sallick, takes its members to a different city. Su Wu was one of the curators that led a group of us on a studio visit to her good friend Thoreen's space in the San Miguel Chapultepec neighborhood. She also took us to MASA gallery, co-founded by Thoreen along with Age Salajõe and Héctor Esrawe. (Among other shows she has done with the gallery, she curated MASA's exhibition "Intervención/Intersección" at the former post office in Rockefeller Center last year.)
It was raining hard when we entered the courtyard, dripping with green leafy vines, of the home and studio. Once inside, all we could hear was the sound of water ricocheting off the plastic roofing, which is provided with two openings to accommodate the V-shaped split trunk of the enormous Ficus tree that takes center stage in the first room of Thoreen's working area.
"It feels like having a living animal," Thoreen says. "It's really like you are living and working in some kind of living organism, some kind of belly of the beast. The rain, the leaves falling from the tree, birds on top, my cat chasing birds — it's just kind of a constant being around living things."
He led us on a tour of his studio with completed and unfinished work and then showed us the living area where he and his wife live while there.
"I like to bring in industrial materials that I resonate with," Thoreen says, "because my father was a contractor and I grew up doing roofing and construction with him." His art and design throughout the house illustrate how he has repurposed neoprene and played with materials including charcoal and wax.