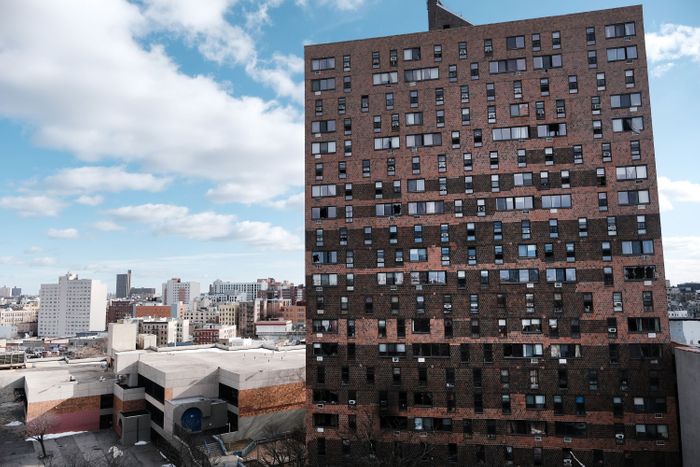 Photo: Spencer Platt/Getty Images
On the first week of every month, a group of about a dozen West African women, all residents of Twin Park North West in the Bronx, would gather in apartment 12G, the home of an older woman, to pay their respects and help out. "We'd each give her $5," says Haja Kamara, who moved into the building in 2011. During Eid, this same group of women visited 12G, too — they'd dress up, listen to the music of Youssou N'Dour, and cook okra stew or braised chicken yassa.
Twin Parks North West — the building where a Sunday morning fire left 17 people, eight of them children, dead — is unusually communal in almost every way. Besides making sure to take care of those in the building who need extra help (this applies to anyone who has a problem, says Kamara — whether they're "Spanish, American, or African, we'll send a donation, even if it's just a little bit"), the residents tend to walk to Masjid Al-Fawzaan, the nearest mosque, to pray together; some five times a day. Neighbors address each other in the hallway by "sister" or "brother" and tell newcomers where to find the best halal lamb.
Community was top of mind for the handful of reverends (and a few rabbis) who, in the late 1960s, conceived of Twin Parks, the 12-story, 2,250-unit development in Tremont of which the North West tower is a part. Hoping to build affordable, integrated housing for the mid-Bronx's increasingly racially divided community (at that time, the area mostly consisted of Italian, Puerto Rican, and Black New Yorkers), the religious leaders set their sights on an underutilized stretch of Tremont between Crotona and Bronx parks. They founded an aptly named nonprofit housing corporation, Twin Parks Association (TPA), in 1966. "The housing will be the start of relationships," said TPA leader Reverend James Sudbrock at the time.
In 1969, after years of bureaucratic and financial setbacks, TPA leaders begrudgingly handed the project over to Governor Nelson Rockefeller's barely approved planning and development superagency, the Urban Development Corporation (UDC). With controversial urban planner Edward Logue (known for urban-renewal super-projects across the East Coast that Jane Jacobs says "ruthlessly" divided Black, low-income communities) at the helm, the UDC turned Twin Parks into something of a design project. Logue hired six of the city's best young architects (including Richard Meier and James Polshek) to construct Twin Parks as "vest pocket housing" — scattered apartments built into the existing fabric of the neighborhood that (like their garment-inspired name suggests) would be small and airy in contrast to Robert Moses's bulldozed-and-rebuilt superblock towers. Before Twin Parks opened, UDC top brass moved into one of the apartments for a week to give the architects feedback, like where to place phone booths.
Twin Parks North West, which abuts a three-street intersection on one side and a steep rock cliff on the other, was one of the topographically challenging project's most difficult sites. Architectural firm Prentice & Chan, Ohlhausen took it on, building a tower with a pedestrian walkway underneath, which connects an open plaza in the front with a public staircase down to Webster Avenue in the back. Partner-in-charge Lo-Yi Chan (who later designed Dartmouth College) added a children's play patio and an herb garden above the stairs. Inside, there was a mix of one-level studios and multiroom floor-through duplex apartments designed in 20 different layouts (a construction that Architectural Forum compared to abstract art). This design scheme is unusual not only to low-income housing, which is often characterized by mediocre-size cookie-cutter units, but New York City apartments in general, which don't typically have internal staircases (a feature generally reserved for brownstones and townhouses). In 1973, the residents, mostly Puerto Rican and Black New Yorkers, moved into apartments with closet space and dependable heating, amenities that many early building residents said they didn't have at previous apartments). They paid about $10 to $30 per month. In 1975, Twin Parks' last residents moved in; later that year, the UDC went bankrupt, cementing the housing project as one of its last.
By 1980, the play space was partially filled in and the garden was dead. Gang violence in Twin Parks' community-designated plazas became regular, and nearby swaths of the Bronx burned. Meanwhile, a community of Gambians was growing in the area. The first to move into Twin Parks North West seems to have been Abdoulie Touray, a diamond trader by day and Islamic scholar by night who went on to become a community leader, eventually founding the Pan-African Islamic Society out of his apartment and offering Islamic services to neighbors and Muhammad Ali alike. By the time his nephew, Bakaray Camara, moved to the Bronx in 1988, Touray was already a kind of "mascot" to the West African community, he says — and Twin Parks North West was known, as the New York Times reported this week, as "Touray Tower." Throughout the '80s, a generation of Gambians would immigrate to the Bronx. At the time, the Bronx's smaller West African community was less resourced. There weren't halal grocers and hair-braiding salons on every corner, and Camara remembers only one nearby mosque, which he says got so crowded during holidays that Muslims in Tremont took the subway to Harlem to pray. Touray, though, knew where to buy halal meat and would officiate neighbors' wedding ceremonies in a pinch.
Tremont's West African community more than doubled in the early aughts. At the same time, residents were fighting to preserve the few affordable units at Twin Parks, which, as part of the state's Mitchell-Lama program, could be converted to market-rate units periodically. In 2013, the development got $39.6 million in state funding; financing that went toward building upgrades, like energy-efficient lighting and new boilers, and transferred Twin Parks from the UDC to another state agency, guaranteeing residents 40 more years of same-rate housing prices. Mohamed Keita, who immigrated to the Bronx from Côte d'Ivoire in 2010, moved out of his family's home and into Twin Parks North West in 2020; after a monthslong housing search, the apartment, which is the first he's lived in alone, was the only affordable place he could find. (It felt very familiar right away, he says — his mom and sister both had friends in the building, and he celebrated Thanksgiving that first year with a neighbor.) That same year, Twin Parks North West was purchased for $10.5 million by a trio of well-regarded affordable housing developers; among them, Camber Property Group, a developer already credited with "miraculous" public housing renovations in the Bronx, led by Andrew Moelis and Rick Gropper, who was recently tapped for Eric Adams's 56-person housing transition team.
Operational improvements were promised after the sale to mixed results — between 2014 and 2019, as Curbed reported earlier this week, four violations were issued for problems with self-closing doors; all were resolved, though several tenants reported after the fire theirs didn't work. Keita says that violations don't paint an accurate picture in the first place, though, because her neighbors were mostly too scared to call 311 to complain. "Immigrants don't want to come forward," he says. Plus, previous attempts to change things from within hadn't gone so well. Recently, Keita says, all the tenants banded together to complain after management removed 24-hour security from the building. "We didn't feel safe," he said. "People were just coming inside. So we had a meeting with all of the tenants, we took it to management, nothing changed. People gave up."
Most of the residents in Twin Parks North West were placed in temporary housing during the past week; Kamara and her five children among them. She was relieved to learn that the woman from 12G is still alive, but some of the others who she gathered with monthly died in the blaze. "All of that is gone," she says of her community, which is now dispersed between Bronx hotel rooms. Kamara hasn't gone back to her apartment since the fire; she wants to pick up whatever clothes and family photos are still there, but — like many residents — isn't planning on moving back in permanently. "After seeing the children who used to sleepover in my house die in that building, I can't handle going back," she says. "That's the only reason I don't want to go back. Otherwise, I love it there."