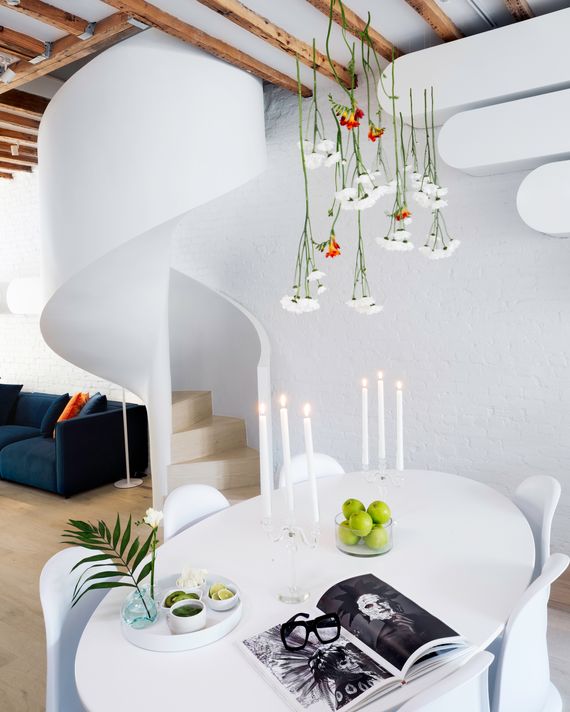 The Spiral Stairs:
The stairs were added to link the ground floor to the childrens' rooms on the second floor. The dining table and blue velvet sofa is from Rove Concepts. Sommet also exposed the original beams of the ceiling during the renovation. The discreet track lighting is LED.
Photo: Kiritin Beyer
We met at a birthday party," artist/designer Virginie Sommet says of the client for this project, who was at the time living in a condo in Queens but wanted to buy a building where she could live (and have a garden) but also have rental income. Sommet, who grew up in Normandy and owned a ballet school in Paris before moving to New York and starting work for developers doing design projects, offered to help. After all, she'd redone her own home in Bed-Stuy, which led to working with private clients, and was always up for a challenge.
They found it in a disused three-story 1899 building in Ocean Hill, Brooklyn. It had been a church on the ground floor, with apartments above, and at once they saw the potential for a new beginning.
"It was not easy," Sommet recalls, "because she had to change the CofO." Sommet's client had loved her renovation of her townhouse and told her that "she wanted the same." Which meant a clean minimalist space, with the designer's trademarked "Virginie Peekaboo" cabinets that can look like giant exclamation points or mysterious oval pods floating on the walls. (Sommet is not fond of right angles: "For me square is boring, Virginie Peekaboo is not!")
The former sanctuary became a loft-like space with the kitchen in front and the client's bedroom in the back, opening onto the new garden. The two kids' bedrooms were created on the second floor, connected by a new spiral staircase which Sommet designed herself. "I bought a custom metal stair for $2,500, as the base, and then worked with three carpenters eight hours a day for three weeks," she says. "I researched materials and I had to be with them all along because they had never done that before." The rest of the second floor, as well as the top floor, became rental apartments.