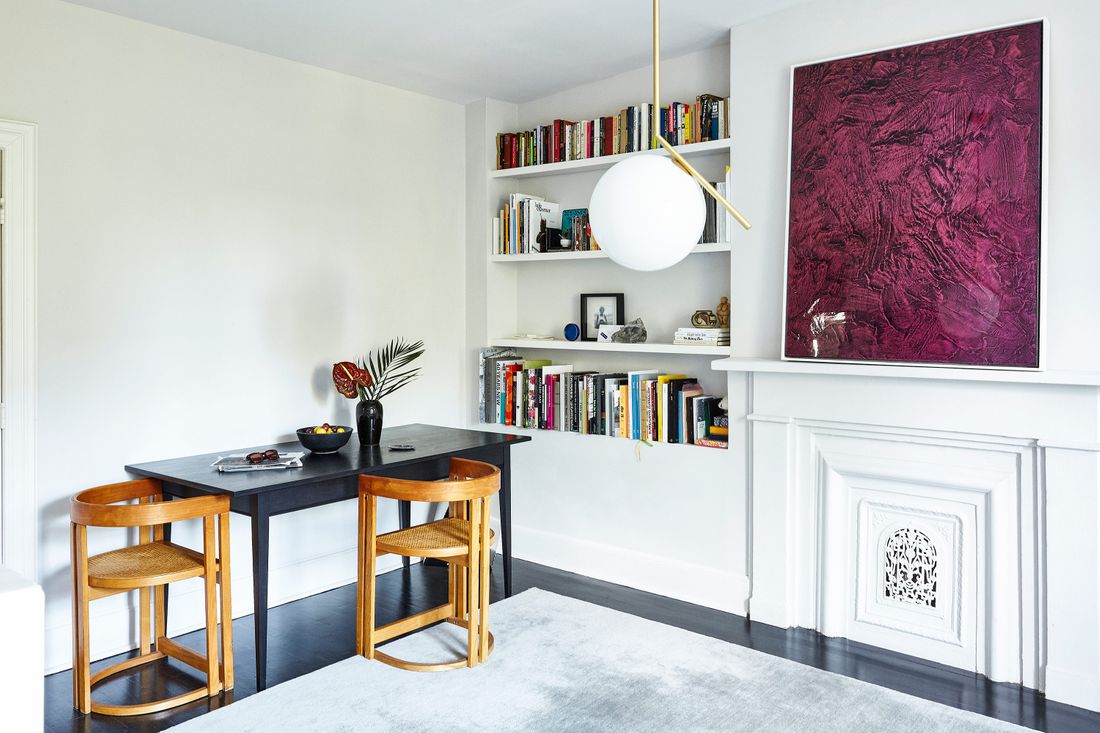 This story was originally published by Curbed before it joined New York Magazine. You can visit the Curbed archive at archive.curbed.com to read all stories published before October 2020.
When Alyse Archer-Coité returned to Brooklyn from Berlin in late 2015, she did the reasonable thing and found an apartment near her new job in the borough's Greenpoint neighborhood.
A position as a director at A/D/O, which bills itself as a "space for creative exchange" for artists and designers, had brought her to the area, which has a mixed architectural fabric that's two-parts industrial, one-part residential. It was a change of pace — and somewhat of a hike — from her previous neighborhood, Fort Greene.
But she couldn't stay away for long. Soon after friends of Archer-Coité's, a couple, got married and bought a place, their one-bedroom, one-bathroom apartment opened up. The couple was known for their excellent skill as hosts, and their warm dinner parties, so she was familiar with their home; it, in fact, had always been her favorite place in the neighborhood, tied as it was to good memories. The couple asked if Archer-Coité knew anyone who would be interested in it.
"I said, 'you know I have a place, but if I didn't I would want it,'" says Archer-Coité. "They were like, 'well, you don't have to have your place; you could have this place."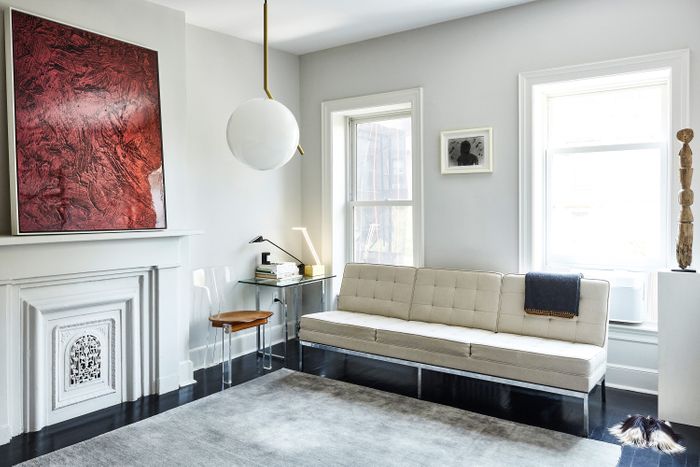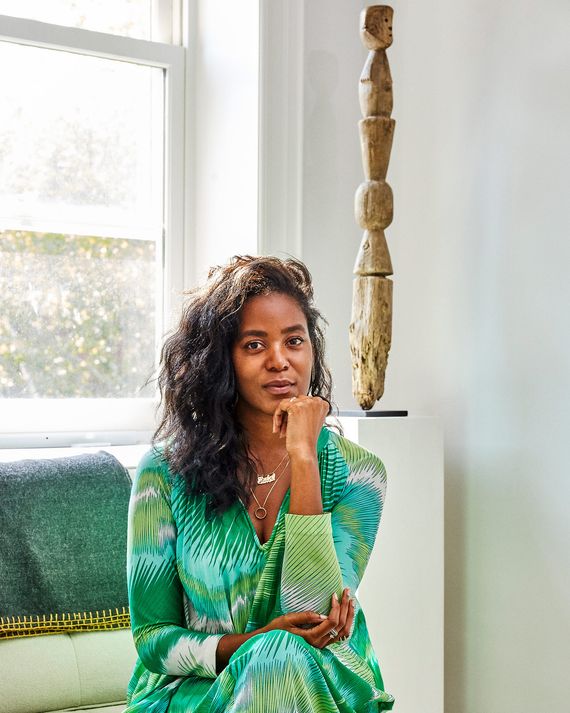 Though at first Archer-Coité didn't take the offer seriously, she quickly came around to the idea; it was more affordable than the space she was renting — and had a private deck.
The building and apartment embodies Fort Greene's charm and history while sporting a clean color palette that diverges from the dark wood interiors you often see in brownstone apartments. The roof, pitched highest in the living room, slopes toward the back of the house; this, she says, creates an openness in the main space.
The walls, ceiling, and trim had all been painted in three shades of gray from Farrow & Ball, a color choice that extends the sense of openness in the space. The black floor — also painted with Farrow & Ball — offers a visual counterpoint, peeking out from beneath an expansive ABC Home rug. While Archer-Coité wouldn't have chosen gray for the walls — "I like a little more of an austere setting," she says, explaining that she gravitates toward all-white spaces — she's found ways to make it her own.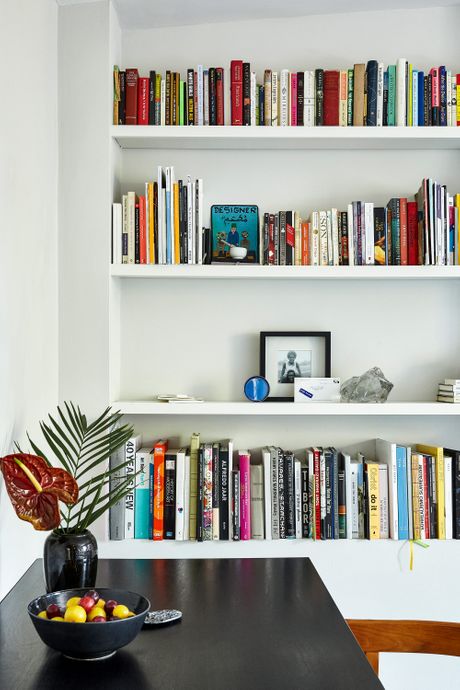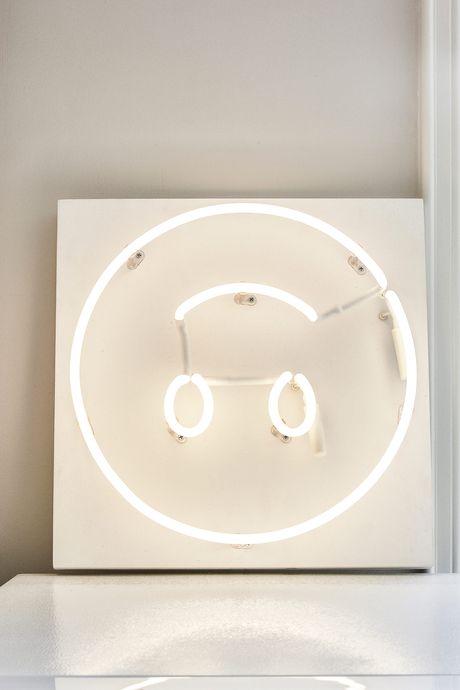 "There's a lot more color in the house [than when the previous dweller lived there], but it's definitely not a bright home," she says. "There's more color in it than I would have had probably in any other space." And that's saying something: Her furnishings, like the walls, are neutral and rigorously sparse, yet striking.
In the living room, a vintage Knoll sofa reupholstered in pale bouclé is presided over by an IC pendant light by Michael Anastassiades for Flos with a brass armature and milky glass orb. A solid cherry dining table designed by Form Atelier, dyed with black aniline, holds court opposite the sofa, beside which stands an antique wood sculpture, from what is now South Sudan, that was being deaccessioned from a private collection in France.
Ceramics and sculptures dot the apartment, from friends and artists (often both), and come from across the globe, from Tanzania and China to Colombia and England. Two vintage wooden chairs from Horseman Antiques in Brooklyn also take up residence in the space, providing a hint of the warmth offered by wood-clad brownstone interiors. "The black table is so [severe] but the chairs have a kind of playfulness to them," Archer-Coité says. "I like that mix of a high-low feeling — but I try to keep as far away from craftiness as possible."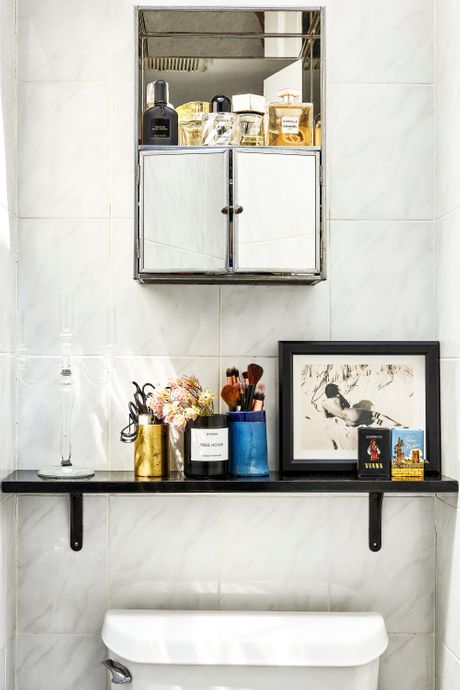 Each room leads into another in an informal, natural way; her living room includes the cove that is Archer-Coité's kitchen; then her bathroom, followed by her bedroom at the back of the apartment. In her Greenpoint place, a railroad apartment, there was more room for sprawl; having all her things packed more closely together has been a work in progress. For Archer-Coité, her home has to be beautiful and comfortable. "I take it very seriously, maybe to a fault," she says with a laugh.
At first glance, the large painting above the fireplace, by Matt Jones, looks as if it's the central artwork in Archer-Coité's home. But on second look, it clearly exists in concert with the numerous other pieces in her home — sculptures, photographs, ceramics — that have deep personal meaning. All of the photographs in her home are by men of color, something that was incredibly important to Archer-Coité.
"I grew up with just my mother; I didn't grow up with any brothers or my father in the house," she explains. "But I find men of color so beautiful, mysterious, and wonderful, and it's been really great for me to have them in the house with me. I feel like they are my army." She notes a specific 1980s photograph, titled "Mochi," by Cuban artist Juan Carlos Alom, which hangs above the sofa and that Archer-Coité acquired after visiting his studio.
"I bought that and I just have cherished it, waiting for the right frame." The house is also decorated with several photos of her mother in her youth, as well as, beside Archer-Coité's bed, two photos of young black women in Lisbon, Portugal, going about the business of their days.
"I like [having that in my home]," she says, "a history of brown people in the world." She goes on to paraphrase a line from Maya Angelou's poem Our Grandmothers: "'I come as one, but I stand as ten thousand.' I think that element of not forgetting where you come from…it's really important to my home space."
Though new projects on the horizon are taking her elsewhere, Archer-Coité says New York will always be where she's most confident and at home, a place where she can return where all her favorite people are.
"This house," she says, "has made me feel like I have a home [more] than any of the other apartments that I've lived in."