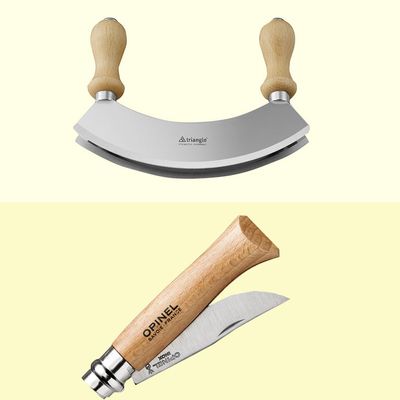 Photo-Illustration: Retailers
As a fourth-generation butcher, I have been around knives my whole life — probably much sooner than I should have been, honestly. The knives my grandpa and his father and brother used were about utility and utility only: How many beef carcasses could they break down before needing to sharpen them? How many times could they sharpen them before they were too toothpick-thin to be useful? If the handle got bloody, could you still grip it? Did the weight make it easy to change position? I don't think I ever once heard them talk about the beauty of a knife.
When I moved to New York in 2004, I immediately started working in kitchens to pay my way through school. One of the first things I noticed was how the cooks I worked with were so proud of their knives. They'd unfurl their knife rolls with such reverence and sharpen them on a whetstone so tenderly that I sometimes had to look away. My first knife roll, meanwhile, was filled with a random assortment of the cheapest knives I could find at the Bed Bath & Beyond on 6th Avenue. While I quickly realized that all knives are not created equal, it wasn't until I transferred from kitchen work to full-time butchering in 2009 that the importance of a good knife really sunk in. You only have one cutting arm, so your knife becomes an extension of that arm, and because of that, you grow to worship your knives.
As of about a year and a half ago, I stepped away from butchering to launch a sausage company called Seemore Meats & Veggies (named after my grandpa, Seymour). By then I had amassed an arsenal of butchery knives, but many of them were not really made for use in non-commercial kitchens. The knives I use most at home land squarely in between those beloved by my butcher relatives and those worshipped by my chef colleagues. First and foremost, they're functional — they hold an edge for a long time and are easy to resharpen, clean, and hold. But — and don't tell Grandpa Seymour this — they're also beautiful to look at. Below, the eight knives I rely on in my own kitchen.
My chefs knife and boning knife
For my beater knives — or the ones I use regularly and roughly — I really love Victorinox. My scabbard at work has always been filled with the brand's knives because they tend to last the longest and keep a sharp edge, even when being used daily on heavy projects. The blades are stainless steel, which make them easy to maintain, and I love the rosewood handle for grip comfort — it's far preferable to a plastic handle for long hours of cutting, and the rosewood tends to keep grip even when bloody. You may not be breaking down full beef carcasses in your home kitchen (or maybe you are? What do I know!), but you still want knives that don't need to be sharpened every time you break a chicken. To me, Victorinox's price point is also very fair for what they offer, which is important in an everyday knife.
My paring knife
Photo: Retailer
After using such enormous knives every day at work for so long, I get a weird thrill every time I get to use a tiny paring knife in my own kitchen. I inherited (perhaps accidentally) this paring knife from a kitchen I worked in years ago. It sharpens easily on a diamond steel and the super-sharp tip makes it a great tool for things like coring fruit and digging the eyes out of potatoes. I like the light weight of it and the handle is grippy enough that I feel comfortable using it to peel vegetables without cutting my finger off.
My bread knife
Photo: Retailer
For absolutely no good reason, I held off on buying a bread knife until around the time I started Seemore. I felt a weird prejudice against them because they are made to do one very specific thing. But now that I have one, I will never look back. Bread is my favorite food and I had no idea how badly I was disrespecting it all these years. I like this one by Tojiro because it's lightweight and sharp enough to slice through even the crustiest bread without squashing it, and the handle is long enough to tackle large loaves. I admittedly don't have anything to compare it to, but it has changed my life!
My vegetable knife
Photo: Retailer
This knife goes by a few names — some people call it a vegetable knife or vegetable cleaver, others a Chinese chef's knife, and sometimes it's referred to as a chukabocko. I don't cook much meat at home, so it's probably my most-used knife. Although it's shaped similarly to a meat cleaver, it's a totally different tool. The blade on this is much thinner, allowing for more delicate slices. The knife is also much lighter than a meat cleaver, making quick, agile slicing easy-breezy. If you were to use this instead of a traditional cleaver to wedge through bone, it would chip, and you also wouldn't be doing your cutting arm any favors because the light weight doesn't give you much leverage. I mostly use this for dicing vegetables, but it also works really well for thinly slicing boneless meat. The blade is almost totally straight but curves slightly, which is perfect for the rocking motion of chopping, and the tip is slightly weighted to encourage that rhythm as well. This Shun model is the primo version of this type of knife, but I never regret investing in the brand's knives. I wouldn't sharpen it (or any Shun knife) at home unless you're experienced with a whetstone, but the company does offer a free sharpening service.
My cleaver
Photo: Retailer
Despite working in butchery, I rarely ever used a cleaver in professional kitchens because we usually had a bandsaw (and I am, by nature, lazy). Both back then and now in my home kitchen, the thing I use a cleaver most for is to pound out meat until it's super thin. Unlike meat mallets, which tend to chew meat up into mush, a cleaver has enough of a smooth surface area and heft to do a lot of flattening with minimal effort. I love this F. Dick cleaver for its astonishing, almost comical heft, its long handle, and its ability to take a beating. It's perfect for pounding out chicken cutlets or schnitzel: I line whatever I'm pounding with a sheet of plastic and then use the flat side of the cleaver to take out all of my anger on the meat. It works equally well for smashing a bunch of boiled potatoes at once before you roast them.
My mezzaluna
Photo: Retailer
Not to be a jerk, but I got my favorite mezzaluna at a vintage market in Sicily. I admittedly bought the knife because I thought it looked extremely cool, but it's since become one of my favorite tools. I like using it so much that I bought this backup mezzaluna from Williams Sonoma, which I feel less nervous about beating up. I cook with a lot of herbs at home and I love using my mezzaluna to chop big piles of them. It's also great for roughly chopping up lots of roasted meat, like brisket or carnitas for tacos, or quickly dicing onions and garlic, or making a rough board pesto. This one's smooth wooden handles are comfortable and it's lightweight but still has enough heft to spare your arms some strain. The size is ideal, too — big enough to cover a good amount of surface area, but compact enough to do a good, concentrated chop.
My pocket knife
Photo: Retailer
Years ago, I went to a Vice x Matty Matheson dinner that I had cut a bunch of meat for, and they gave out these Opinel No. 8 pocket knives as a gift at the end of the night. I kept it in my work pants at all times from then on and was always shocked at how often the freebie came in handy for small everyday tasks. Nine years later, it's still sharp, and I still use it all the time for all kinds of little tasks in my kitchen, from breaking down boxes, to cutting twine for roasts, to opening annoying packaging, to digging into my drain to see why it's moving so slowly. It's also the cutest knife I own.
The Strategist is designed to surface the most useful, expert recommendations for things to buy across the vast e-commerce landscape. Some of our latest conquests include the best acne treatments, rolling luggage, pillows for side sleepers, natural anxiety remedies, and bath towels. We update links when possible, but note that deals can expire and all prices are subject to change.