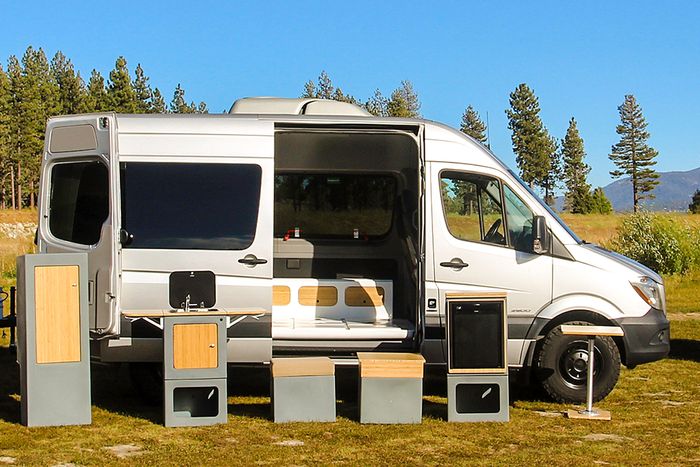 The new modular cube system from Happier Camper works as a van conversion kit for the 144-inch wheelbase Mercedes Sprinter.
Photo: Courtesy of Happier Camper
This story was originally published by Curbed before it joined New York Magazine. You can visit the Curbed archive at archive.curbed.com to read all stories published before October 2020.
The van life craze shows no sign of stopping. Each month Curbed gets word of a new conversion van company and we get dozens of emails weekly highlighting DIY rigs that take hundreds of hours to complete. And while both the custom van and the DIY van can accomplish the same goal — camping and adventure — not everyone has the money or time to go those routes. Love campers and trailers? Come join our community group.
Luckily, there's another option. For every fully custom conversion company like Outside Van or Sportsmobile out there, there's a new crop of companies selling conversion kits. Sometimes these kits are relatively simple, consisting of just a bed and maybe some shelving. Other kits are more involved, with everything you'd need for a fully outfitted rig.
All of the kits offer something in between a pricey custom build and the lengthy process of doing a van yourself. Pay attention to shipping times, however, as some kits are now on backorder thanks to increased demand during coronavirus.
We've rounded up five kits that caught our eye, including one with chic bamboo style and another that boasts a more industrial and modular feel. The prices listed here don't include the cost of the van itself, so factor in that when you're choosing a kit. We've also listed what type of van each kit works with, although many companies are quickly ramping up operations to expand to other van platforms soon.
This is #VanLife, prefab style.
Cost: Starting at $11,500 (depending on the length of your Sprinter)
Van type: Mercedes-Benz, Dodge, and Freightliner Sprinter High Roof Crew, Cargo, and Passenger models, 144 & 170 wheelbases.
Details: Each kit includes thermal insulation, fabric wall paneling, marine-grade ceiling LED lights, two remote-controlled ceiling fans, and an electrical harness fuse box and wiring kit. You'll also get Adventure Wagon's signature lightweight MOAB bed — shorthand for "Mother Of All Beds" — which is made from bamboo plywood and aluminum.
In order to maximize storage space in the rear gear garage, the MOAB bed is an elevated three-panel folding bed that secures to supports on the interior van walls. L-track strips on the wall make it so you can reposition the bed at different heights, or even remove it altogether. If van lovers aren't looking for a full kit, you can also buy many of the company's pieces — like the MOAB bed and 3M Thinsulate insulation — separately.
Read more about Adventure Wagon, over here.
Cost: An initial production run will be offered to early adopters, and pricing is still TBD. Happier Camper reports that the base kits will likely start around $15,000 and the deluxe kits will run around $20,000, although these prices can change.
Van type: Currently designed for the Mercedes Sprinter 144-inch wheelbase (although you can expect kits for other popular vans in the future).
Details: Happier Camper's latest product is an expansion of their innovative Adaptiv system. Known for their vintage inspired HC1 travel trailer (read our full review over here), Happier Camper used their experience with modular trailers to create a flexible van system that lets you customize the van on-the-go.
The Adaptive for Vans concept starts with a fiberglass grid floor base and a series of cubes. Two wheel well trunks create four built-in cubes, and once the base is in you add additional cubes in any configuration that you want. Most cubes double as storage areas, and a base package includes cubes with seat cushions, access holes, a cooler ice box, and a cube that functions as a pantry.
Stack two cubes high across the width of the van, add the form-fitting cushions, and you have a bed that can move wherever you need it. Take the cubes out of the van and you have seating or an outdoor kitchen. Need an extra table for a mobile office? A few cubes can accomplish that, too.
Cost: Starting at $798 for Jeep camper kits and going up from there
Van type: Ram ProMaster City, Ford Transit Connect, Mercedes Metris, Dodge Grand Caravan, Toyota Sienna, Honda Odyssey, Kia Sedona, Nissan NV 200, and many others.
Details: Colorado-based Contravans started selling the Contra-Kit years ago for the smaller chassis Ram ProMaster City and has expanded from there. The smaller car camper builds include compartments and drawers to store gear, while larger builds can include a bed, sink, storage, and seating for five.
Want something with more room? Check out their cargo van systems; slide-out drawers maximize space and let you sleep above the kitchen and gear areas.
Read more about Contravans, over here.
Cost: $18,000 for 144 wheelbase and $22,000 for 170 wheelbase
Van type: Mercedes Sprinter
Details: Made from aluminum exoskeleton and bent bamboo panels, the Zenvanz DIY van kit is a complete cabinetry and component system you install into your van using factory holes. Each kit comes with an interior galley kitchen featuring solid, marine-grade bamboo cabinetry, a bamboo and PaperStone countertop, and a cutlery drawer with soft close hardware. Other upgrades to the kitchen can be added on, like a fridge, a two-burner propane cooktop, a sink, and a mounted tabletop.
Elsewhere, the kit comes with a ton of storage — think three bedside cabinets, five driver side, and two passenger side upper cabinets. A three panel bed system is removable, stackable, and easily sleeps two, while a slide out step conceals a Thetdford Marine port-a-potty.
Read more about the Zenvanz kits, right this way.
Cost: $5,196 and up, depending on which van you are outfitting. Items also available a la cart.
Van type: Ram Promaster City Cargo; Ram Promaster 136-inch wheel base, high roof top; Ram Promaster 159-inch wheel base, high roof top; and the Ford Transit 148, long, high roof top.
Details: With kits for several different types of vans, Wayfarer offers an affordable way to get the camper of your dreams. The Wayfarer kit for the smaller Promaster City van includes durable insulating panels, a sturdy table that folds up against the wall, flooring, and camper boxes with cushions.
The larger Ram Promaster kits include flooring, integrated cargo management tracks, wall and ceiling paneling with 100% natural wool insulation, perimeter shelving, a kitchen galley with five gallon fresh and grey water tanks, sink and hand pump, bed platform, boot box and privacy paneling for the sliding and rear door window areas.
From order to completion, a full kit usually takes less than two months. Shipping is a flat $500, or installation is free at the Wayfarer shop in Colorado Springs, Colorado. Head over here for more info.