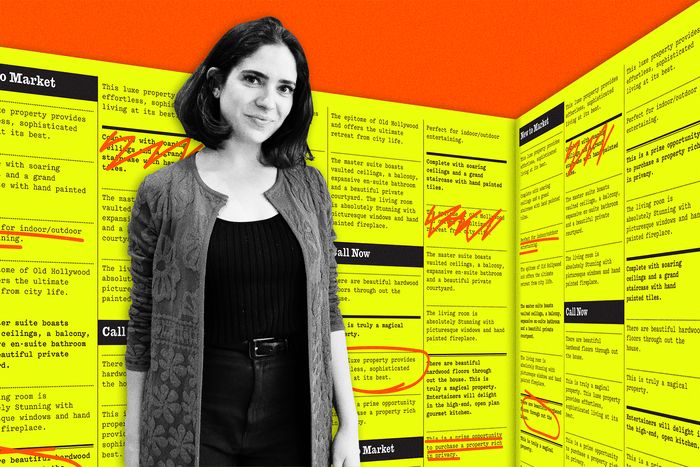 Photo-Illustration: Curbed; Photo: Courtesy of Caroline Weaver
I've been stalking real-estate listings since I've been able to use the internet. My three strongest home fantasies are: buying an old Girl Scout or Boy Scout camp, a Usonian house, or a really, really, really old house in Italy. I Google those things regularly.
For international properties, I use Sotheby's. They have the most incredible stuff that nobody can afford. If I'm looking for properties upstate, I like to look at Houlihan Lawrence. I also use Zillow, but sometimes the search functions on Zillow aren't specific enough for what I'm looking for. Houlihan Lawrence, for instance, has an option to search for houses with a stream nearby. I'm not really a phone person — I mean I own a pencil shop, so I'm pretty old school in terms of the way I function — so most of this happens on my laptop on my couch.
I'm usually looking for old properties. A solid, broken-in home. My current place in the East Village was built in 1850, and the house I grew up in was over 100 years old. When I was in college, I lived in a gorgeous, definitely haunted, 19th-century schoolhouse in London. To me, the work involved in maintaining an old home is always worth it.
The Ones She's Saved
If I lived in an American city that wasn't New York, it would be Pittsburgh, and I would live in this bizarre and amazing little house. I really love when a house is not move-in ready. This house has lots of old wallpaper and laminate. I would edit what I wanted to keep, because I like the idea of having a little bit of the previous owners' lives intermingling with mine. And look at the view from that bathtub! I would sit in that tub all day long. I have a feeling there's some really good tile hiding in this house too.
Last year I read a lot of books that take place in coastal Maine (like The House by the Sea by May Sarton and Olive Kitteridge by Elizabeth Strout) and have since been fantasizing about retiring there. This is how I picture my Maine house. The most important features of my Maine house are lots of windows, a wild garden, and a view of the water. This house has all of that, and a really lovely porch.
A marginally more realistic dream life of mine is to buy a large piece of land upstate and slowly build out a compound that would function as a hideout for my friends and family, and also as my own adult summer camp where others can come, and I can cook for them and we can all learn practical craft skills. The house is giant and old. There's so much land to build little solar-powered cabins on. Roxbury is a lovely little town deep in the Catskills, quieter than most of the upstate towns frequented by city folk.
If I could buy any property on the market right now, it would be this one. I'm a devoted East Village resident and dream of having a townhouse here. The number one thing I need is a cute backyard. This house has a beautiful backyard with some relatively mature trees. The other star feature here are those wooden beams in the kitchen, which you don't often see in this type of townhouse. I also love that there's a fireplace in one of the bathrooms. The more fireplaces the better.
There are few things about New York City real estate that I find more charming than a regular house sandwiched between buildings. I would love to see a photo of this street before some of these other buildings existed. I also can't imagine living in the city and having a porch. I would paint the house a more exciting color and just live on the porch.
My ultimate escape plan involves moving to Italy and living in a house where I have no internet and can spend most of my time gardening, reading, crafting, and hosting visitors and neighbors. My wardrobe in this life would be made up entirely of Gucci florals. I've even started learning Italian, because even though this life will likely never be a reality, it's nice to think that it's not impossible. I imagine living in a place just like this one. The oldest house I can possibly find, made entirely of stone, with a matrix of hallways, stairs, and hidden rooms.