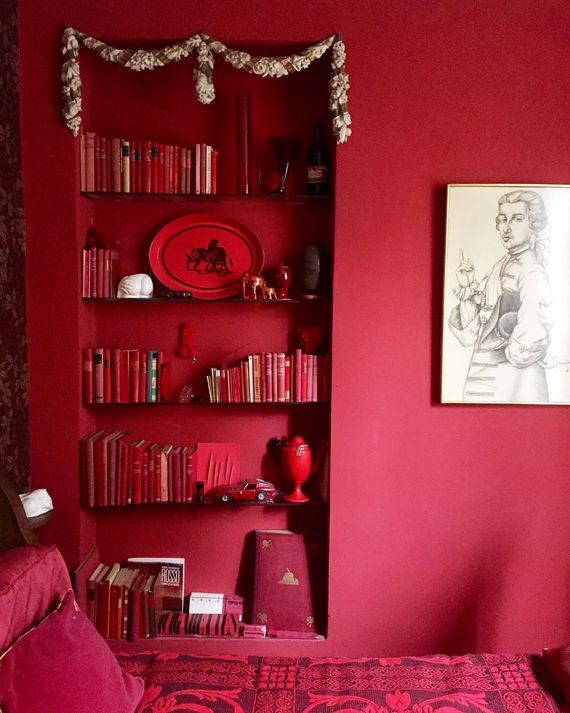 The "camera rossa" guest room was modeled on a room in the Fornasetti villa in Como. The antique walnut bed is from Piedmont, and each book contains the word "red" in the title.
Photo: Wendy Goodman
I've been covering Salone, the furniture fair in Milan that happens in April, for almost a decade; it's going on right now, and I'm there again.
Milan is not an easy city to get to know. It's full of secrets, and the best secrets are kept at home.
There are the façades of centuries-old palazzos, with courtyards built for carriages, gardens filled with wild beauty, and massive staircases that lead to rooms upholstered in silk hung with unforgettable art collections that the public rarely glimpses. There are grand house museums you can, as a tourist, visit, such as the Villa Necchi Campiglio, designed by architect Piero Portaluppi in 1935, steeped in formal luxury. But there are more exquisite old homes hidden away in quiet residential neighborhoods that you would never know without an introduction.
Casa Fornasetti is one of those houses; it serves as the seat of the design family. It was built at the end of the 19th century in the Citta Studi neighborhood by Pietro Fornasetti, surrounded by a lush garden filled with towering hydrangeas. His son Piero harnessed his talents in printing, art, and design to start the family design firm. He created an atelier within the house in 1940. Today, 23 people work on the archive of 13,000 objects and the global business of the brand that includes ceramics, wall coverings, upholstery fabric, and carpets, all with the unmistakable Fornasetti imprint.
Since Piero's death in 1988, his son Barnaba Fornasetti has expanded the company. He has made his own changes to the house, most notably creating a new private kitchen/dining room in the garden on the site of a former open patio. He also converted a room his grandfather used for business into a lounge where his employees hang out during the week, and he holds private concerts and DJs on the weekends. Upstairs in his music room is his collection of thousands of vinyl records and CDs. And although he doesn't play an instrument, his passion for music has led to many collaborations within the classical-music world, including commissioning a replica of Mozart's fortepiano for a production of Don Giovanni performed in Milan and Florence, which he now has in the house.
I toured the house with Yuki Tintori, who is in charge of Fornasetti public relations and has been with the company since 2004.