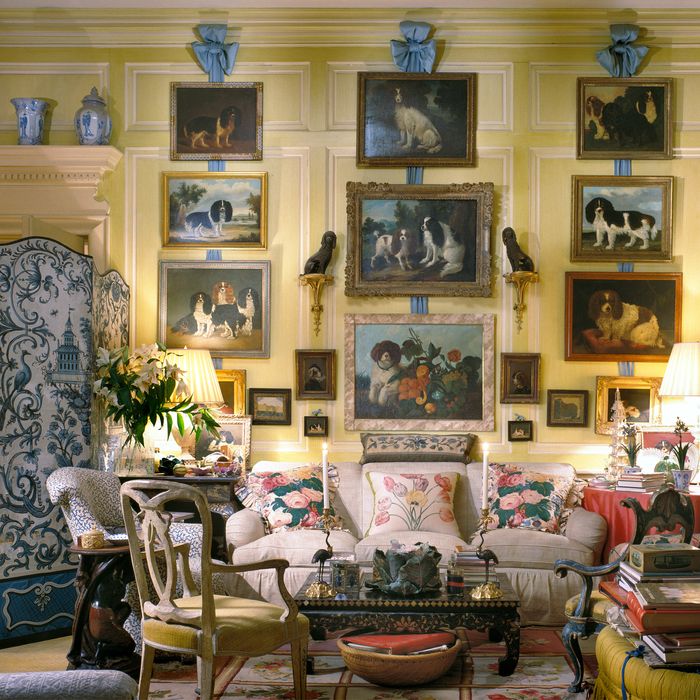 Inside the late Mario Buatta's townhouse.
Photo: Scott Frances/OTTO, courtesy of Rizzoli Books
Designer and author Charlotte Moss is all action, all the time, even in the worst of times. So no surprise that when we all sat numb in the beginning of the pandemic, Moss was putting together a book, Home: A Celebration, to help raise money for No Kid Hungry, an organization that has been working to feed children during this long crisis. She was inspired by The Book of the Homeless, which Edith Wharton put together in 1916 to help raise money for war refugees. Among her contributors were Sarah Bernhardt, W. B. Yeats, George Santayana, Thomas Hardy, Henry James and Joseph Conrad. Moss's contributors are also a cross section of professionals: Darren Walker, Duro Olowu, Andrew Solomon, Isaac Mizrahi, Joan Juliet Buck, Enuma Okoro, Gloria Steinem, Tiana Webb Evans, and many others (including me). In her introduction, Moss writes, "Each contributor to this volume — artist, poet, photographer, historian, novelist, actor, and activist — has shared with us an interpretation of home, it's meaning and importance in an individual life. Each has shared with us a personal account that streamed from head and heart through a pen, a brush, a laptop, or a camera lens."
Here is a look at a few of the contributions:
Emily
Evans
Eerdmans
on
her
late
friend
Mario
Buatta's
Townhouse
Eerdmans, design historian, gallery owner, and author, was the close friend of the late designer Mario Buatta, who died, at 82, in 2018. Eerdmans had the bittersweet task of dismantling his townhouse after his death. His absence haunts the photos, a home without the person who inhabited it.
The photograph at the top of this article is of Buatta's living room, filled with his dog paintings, when he was alive. It was taken by Scott Frances. The emptied room, above, was documented by Eerdmans after Buatta's death. She writes in the book: "Mario's living room, decorated in 1976, was one of the most influential rooms of the late 20th century and many people commented that it should be donated in its entirety to the Smithsonian. Mario loved to say that a house is a scrapbook of one's life, and it was the case times a million for him."
Delia
Kenza
on
her
COVID-cations
Kenza, an interior designer, selected this photo of a beach in Jamaica, at the beginning of lockdown. "All I could think about was not being able to travel, and then I remembered the power of memories. So, I actually took daily 'COVID-cations,' as my friend called them, going down memory lane in my photo gallery. I realized I have many homes because home is where I feel happy, safe, and loved."
Julia
Reed
on
her
dream
house
—
which
she
built
from
scratch
The late journalist and author Reed was an editor at Vogue and contributor at Newsweek and the New York Times. As the book was being edited, she was very ill, but wrote about her beloved home on the Mississippi Delta. "It was born on a legal pad in Birmingham's Highlands Bar & Grill over martinis with the gifted architect James Carter … I needed a room, a house, albeit a small one, of my own." She built the house on a small plot of land where she writes that, "there was no hookup for gas, water, or electricity; the resale value will be laughable; you don't really want to do this, you just think you do. As a child I was told-a lot-that I was hard headed. Maybe, but even then I knew my own mind. In this case, my mind and my heart told me that this was exactly-finally-right."
Simon
Watson
on
coming
home
again
Watson, an interiors photographer and native of Dublin, wrote that "not unlike an electron, I am almost always in a constant state of motion, and so probably about half my life has been spent in places that aren't my home. In fact, I am frequently thousands of miles away from it. I love traveling: It has formed me and educated me-I still get giddy when I'm packing my suitcase. But oddly, when I'm away, I think of my home and my life there; I miss it and long to return to it."
Martyn
Lawrence
Bullard
on
his
dog,
Daisy
Bullard, an interior designer, has a house in Palm Springs, which exudes all the glamour of movie-star living. But his wheaten terrier, Daisy, makes his house a home. "The bounding, limitless joy that exudes from our pets is the ultimate tonic; no matter how hard of a day we may have that welcome home is the most invigorating and delicious moment."
Enuma
Okoro
on
designing
her
dream
home
as
a
child
Okoro, a writer, speaker, and cultural curator, remembered being in third grade in Nigeria. "I started a curious pastime of spending afternoons designing my own future house in my head. Belly on my bedroom floor, legs kicked up and swinging behind me, lounging unladylike in some lovely little dress, I'd cup my hands in my chin and imagine the house I'd live in when I was grown up. … "I'm going to have a gigantic house and I'll decorate each room to look like a different country," I'd say, beaming with pride at my 8-year-old plans. … So this is how, from a very young age, I imagined my own future life, craving a particular kind of intimacy with the world. … I carry multiple homes within me."
Photo: Courtesy of the Publisher