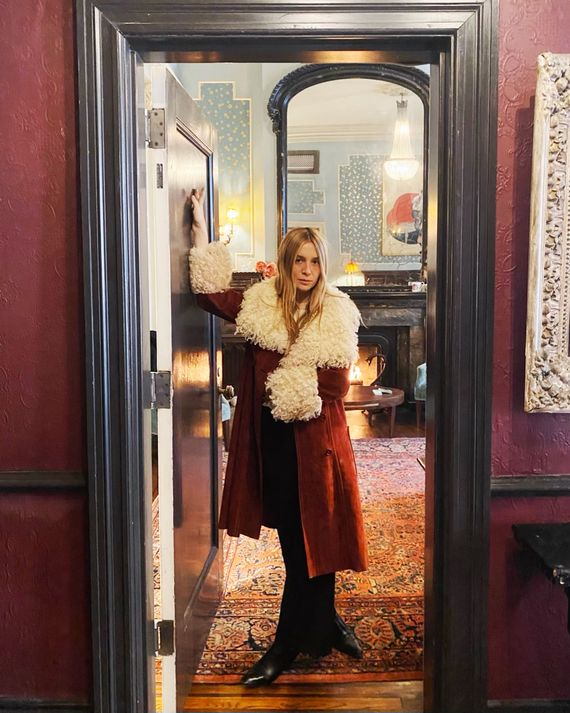 Chase Cohl grew up in Canada, and has spent a lot of time in L.A., "but New York was always it for me," she says.
Photo: Max Robinson
Chase Cohl, the songwriter, poet, and fashion designer, looks like a New Age Los Angeles hippie with her long hair parted down the middle sporting her sheepskin coat when she came in from walking Papa, her Irish wolfhound, who then settled down on his dog bed in front of the fire. Cohl and Papa have been living together in two adjoining rooms at the Lafayette House, an 1848 brownstone owned by the people behind the Bowery Hotel, for the last two years. It's not a hotel, exactly — you can't just rent a room on Expedia. It's more of a creative community, almost a club, full of artists and musicians who want privacy. It's a little bit Chateau Marmont, a little bit the old Chelsea Hotel.
"It's such an inspiring place," Cohl says. "I wrote a record here in two seconds. I mean, how could you not?"
Cohl grew up around music since her father managed bands. Home was Toronto, but she traveled extensively. She moved to New York City when she was 17, but then to L.A., where she has a house in Laurel Canyon that, she says, "feels like it's in the Cotswolds." During the lockdown period of the pandemic, she was one of the many Angelenos who moved to New York (it wasn't just the other way around). She had planned on living in her parent's Soho apartment while they'd retreated to the country. But when they returned early and gave her the ultimatum that she either hunker down with them, without seeing her friends, or find another place, she was out the door.  She knew somebody who knew somebody who gave her the nod to live at Lafayette House.
Her plan was to hang out here while looking for an apartment. But as soon as she opened the door to her digs, it seemed like entering a dream on an unseasonably cold day. The (gas) fire was blazing when I visited the cozy bedroom decked with patterned wallpaper and ornate sconces with only a flat-screen to snap you back to modern life. The illusion that the Gilded Age reigns here is pretty convincing, along with the lore of the building being haunted.
"I was originally just in the front room with clothes overflowing and spent five months there," she says, until she scored the second room accessed through a hallway passage lined with closets.
Her new record is coming out in September, part of a larger project she has been working on over the past few years. "I co-wrote this record with Barry Goldberg, who was, among many things, Bob Dylan's piano player for 45 years. He plays in a band with Stephen Stills, he played with Ray Charles, he played with Phil Spector —  you name it, and he played with them. He's like one of the last legends." They had worked together during one of Cohl's sessions years ago, then during a chance meeting in the supermarket, Goldberg asked if she'd be interested in working together again. "When we sat down," she admits, "it didn't come naturally until we both started talking about 1960s girl groups and how special that music is and how nobody's doing it. And we thought we'd take a crack at it. I grew up listening to the Ronettes and the Shirelles, and it's instantly nostalgic; it's always the coming-of-age moment. But now, especially as a creative person and a woman, I just can't support, 'He Hit Me and It Felt Like a Kiss' — the female agenda in that music and the desperation of the girl who won't live if her guy dumps her. I was like, 'Let's write the feminist version of the girl-group record.'" She released the first four songs as volume one last summer in an EP and is now mixing volumes two and three, which she says will be done in the next few weeks. "Oh, and I'm scoring a short film in L.A.," she says, where she's held onto the Laurel Canyon house.