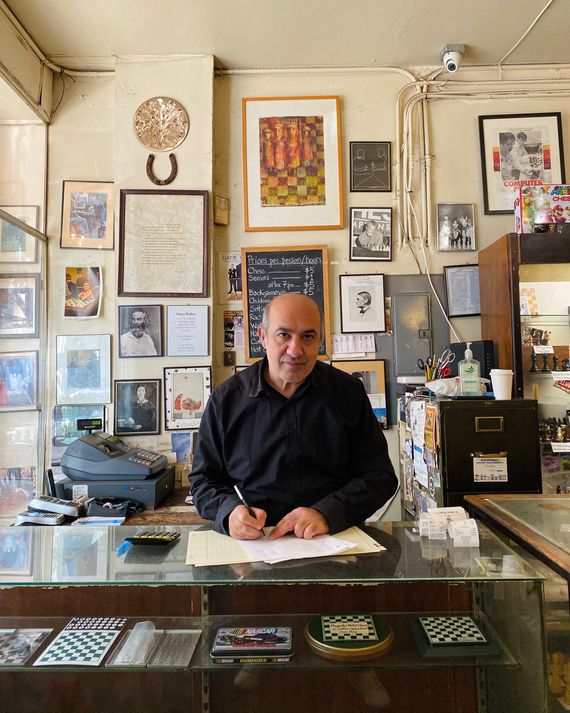 Nicolas Heller has become the premier Instagram chronicler of the city's characters. On @newyorknico he has interviewed Tiger Hood (the golfer who hits milk cartons in Times Square) and the proprietor of a cowboy boot shop on Broome Street. In the first edition of his extended interview column, Mom and Pops Drops, he spent several afternoons with Imad Khachan, the owner of Chess Forum, the last New York chess shop.
Imad Khachan: My name is Imad Khachan, and I'm the humble owner of Chess Forum. I welcome you to the place in its 25th year, now. I opened in September '95, now it's October, 2020. Before that, it was a printing place — one of the early victims, I think, of the internet. But before that, starting in 1975, it was a chess space. The original chess place in New York, it was here.
Nico Heller: They were called chess parlors, right?
Yes. It was opened by a Ukrainian grand master, the real deal, named Nicolas Rossolimo. It was called Rossolimo's Chess Studio.
Did you ever come by?
By then, I wasn't even in the country. I was also maybe like 8 or 9 years old. But apparently Bobby Fischer used to come by all the time. Grand master to grand master. Same with Stanley Kubrick — he was a chess hustler in the park. And he used to come and challenge Rossolimo here. Anyway, later Rossolimo fell from the building and died. The police report said no foul play. But the story is strange. Nicolas was giving a private lesson. The students said they went to a different room, came back, and he was gone. Hours later, they found him in the back, dead. Afterward, his wife tried to run it for a time. Vera. She eventually had, from what I hear, a mental breakdown. And she had dogs that scared a few people in the neighboring buildings. So soon after, they closed.
When did you come to the country?
1987. I grew up in Lebanon, which is where I started playing chess. That is how time was spent during the war. There was no electricity, and it was a lockdown for years. A friend of my father's used to come carrying under his arm his chess set to play with my father by candlelight. Anything else, my father couldn't tolerate. He looked down at backgammon. Dice, no. Cards, definitely not. "What are we? Savages? We're uncouth, play cards?" But chess. It had its own mystique and his own royal pedigree. And a status as a thinking game as well. He was fantastic in math. Anyway. I came in to escape the war, and to do a Ph.D. in English at NYU. In 1989, I started working at a chess shop in Soho. I was promoted to manager, and then to partner. In '90, the owner said, "It's yours." I told him I had no money. He said that was okay, that I could run the place. That I would be a working partner. We signed agreements, and when I asked if I could show them to a lawyer, and he said no. "It will cost you a lot of money," he said, "and it will not change anything." Then, out of the blue, one day in 1995, he changed the locks on me and told me to get lost.
What did you do?
I began looking for my own place. I moved to another department at NYU because there wasn't enough money in the English department. The whole thing was crumbling, and I was just trying to stay one step ahead.
Sounds like chess.
It was. Exactly. You know who said something exactly like that? Robert Plant from Led Zeppelin. He came in to Chess Forum for lessons because, he said, he realized that it is the one thing that teaches you to think ahead. Anyway. I was working as a research assistant, and one day, I was walking on Thompson Street and saw a store with a "For Rent" sign in the window. I called the landlord, and she said: "Do you have money?" I didn't. But it was the '90s. Whole different country. The lady and her husband who owned it saw somebody starting their life. Based on that, she said yes. Of course, I needed a little to get going. Relatives in Saudi Arabia sent me financial affidavits and all that for backing. Some money from friends. My mother talked my father into sending me some of his retirement money, too. $5,000. It was enough to hire painters, fixers. And then I opened Chess Forum.
Was business booming right away?
We opened, I think, in September of 1995. And then we did have some luck: soon after, the World Championship happened in New York City, and every great chess player in the world was in New York. Plus every journalist and fan from chess from across the country. It was Garry Kasparov vs Viswanathan Anand in the World Trade Center on the 107th Floor. And suddenly the place is full. Beginner's luck. For that year, people were playing in the shop all the time — so much so that we had to stay open 24 hours a day. We sold them fancy cookies — ones you could only get from me and Dean + Deluca — and nice Middle Eastern coffee. Which worked because they wanted to play — the last thing a chess player wants to do is to get up, eat, drink, go to the bathroom, or sleep. These are the enemies of the chess player. They just wanted quick fixes — brownies, coffee, and the 24 hour setup. They wanted to stay awake all night long, night after night. That first year, I was able to survive on just the players. In the years after that, though, things were a bit slow. People just didn't know we were here. You know the expression: "The neon light on a deserted highway." We were the neon light. When we'd been open for two years, the New York Post wrote an article about the chess scene in New York and dismissed us with one line. I remember the sentence: "they're a mere pup." Like a puppy. But slowly, over time, we became something. The first famous person who came in, I think, was that girl Lily Taylor from Mystic Pizza. Then Stone Phillips started coming and playing all the time. Liv Tyler. Julia Roberts, when she was still going out with the Peruvian guy, Benjamin Bratt, from Law & Order. Diane Lane, later, with Josh Brolin. You have Diamond Dave, David Lee Roth sitting in the back next to one of our players. Someone asked him, "Are you David Lee Roth?" He said, "Listen, here, I'm one of you. I'm nobody here. I'm just Dave."
So things were good.
So good that, by 2003, I took over the store next door, which is a tea place now. I turned it into a gallery, and later we added chess tables to it. It was open 24 hours. The only problem was theft, unfortunately. The people I hired were robbing me blind. The guy who was in charge of the late-night shift was himself a player. And he had a sort of prison code — he wouldn't rat anyone out. I started just keeping tables, pieces, and boards in the room — nothing worth stealing. That worked, basically. Once a month, we'd have a gallery show with new artists. We had a piano. A very nice man, Raph D'Lugoff, the son of the owner of the Village Gate would come and play for couple of hours for a hundred bucks. And so everybody was happy. I remember one year around then, Kevin Klein, the actor, came and bought a chess board. Around 30 inches by 30 inches, a huge one and he wanted to play, too. Oliver Stone came to buy some chess computers, where you played on the computer itself. You'd press the piece down and it would register the move. He wanted two of those as Christmas gifts for his children. I ran down to bring them up from the basement, and when I came up, I found Oliver Stone helping out my sales guy with customers behind the counter. Good years. And then it all changed. 
What was the turning point?
2008. I remember the day I started feeling it. September 16, 2008. It was a normal business day, but a cloud descended on the city. Everyone was whispering. From that day on, it's been a slow death. I enjoy tea, and I had to switch from the loose Russian tea or Turkish tea or Belarus teas that they have that cost maybe $5 a half a pound to the boxes, 100 bags for $3. I could no longer afford shaving cream. It wasn't just the recession: People bought the iPhone 1, then the iPhone 2. Luckily, I had huge amounts of inventory from before the crash. No money in the bank, but a huge amount of inventory. And that's how it was, until 2017. Holding on. Then slowly, slowly we started to see more people. A new term was sort of becoming more familiar: buy local. Even American Express started offering things, encouragement, to people who buy in local stores.
 And people kept coming to play?
 Our regulars, yes. To this day. Throughout the pandemic, a guy came every day from Queens. Even when we were closed — which we were, for three months. He'd just stand outside looking around like a kid who lost his mother in a big store. We have a lot of older guys like that, who just want to come play. And in the Past few years, we've been getting back the kids. We lost them to the internet, and now they're beginning to come back because computers and the internet is work. Now they want reality. So for the last two, three years, we've been blessed by seeing 20-somethings and 30-somethings, the ones we missed since 2007 to 2017. A new generation like the old days, college students. Many people come in now and say, "Oh, you are still here." And I don't know if it's an insult or a compliment. But I know, this is a dinosaur. Many people find this quaint, because this is like Jurassic Park, business-wise. We have no reason to exist. It's saving grace, I guess, it's quaintness. It's something that time forgot, I feel like — the place — and me in it. I'm like an old song from Lebanon where the singer says, "I've been for a hundred years stranded in the store. Literally. The walls are bored of me, and everybody gone. I'm left alone, and even forgetfulness has forgotten me."
*This article appears in the November 23, 2020, issue of New York Magazine. Subscribe Now!