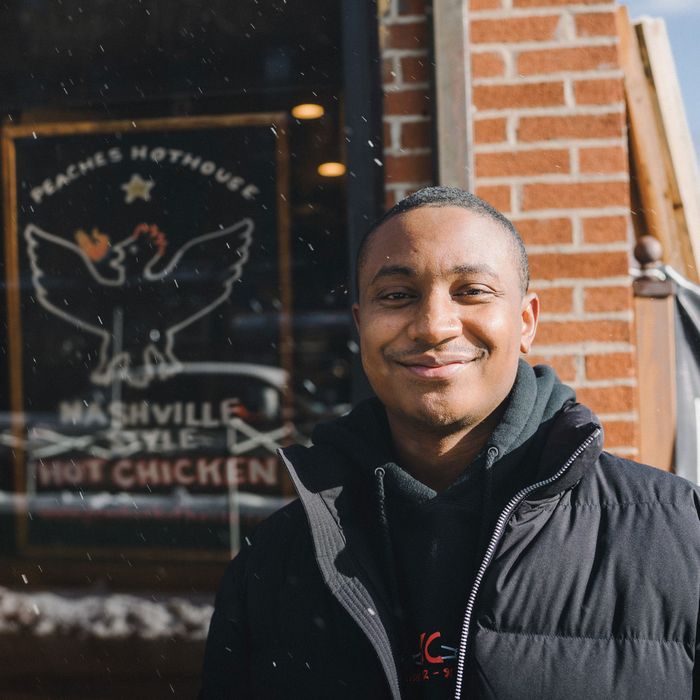 Every New Yorker has a litany of locations they return to over and over again — the deli with unexpectedly fresh mango, the café that makes especially good lemonade, the vintage store with a selection of perfectly worn shirts, the tree-lined block for a Sunday stroll. In this series, we ask interesting New Yorkers for their rundown of places — starting with Chi Ossé, the 22-year-old City Council candidate for Brooklyn's 36th District.
Where I Eat
Meme's Healthy Nibbles is my favorite place to go post-run. I get a strawberry smoothie with almond milk and avocado. I can't drink coffee because I get too anxious — plus I'm already energetic as is. I've known the owner, Mary, ever since I was a kid, back when she owned a location on Flatbush Avenue. She's always got such a warm energy, and it's genuinely a pleasure to see her and get my smoothie every single morning. Especially with avocado. You gotta get those healthy fats in.
When it's nice out in the afternoon, sometimes my publicist, Ketia, and I go to my mom's bakery, the Bakery on Bergen, for our meetings. It's only six blocks from where I live — well, six long Brooklyn blocks, I mean. My mom's chocolate-chip-and sea-salt cookies are so good — I love getting extra and putting them in the fridge or freezer. If we stick around for lunch, the shrimp empanadas are *chef's kiss.* One of my mom's employees is from Nepal, and she brings this chile paste. When I pair the two — oh my God, delicious.
I love food; I've worked in hospitality. In high school, I worked for Momofuku Milk Bar in their commissary kitchen and worked at the NoMad Hotel. It was pretty hard-core, honestly. And I also grew up in a multicultural family. My mom is half-Chinese; my dad was Haitian. I would go to one grandma's house for riz djon djon and then go to my other's for Asian fried rice. So, yeah, I appreciate a real culinary experience. Which brings me to Peaches HotHouse. Oh my God. If you haven't heard of it, I'm about to teach you a lesson. Don't forget Peaches HotHouse. It's been there since I've been a kid. I remember playing in the park and then running in to grab a blueberry lemonade. They have the best fried-chicken sandwich and best fried-catfish sandwich. I would always order the mac and cheese as my side, rather than French fries, and then add the mac and cheese on top of my fried-chicken sandwich. That is, of course, when I'm not on my keto diet — but keto diets don't exist if you're supporting small Black businesses.
And then there's Cafe Rue Dix — it's this incredible French-Senegalese restaurant, also Black owned. It's delicious. If I want to go the French route, I'll get their steak-frites; if I'm on keto, I say "hold the fries" and get some zucchini noodles with tomato sauce. If you like seafood, there are grilled prawns that are out of this world and a classic Senegalese fish, also in a tomato-based sauce.
Where I Shop
Sometimes I'll stop at the Hattie Carthan Community Market right across the street from the park on Clifton Place. They have the best farm eggs that I usually turn into an omelet for breakfast. With so many Black neighborhoods designated as food deserts, it's encouraging to see a market like this in my area that is growing fresh produce and importing produce from other farmers' markets around the state.
Another spot I love, for unwinding, is the Life Wellness Center on Tompkins Avenue in Bed-Stuy. It's like a plant shop–slash–acupuncture studio, but they also have an amazing backyard with even more plants. It's a nice little spot to chill out, have some coffee, and be "among nature." I bought my favorite plant from there. It is nice to watch her blossom; she's a devil's ivy.
I also might go to Gizmo Vintage on Marcus Garvey. The owner has a dog named Poopy Butt. It's a small vintage shop, mostly women's clothes, but they do have men's collectibles that I'll check out. I always look for those quality pieces. The owner is a neighborhood icon. Or I'll just go to chat up the people who work there. Although a lot of these small businesses are closed now or have limited hours due to COVID, I still try to support them when I can.
Another clothing store I like to walk into is Harold and Maude Vintage. It's on Lafayette Avenue, and they have the best sweaters.
Since I got a haircut recently, I'd also love to shout-out my barber, who I met during COVID — go see Christian at Hundred Grand Barbershop. It's a classic barbershop on Fulton, and that man can cut some fucking good hair. Plus I get to talk about local politics with someone who grew up right here in the neighborhood as well.
Where I Run (and People-Watch)
I live near Nostrand Avenue, and I usually start my day by going for a run, heading toward Eastern Parkway and looping around Prospect Park. I also jog in Herbert Von King Park over in Bed-Stuy. I love the path along Greene Avenue — there are these huge trees that cast a shadow over the entire walkway. In the fall, it's full of those bright red and orange colors. To cool down from my run, I often sit on the black park benches and watch people walking by. As I sit there, I listen to music, enjoy the breeze, and just clear my head. This is also one of the parks where we do volunteer cleanup with the community, so I'm of course looking around to see how things are keeping up.