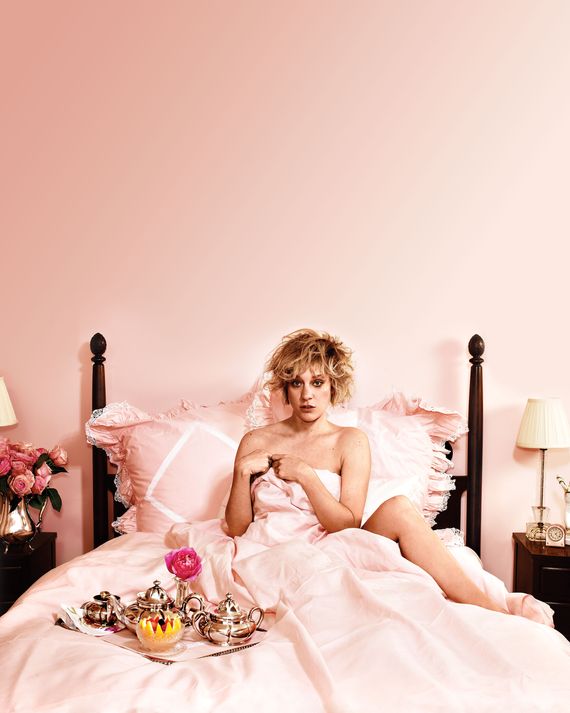 Chloë Sevigny's pink boudoir.
Photo: Francois Dischinger
This story was originally published in the May 7, 2012 issue of New York Magazine.
Sitting on Chloë Sevigny's glass-topped kitchen table is a script for Black Dog, Red Dog, a feature film directed by James Franco and eleven of his NYU students. She shot it for free. "I'm out of work right now," she says, laughing. "I thought it would be good to help some young filmmakers and busy myself so I don't go crazy and obsess over buying a cat."
There's plenty of room for a feline companion in the 1862 East Village garden co-op Sevigny bought seven years ago, shortly after filming the pilot for Big Love. She'd spent her twenties cycling through apartments — ten or so, all told, the last of which was a tiny high-rise studio subletted from fellow actress Natasha Lyonne. "I came here with literally no furniture because the place I lived before this was, like, 200 square feet," she says, and she didn't exactly have time to decorate. On breaks from Big Love, Sevigny would buy a lamp here and a mirror there from David Cafiero, who runs the tiny by-appointment antiques store Cafiero Select in Cooper Square, and who helped decorate her brother Paul's club, the Beatrice Inn. "We're both from New England," says Sevigny. "He's really inspired by the sea, and I grew up on the water. I was like, 'Ahhh. I wish I could just live in his store!' "
Cafiero had only done a few interiors at the time, but Sevigny liked his proposal for her apartment, which included found objects and refurbished antiques. "It was frugal," she says. "Frugal Yank." Or, as Cafiero puts it, "Everything feels like a perfect little sailboat or a really considered Hudson Valley river house from the nineteenth century."
Sevigny grew up in "close quarters" in Darien, Connecticut, so she responded immediately to this apartment's low ceilings. "I walked in and felt transported, like I wasn't in Manhattan anymore. It just felt womblike." Her first order of business upon move-in was to cover up much of the exposed brick with plaster painted pale pink, blue, and yellow, just like the colors of her childhood room. "Unless you're in a loft or you're a college student, exposed brick just doesn't work," she says. "I wanted this to be more glamorous." She also needed a way to hang her vast art collection, which includes a seven-foot-tall Paul Falconer Poole oil painting and controversial Gary Gross photos of a young, naked Brooke Shields.
As Sevigny shows me around, she realizes that she had quite a bit of decorating help from an ex-boyfriend, musician Matt McAuley (A.R.E. Weapons, TV Baby), whom she dated for eight years and whose gifts are everywhere. The copper teakettle. A pitcher in a Tiffany toile pattern. A framed postcard of Jesus. "When he moved out, he took all the pictures of us out of the frames and put that one in," she says. "I left it there. It's kind of weird, right? But it's beautiful."
Sevigny isn't actually as unemployed as she likes to joke. She was just on Law and Order: SVU, and this summer she stars in a British miniseries called Hit and Miss, in which she plays a pre-op transsexual contract killer. As for her home, she's thinking about moving to a high-rise again; she wants more light and is tiring of co-op rules. "I'm looking," she says. "Maybe I won't find the right thing and I'll just stay here. Or maybe I'll fall in love and get married and move somewhere else entirely. You never know!"