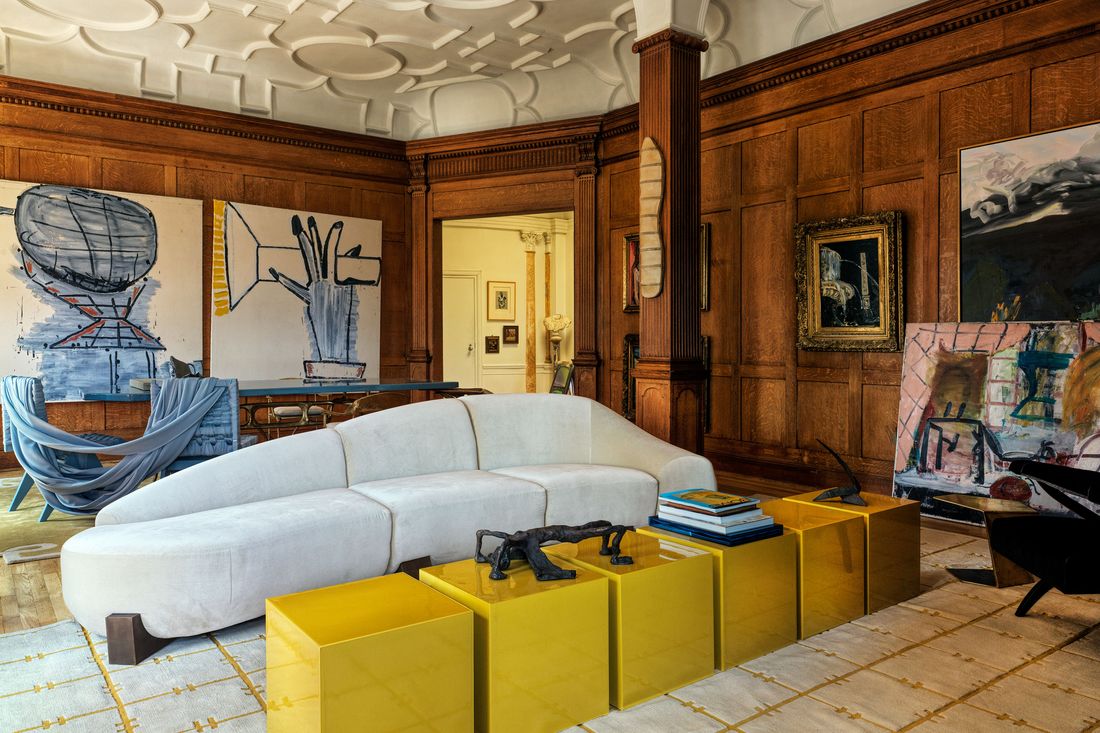 In 1981, Claudia Doring Baez and her two brothers had moved to New York from Mexico to attend Columbia University. Her mother, the artist Lucero Gonzalez, followed, and together they set out to find a place to live as a family. Walking around downtown one day, Doring Baez and one of her brothers came upon this 1896 Renaissance Revival building on the corner of West Broadway and Beach Street. Designed by William B. Tubby as the Wool Exchange, it had a storage warehouse for wool, a bank, offices, and the members-only Wool Club on the top floor when it opened. Later, it was renamed for the American Thread Company, which had offices there. By the time Doring Baez and her brother strolled by, a developer had converted it into condos and was apparently eager to make the process as easy as possible for prospective buyers. "We just literally walked in, and in the lobby where you now have the doorman, there was Citi Bank offering you a loan," she recalls.
The penthouse unit included the ballroom of what was originally the Wool Club. At the height of the Gilded Age, the luxurious club had included a separate ladies' dining room, and the club's office was paneled in black walnut with an open fireplace at one end. The entire space was on the market for $900,000 — "$900K we didn't have," Doring Baez says. They bought the less-expensive unit 4G instead and lived there for many years. The penthouse was purchased by the Etro family, who lived there and had a showroom in it.
Doring Baez was the building's board president in 2000–1. One day, she received an emergency call about a leak from the man who had bought the Etro apartment. During their conversation, she discovered that he was going to divide the massive space in two. "It was insider information," she says. "That is how I got my apartment."
Doring Baez and her family sold 4G and bought 11B in 2001 (the seller retained 11A). Despite the grand bones, "it was furnished in a way that was extremely comfortable and easy living, and not very much thought went into the décor of it, to be honest," she says.
That changed this past year, when a friend recommended she meet Romanian-born architect Crina Arghirescu Rogard, who was educated in Italy and had worked in France before moving to New York. In Paris, "you have to deal a lot with those Haussmann buildings, beautifully created with this classic vibe," says Arghirescu Rogard. "And then we love to bring in the contemporary and eclectic." Which is the vibe she brought to the home of Doring Baez. The project went into high gear in May, when Doring Baez, in advance of a show at Volta New York, where she would be exhibiting work, decided to host a party at home.
Arghirescu Rogard replaced the Shabby Chic sofa with a swoopy new one and paired it with a series of stackable cubes by Liz Hopkins that serve as the coffee table. The modernist furniture is juxtaposed with the original black-walnut paneling, mosaic entrance-hall floor, and beautiful stained-glass skylight.