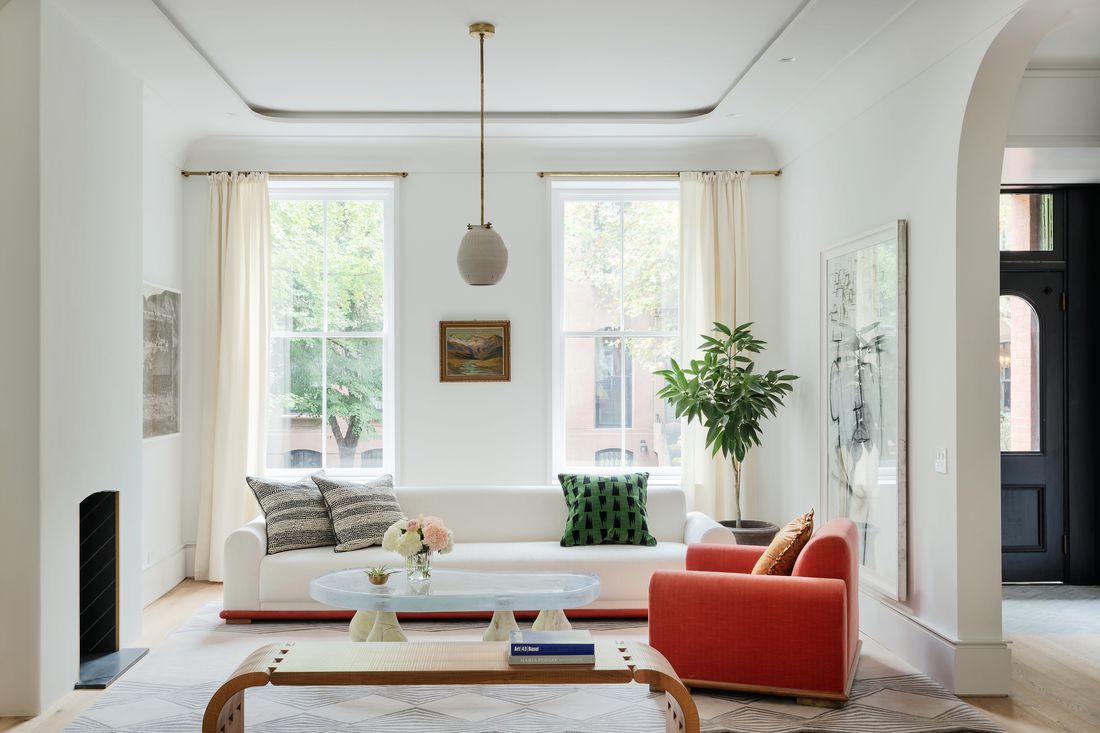 Living Room:
"I had been using a lot of muted colors" before meeting the team behind the Irish furniture company Orior, Guthrie says. Orior provided the furniture for the living room.
Photo: Matthew Williams
"I am not going to claim that I knew how beautiful it really could become. I really didn't," says Peter Guthrie, who used to live around the corner from this 1840s Greek Revival house, which had long ago been divided into apartments, on Henry Street in Cobble Hill. "I loved its position from the outside, and I loved its location. I had no idea that the light would become so incredible."
Guthrie founded the design and development company DDG Partners in 2009. Since then, it's become known for some very big projects, like 180 East 88th Street — which meant that, for Guthrie, there was a certain allure to the idea of redoing the Henry Street house. "I very much wanted to do a project that was tangible," Guthrie says. "The tower took five years, and over the years, I've created a larger group that further removes me from the passion of being in the kitchen, so for me, this was a chance to get back in the kitchen."
But he wasn't cooking this gut-reno up by himself. Almost a decade ago, he and Susanne Schaal, who runs her own creative-branding agency, Jakob Jakob, collaborated on wrapping DDG's building 345 Meatpacking (then under construction) with a custom-designed scrim based on Yayoi Kusama's painting Yellow Trees to celebrate the artist's 2012 retrospective at the Whitney Museum. When Schaal and Guthrie, who have also become partners in life, started a studio together in 2019, they named it Yellowtrees after that early collaboration. Henry Street was a Yellowtrees project.
"This house was part of the really rich tradition of Brooklyn palimpsest architecture," says Guthrie with a laugh. "It was exuberant," with various alterations and interventions. Yellowtrees' job was to both pare it back and make it whole again.
"I had sold my house around the corner, and I was looking for a new project when this particular beauty" became available, remembers Guthrie. "It's east-west facing. I lived in a building with north-south orientation, and it's a very different lighting configuration." Plus, "the top floor had a very low ceiling, and I poked my head up and saw this attic that was up there, and I said, 'Ah, I think we could do something with this.'" The bones were solid, and he'd done similar work on his house around the corner. "So for me, this was coming full circle. I did my house in 2007, and I did all these DDG projects … and then to come back to this particular type of building was fun."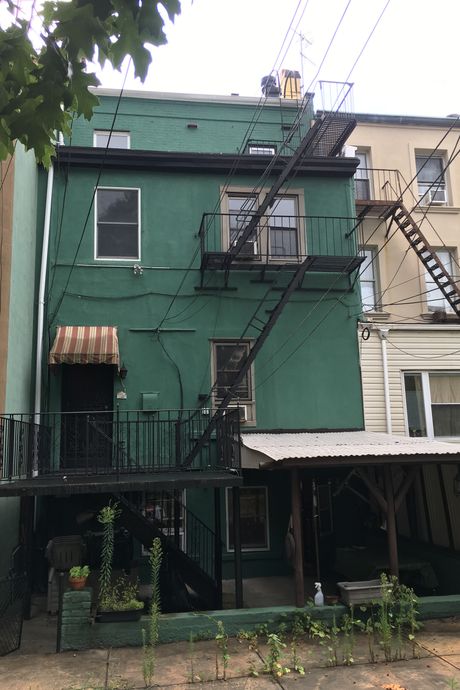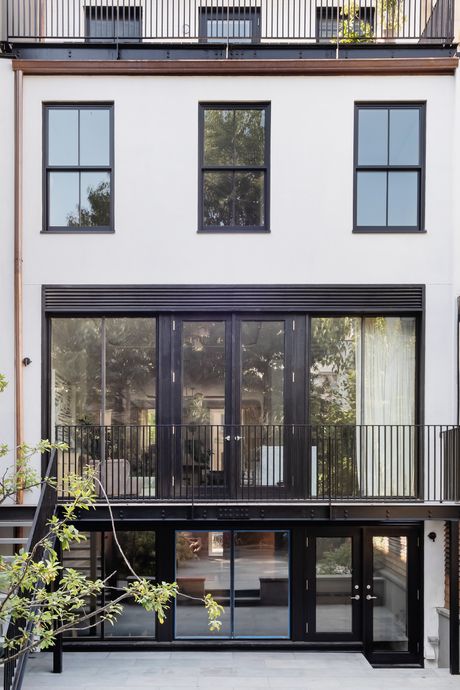 Schaal, for her part, was smitten with the setting. "They have a church in the backyard, and when you go to the backyard, the view to that church and the openness and the big tree," she says.
"The project started just before the pandemic," Guthrie says, "and it was kind of a labor of love." But the gut renovation of Henry Street is also a declaration of sorts of what Yellowtrees, separate from DDG, can cook up from its studio in Red Hook.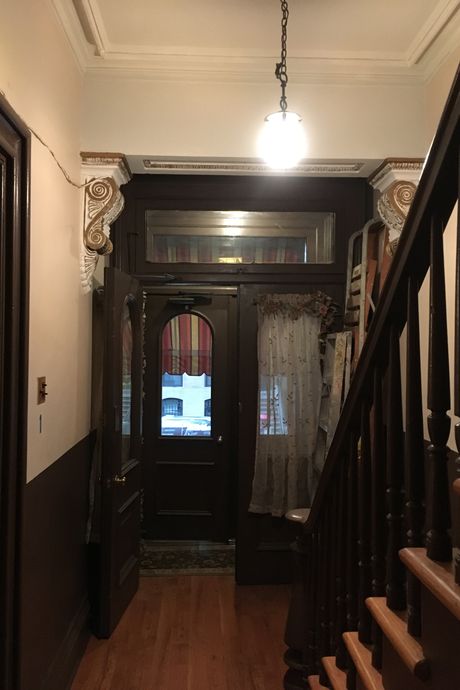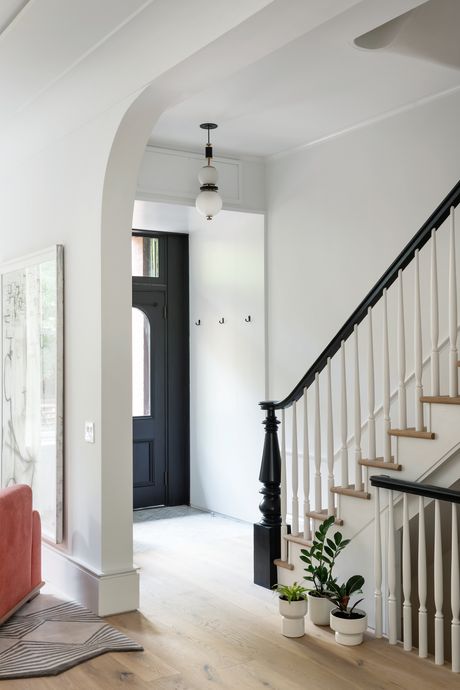 They drew upon long-standing friendships and relationships to make it happen. "Orior was the primary partner," Guthrie says. "I used my personal pieces from my friends at BDDW and Lindsey Adelman along with my own to augment theirs, even using my children's own artworks for the kids' bedrooms. And Andie Dinkin graciously allowed me to borrow one of her artworks for the home office." Dinkin had previously collaborated with Schaal and Guthrie on the branding of the Standish in Brooklyn Heights. "Photographer Jeff Whetstone, a good friend, lent one of his finer photographs for the living room. I also featured prominently an amazing photograph by a good friend of both Susanne and I, the late Jacqueline Hassink."
Then they put it up for sale.
Guthrie's thinking was that someone would buy the house with everything in it. It almost happened, but in the end, the buyer had their own ideas and didn't take the furniture — but no matter.