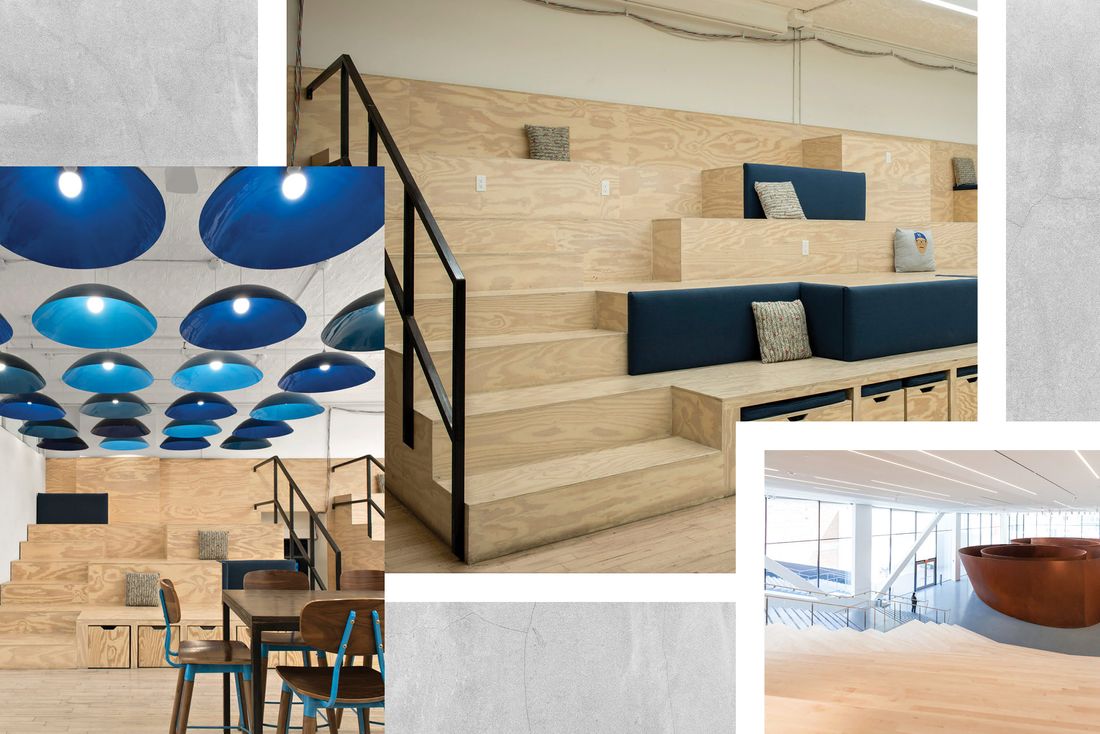 From left: SeatGeek offices; San Francisco Museum of Modern Art
Photo: Rayon Richards; Patricia Chang
This story was originally published by Curbed before it joined New York Magazine. You can visit the Curbed archive at archive.curbed.com to read all stories published before October 2020.
I'm tall. In the most literal sense, I often look down on people. But in the past few years, my giraffe's-eye view of the world has increasingly come not when I'm standing, but when I'm sitting on structures you might call "stairs," were it not for their leading directly into a wall.
These stairways to nowhere are known as stadium or bleacher seating, after the plank-like wood or metal seating in old-school stadiums. Stadium seating has become increasingly common around the globe — in a certain type of interior space. You won't find stadium seating at a small-town library, say, or at an office with a business-professional dress code, or at a greasy spoon with more regulars than Yelp reviews.
You'll find it at, for instance, upscale coworking space NeueHouse, Brooklyn "design space" A/D/O, and WeWork locations from Bellevue to Bangalore. It's at the Los Angeles office of a subscription-underwear startup and the London office of an advertising agency whose ethos is "being unreasonable." The new San Francisco Museum of Modern Art has it, as does a wine bar inside Chelsea Market. There's stadium seating at a coffee shop on the "coolest block in America" and also, an ocean away, at a Bratislava bookstore-cum-cafe whose press images show a young woman in oversized, cuffed, light-wash jeans sitting by a coffee-table tome of fashion photography. A coffee shop in Edgewater, New Jersey, population 12,044, has jumped on the trend — proof that even in suburbia, nothing suggests "cool" like stadium seating.
In the 1960s and 1970s, modern versions of the kiva — the circular, sunken stone structure with tiered bench seating that Puebloan American Indians built for spiritual and social gatherings — began appearing in open-plan schools. Kids loved the kiva, analogous to stadium seating, because it was climbable and inherently social. Educators loved how it functioned as a school's town square, accommodating everything from planned events to playtime. Now, progressive companies — whose goal, much like that of schools, is to facilitate productivity while maintaining, ideally, at least a facade of enjoyment — have come to embrace it for many of the same reasons.
Stadium seating, says Mark Lamster, the architecture critic of the Dallas Morning News, has become "a standard trope of standard office design." With no divisive walls or hierarchically stratifying closed doors, and with no task-specific designation, it represents transparency, autonomy, and flexibility — all traits that define the modern office. It creates "light and a suggestion of openness that is, overall, positive," Lamster says. Anything a worker does on it, from observing a lecture or taking a call to eating lunch with colleagues and pretending to do work, happens in the public eye.
As Nikil Saval writes in Cubed: A Secret History of the Workplace, the idea that coworkers might "run into each other by chance, and, through the sheer friction of their sudden meeting, combust into a flaming innovation became sanctified as the key to company culture." And stadium seating is, to many companies, a key to those chance meetings.
"It's not just a cool-looking detail," says Primo Orpilla, the co-founder and director of interior-design firm Studio O+A, whose clients include Nike, Alibaba, and Yelp. "It shows that a company is very open, that its culture is about social moments."
Variations in stadium seating style also highlight individual companies' identities. SeatGeek, for instance, pays homage to its mission with 30-foot-long stadium seating at its Soho headquarters. The open design of the East Village office of Slack, whose social hub has cushioned stadium seating, "promotes the same values" as the workplace-messaging app itself. At the San Francisco office of Square, monumental, multifloor stadium seating is littered with individual white tables that resemble the company's simple credit-card reader. Airbnb has numerous offices, including its international headquarters in Dublin, with stadium seating, a universality that suits the company's tagline, "Belong anywhere."
At some offices, however, stadium seating feels like a funhouse mirror whose surface belies the company's actual agenda. Notoriously secretive Uber has stadium seating in at least one of its offices, and, in a laughable metaphor, its new San Francisco headquarters is almost fully transparent. At Amazon, where a "bruising" office culture "offers no pretense that catering to employees is a priority," according to the New York Times, communal areas, many of which have stadium seating, are designed to be "living-room-like spaces," the company's real-estate chief says.
"Every workplace today is trying to make their space more relevant," Orpilla tells me. I don't ask him to clarify what "more relevant" means, because I already know: more like a not-workplace. More like somewhere you voluntarily spend time. More like a "third place." The term was coined by urban sociologist Ray Oldenburg to refer to "informal public gathering places" that help distance you from your daily responsibilities at the "first place," home, and the "second place," work. Cafes, bars, lounges, bookshops, libraries, post offices, parks, and public plazas — with stadium seating, perhaps — are all examples of third places.
Increasingly, companies are trying to foster the kind of happy loyalty you might have for your local pub or third-wave coffee shop by replicating these spaces in the office. As Alexandra Lange, Curbed's architecture critic, writes in her book The Dot-Com City: Silicon Valley Urbanism, "The more you have on campus, the less need there is to leave it, and the longer employees stay. The longer they stay, the more work they do." You no longer need to leave the office to be entertained while drinking a beer with a colleague. Just head down the hall to the authentic in-office Irish pub, pour a pint of Guinness, climb up onto the stadium seating, and enjoy being in limbo between work and non-work.
If you're looking for the epicenter of the stadium-seating trend, you can probably blame (or thank) fast-casual salad chain Sweetgreen.
From its founding in 2007, Sweetgreen's store design has been guided by four principles: localization, simplicity, human interaction, and freshness. (That last one means, basically, that interiors are subdued to make the colorful produce the center of attention.) The Sweetgreen interior-design aesthetic — white walls, reclaimed wood, succulents, ceramic tiles, raw concrete floors — became so consistent and recognizable that GQ gave it a name: "Healthcore."
When co-founder and chief brand officer Nathaniel Ru was designing Sweetgreen's first New York outpost, in 2012, he decided it would have the standard two- and four-tops and also, to "make things more social," stadium seating. He'd been especially inspired by the communal atmosphere of the 10th Avenue Square on the High Line, where amphitheater-like seating faces four wide windows that frame the avenue below as if on a movie screen. "Even just the idea of sitting next to versus across from somebody felt different to us," Ru says.
At the back of the inaugural New York location, in NoMad, salvaged school bleachers stand tall beneath a faux-artisanal chalkboard menu and a white-neon sign that announces the season in capital letters. Sweetgreen says that its "chalkboard source lists and open kitchens reflect our commitment to transparency"; it's easy to see how stadium seating does, too. Sweetgreen locations in Soho; upscale Rittenhouse and River North neighborhoods of Philadelphia and Chicago; College Park, Maryland; Palo Alto, California; and Hollywood also have stadium seating. It's become a design element so associated with Sweetgreen that when I asked friends on Facebook and in person if they knew of places other than Sweetgreen with stadium seating, the most common response was, "Oh, I was gonna say Sweetgreen … "
The Greeks invented the stadium. (The word derives from the stade, a Greek unit of measurement that was the distance of the original Olympic footrace.) The Romans, however, are responsible for its circular form, having modeled their stadiums, including the 50,000-seat Colosseum, on the theater, rather than the rectangular dimensions of a running track. The tiered benches of Roman stadiums were designed to create unobstructed sight lines for all spectators, who sat according to social hierarchy.
The relationship between stadium seating and theater is clear in New York City. Think of the sprawling front steps of the Met, an iconic gathering place for people-watching. Or Rem Koolhaas's Prada Epicenter, the experiential retail space where stadium seating faces a fold-out stage on the other side of an undulating wooden "wave." Or Thomas Heatherwick's gargantuan, Escherian "Vessel," a 150-foot-tall structure of 154 interconnecting flights of stairs and 2,500 steps that was inspired by the architect's memories of climbing a discarded staircase as a student and that, as a public landmark, will "lift people up to be more visible and to enjoy new views and perspectives of each other." Even the distinctly New York tradition of sitting on stoops treats the world like a stage and passersby like actors.
Unlike being at a theater or sports stadium, however, which entails only passive spectatorship, these spaces are as much about being seen as they are about seeing. When you walk into a place with stadium seating, you can't help but take stock of its temporary inhabitants: what they're doing and wearing, who they're looking at and talking to. When you're one of those temporary inhabitants, your knees level with other people's eyes, your self-awareness skyrockets. You don't sit on stadium seating without feeling self-conscious.
Perched on the stadium seating inside New York City's Canal Street Market, you have an elevated view of an "effortlessly cool" space bustling with Soho's style mavens; other marketgoers see you as the kind of person who casually relaxes at a "foodie and ceramics destination." Sprawled out on the stadium seating at the 53rd Street Library, you see the street through a wide, transparent facade; to passersby, you're an intellectual person with good taste, hanging out at a library adjacent to the Museum of Modern Art.
The performativity of stadium seating is one of the reasons it's now so popular. "It's very much part of a culture of social media where people like to gather in public and make public spectacles of themselves," Lamster says. "Stadium seating works very well with that condition, which is as much driven by our devices as anything."
In the eight years since its launch, Instagram has transformed from a photo- and video-sharing app to a digital instrument with a marked influence on the built world. A homogeneous global aesthetic has formed and spread largely because of the network effect of Instagram. This aesthetic has some immediately recognizable visual tropes. Floors and ceilings are exposed brick or bare concrete. Walls are white or a washed-out tropical color. Lighting is industrial. Anything stone or metal is raw. Flashes of color are small and restrained: the red of a neon sign, the green of tastefully arranged succulents, the blue of a geometric accent rug. Seating is stark and made of light-colored wood.
Predictably, stadium seating is popular in spaces adhering to this aesthetic. Like the sans-serif font used in the branding of every startup, stadium seating's form is unfussy and functional. It's just stairs meant for sitting, or rectangular blocks stacked and staggered. It's minimalist to the point of monasticism. The austere lines serve businesses and Instagrammers well, acting as a natural framing device. At the same time, stadium seating makes clear how little room this aesthetic leaves for creative experimentation.
A Dezeen-curated Pinterest board of stadium seating begins to illustrate the problem, but a globe-spanning tour completes the picture. At coffee shops in Atlanta (East Pole), Boston (Ogawa), Charlotte (Coco and the Director), Copenhagen (Mokkariet), Montreal (La Finca), Shanghai (Doe), Toronto (Fix Coffee + Bikes), and Las Vegas (Starbucks), the stadium seating is blonde wood. (Yes, on the Las Vegas Strip, kitty-corner to Caesars Palace and directly opposite the Fountains of Bellagio, there's a Starbucks with stadium seating, "tailored to the idea of theater," that can accommodate up to 40 people.) At tech offices and coworking spaces in Amsterdam (Fairphone), Bangalore (Lookup), Denver (Industry), London (GoCardless), Nanjing (Citrix), Osaka (Nikken), Paris (Onepoint), Prague (Skrz), San Francisco (Evernote), Tel Aviv (Autodesk), and Vancouver (Cossette), the stadium seating is blonde wood. In New York alone, there are cafes (Counter Culture), ice cream shops (Parkside Creamery), markets (DeKalb Market Hall), offices (Bark), poke bars (Maui Onion), and retailers (Everlane) where the same is true.
Nathaniel Ru wasn't thinking about social media when he decided to include the bleachers at the NoMad Sweetgreen. He had only his customers in mind, he says. It seems hard to believe now. Earlier this year, Instagram hit the surreal milestone of 1 billion monthly active users, more than a tenfold increase since July 2013, when that Sweetgreen opened. Browsing Instagram photos taken at that location, the many images of the bleachers stand out from the grid of straight-down shots of colorful salads. Similarly, the stadium seating at Sweetgreen in Soho might as well be a photoshoot. Solo people pose with their legs casually crossed, or they gaze defiantly at the camera, or their body is artfully framed. Friends squeeze together to fit into the picture, grouped like co-stars of a sitcom or figures in a Renaissance painting.
Indeed, anywhere that has stadium seating, Instagram portraits of people not perched on its steps are few and far between. The places you'd most want to visit based on their aesthetic appeal are the places you're most likely to experience first — and perhaps only — on a screen. Savvy restaurateurs are designing their spaces to look as good as possible on Instagram, and entire in-person cultural experiences are explicitly designed to be selfie-worthy Instagram backdrops, because the potential for a social-media-induced windfall is very real.
The paradox is especially true of stadium seating, which is ostensibly made to facilitate face-to-face interactions but more often functions as a strategic location for a picture that will be seen by people who aren't with you. Lamster says this is a "reasonably valid criticism of stadium seating" — that people "don't actually use it to sit very often." Instead, they choose to continuously reposition their belongings, their food, and themselves to appear a certain way for a camera lens before, inevitably dissatisfied, they move on.
On the off chance you actually make it to, say, Daluma or the Visit, two popular Berlin coffee shops with stadium seating, your experience of either place will assuredly be mediated by and filtered through social media, such is their overt Instagrammability. You can't eat an acai bowl or kale-and-quinoa salad at Daluma and not share a picture of yourself on the blonde-wood stadium seating, which is both inside and outside. It's impossible to behold the Visit's white-and-blonde-wood stadium seating, above which is a cascade of impossibly green fake ivy, and not snap a picture for Instagram.
After all, as one influencer writes, "There's nowhere I've been anywhere in the world that is quite like the Visit." If only she'd gone to the Berlin offices of SoundCloud or Razorfish or Onefootball, or the coworking spaces Betahaus or Factory, or the bars Solar or Mein Haus am See, or the coffee shops Camon or Kaffeebar. If only she'd scrolled a little further in her Instagram feed.
Kieran Dahl is a freelance writer whose work has appeared in the Guardian, the Awl, VICE, GQ, and elsewhere. He lives in Brooklyn but thinks often about moving to Berlin, where rent is cheap and stadium seating is plentiful.
Editor: Sara Polsky