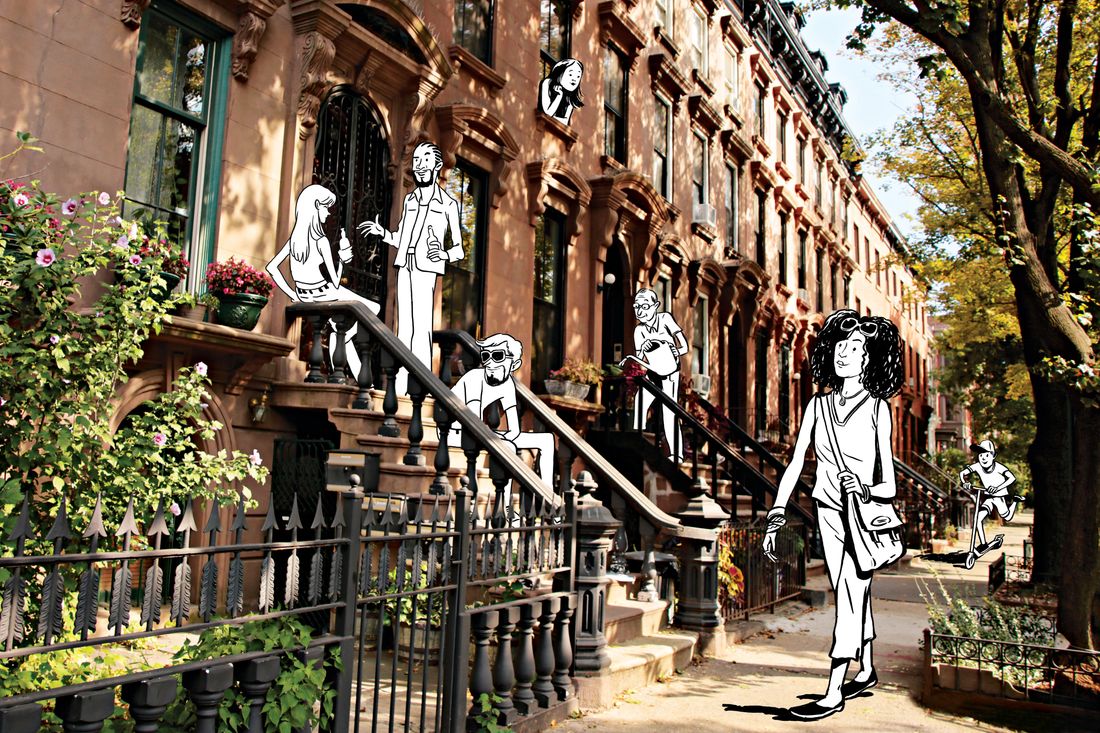 Illustration: Zohar Lazar; Photo: Busà Photography/Getty Images
This article was featured in One Great Story, New York's reading recommendation newsletter. Sign up here to get it nightly.
You begin shopping for your future the moment you become an adult in New York City. Rich and well-furnished lives are aggressively paraded about. Parlor windows reveal Noguchi lamps the size of small horses, couples sit for brunch, families haul exploding bags of farmers'-market produce back to their lairs. People are furiously refreshing Resy to pay $27 for spaghetti pomodoro (!) and going, constantly, to Mexico City.
Sure, it's always been ludicrously expensive, and the "what you could get for the same price of this Chelsea studio in Ohio" game is our little way of torturing ourselves. New York is the most expensive city in the world, according to one recent report. Half the households that live here simply cannot afford to, according to another, which says you have to make $100,000 just to reasonably get by — to afford food and transportation to work. A one-pound container of strawberries at Eli's costs $30.
We decided to put a price tag on the dream lives of a wide range of New Yorkers, all 30 and under and childless. We spoke to dozens of people but narrowed it down to a handful, each reasonably en route to the upper-middle- (and, in two instances, just plain upper-) class life they picture in their heads. We were surprised by how many people fantasize about a life with a partner and kids in brownstone Brooklyn — we expected more to plan lives as single artists or to build households of friends and throuples. We expected a few more to actually want to live in Manhattan. Instead, we heard a craving for high-end domesticity; so many people told us they wanted to be married with "between one and two kids," a shocking number said they wanted three or more, and nearly everyone said they wanted to own their homes.
We went deep with these nine people on their aspirations for their lives in 15 years. We asked, What would a "nice life" look like? Do they want extreme levels of well off, or bourgeois comfort, or simply freedom from financial worry with the time to pursue a hobby?
Then we spent weeks talking to people who actually live those lives and asked them how much it all costs, from the babysitters to the termite prevention to the electric bill.
The purpose of presenting these receipts isn't to shock or horrify. But if they do shock or horrify, we hope facing them is at least better than wallowing in the ambient dread of not knowing. We hope it's genuinely useful to younger New Yorkers wrestling with questions like, What would my family income have to be to support my vision of tomorrow? What part of my dreams should change — or my plans for paying for them? Should I move upstate and renovate a dilapidated Victorian? (Do not do this.) Some readers may wonder: Is this city for me? But perhaps others will find in these case studies certain elements that could possibly be within reach (even if you don't have a trust fund, or your shares don't vest) for a good and manageable New York life.
Calculating a Dream life
➼ Aliya wants a Brooklyn Heights brownstone
➼ Tarek wants 'absurd parties' in Bed-Stuy
➼ Chen wants her in-laws to live with her in Queens
➼ Audrey wants summers on Long Island
➼ Ian wants both a bike and a motorcycle
➼ Louise wants a Victorian near the Staten Island Ferry
➼ Rachel wants to play paddle tennis in Bronxville
➼ Charlotte wants her kid to go to Stuy
➼ Bri wants to sew in Hudson
Aliya
wants
a
Brooklyn
Heights
brownstone,
carefully
maintained
eyebrows,
and
three
children at
Brooklyn
Friends.
Aliya is a 30-year-old corporate lawyer in Manhattan. In this future, let's say she's raising children who are 7, 11, and 12.
What She Wants
The image I conjure up is a Sunday in Brooklyn Heights: I've just gone to a Quaker meeting with my husband and our children, and we're strolling the promenade before we go back to our — in the perfect world — townhouse. I'd love to be two(ish) blocks from the Brooklyn Heights Promenade in a place with three or four bedrooms, since it's not a priority for my kids to get their own rooms. I'd send my kids to Brooklyn Friends, because I went to a Quaker school for a few years and that community really shaped me, and I want them to play an instrument or do an activity they're interested in, like drama. And since I'll be working, we'll need after-school child care. I want an SUV and a place to park it, and we'd buy groceries from Trader Joe's and Sahadi's and do date night at least once a week. And I really want somebody to scrub the life out of my whole house once a month.
In my future life, I'd be wearing beautiful vintage designer clothing and buying a new piece maybe every couple of months. I'd also like a membership to a gym that has Pilates classes and a sauna. My only big expense in terms of personal maintenance is my eyebrows. I get them tweezed and tinted by someone who works for all these models and influencers. I'd be traveling monthly — little trips here and there, maybe a quick getaway with my husband or a solo trip. I love the idea of saying, "Okay, me and my best friend are going to Nashville or Austin," and we'd just stay in a nice simple hotel with Wi-Fi. My sister lives in Majorca, Spain, so for two or three weeks, we'd go visit with our whole family. When flying international, I'd fly business, but I'd put my kids in economy. I saw this woman do that — her kids were 10 and 8, and I was like, That's the most genius thing I've ever seen.
What It'll Cost
Three-to-four-bedroom townhouses are rare in Brooklyn Heights — they're mostly five or six. We found Aliya a nice but somewhat dated six-bedroom at 138 Henry Street for the highly unusual price of $4.6 million — updated houses in the area tend to cost between $8 million and $12 million. She'll pay an estimated $205,801 in closing costs (that includes a mansion tax of 1.5 percent), $23,944 in monthlies, and then $3,000 a month on utilities and general upkeep, like HVAC servicing. All of that is the bare minimum. Owning a brownstone makes you vulnerable to a million horrifying things: wind-driven rain getting lodged into parapets, causing leaks; a stoop in need of repair; a façade that needs to be restored (generally every 40 years, but costs can range from $50,000 to $150,000). Let's say this year she has a relatively minor leak: $3,000. Then she'd have to paint ($25,000, according to a brownstone owner in Windsor Terrace) and fully furnish the entire place (about $100,000). She'll put $5,000 down on her Subaru Forester, then pay $788 a month after, and her garage will be around $500 a month.
Tarek
wants
'absurd
parties'
in
a
Bed-Stuy
apartment,
no
kids,
and
monthlong
trips
to
Europe.
Tarek is a 24-year-old aspiring actor in Brooklyn.
What He Wants
A friend of mine worked at the Milton Resnick and Pat Passlof Foundation — they were two recently deceased artists who had lived in Manhattan for years and were happily married but also had their own homes within walking distance of each other. A two-household partnership would be amazing: I get my own place; you get your own place. There's a world in which we adopt two children, but let's imagine we don't. I'll definitely have a cat, and I want that cat to be really happy. Something I've seen online is these people who have created tubelike structures going through walls and out the window for their cats to crawl through. So I'd build some sort of crazy tunnel to give her some kind of enrichment.
Bed-Stuy is full of happy Black people living their lives, and I'd like to buy a place alongside Herbert Von King Park — a two-bedroom with an office, a washer-dryer, a dishwasher, and a bedroom big enough for my queen-size bed, plus either a backyard or a living room big enough to throw absurd parties with 100 people. I think it's important to clean your own house, so no housekeeper, but I do want someone to do my taxes for me. I'd join a food co-op, and a dietitian would tell me exactly what to purchase. I'd hire a personal trainer twice a week and go to acupuncture once a week. And join a soccer league. Once a week, I'd go see a movie at the Angelika and go out for a nice dinner at a place like Macosa Trattoria, and twice a month I'd see a Broadway show and go to a nice jazz bar. I'd have a Chevy Volt — and a parking spot for it — so I can easily go hiking at Storm King. Every couple months, I'd take a three-day weekend and drive all the way up to Acadia in Maine or do an Airbnb for a weekend trip to the Hamptons or Fire Island. And every year, I'd spend a month outside America — staying in Airbnbs in Geneva and Lucerne and Berlin, doing a lot of clubbing and swimming in lakes. I'll give away the excess money that I don't need to charity, which could be $1,000 or $10,000 a month.
What It'll Cost
Tarek essentially wants to live a version of the life he has now — going out with friends, taking weekend trips. This is obviously possible, but several of his 40-and-up counterparts warned us that, as he gets older, his habits might change in subtle and more expensive ways. One 53-year-old happily child-free New York architect says that over the past few years cabs have become more compelling, as have nicer clothes, investing in his health ("I'm like, You know what? I'm gonna get that X-ray!"), and hotels where each person has their own bathroom ("Not the fleabaggy ones I stayed in when I was young"). And as his cohort has gotten freer with spending, he has too. "My friends called me the other night and said, 'We're going to Lincoln Center to see this performance. Want to go?'" he says. "And I was like, 'Actually, I do.' That was $150."
Chen
wants
a
split-level
in
Jackson
Heights,
a
pair
of
fluffy
dogs,
and
her
in-laws
upstairs
to
help
with
child
care.
Chen is a 29-year-old ad-industry producer in Queens. In this future, let's say she's raising a child who is 2.
What She Wants
My partner and I would live in a multifamily home somewhere in Queens close to Manhattan — Astoria, Sunnyside, Woodside, Jackson Heights. I don't care whether it's new or old, but ideally the house would not touch other buildings so we can maximize the amount of light it gets, and it'd have a parking space and two units. My partner's parents, after they retire, will move into the other unit. They're immigrants, and we'd want to take care of them, plus they can help with the kids. We'd compensate them for child care and cover their housing and other day-to-day expenditures: food, cell-phone bills, anything else they would need (they'll be on Medicare by then). We already have a car, so that's how we'll get around.
I'd like one kid because it's much easier to manage one child's education. With my two nieces, it takes their parents so much time and attention to stay on top of their schoolwork, as well as their private lessons and tutoring sessions and activities outside school, and I don't have the capacity to do that for more than one child. We'd also have two big fluffy dogs. I have a dog now, and my parents like to say she has a better life than a lot of kids in other parts of the world. She eats high-quality food and gets groomed every six to eight weeks. Once or twice a year, I buy her a new sweater.
We'd take a yearly two-week trip as a family — maybe to Europe, where we'd stay in a nice Airbnb, travel to different cities and go to museums, and eat at restaurants on the street. In the summer, we'd send our child to day camp, then on the weekends we'd go on day trips, hiking and fishing in the Hudson Valley or Connecticut.
What It'll Cost
"In Asian cultures, the grandparents are very much a part of taking care of children and the upbringing of them," says one Brooklyn parent whose mother moved in with her when she had a newborn. The cost cannot be beat. "I just paid a little extra for food and gave her money here and there for transportation," she says — though eventually she began paying her mother a stipend of $1,000 a month ("I just came up with a number," she says). If Chen wants a real two-family home, with two entrances and proper separation between the units, those tend to go for $1.5 million to $1.7 million in Jackson Heights. One nearly perfect example we found, a $1.4 million split-level at 31-11 70th Street, would put her monthlies at $7,537 and estimated closing costs at $44,683. (Unfortunately, it's attached to its neighbor.) She'll be paying two utility bills — $500 a month, according to one person who owns a two-unit Long Island City house — and taking care of both parts of the house, plus the large basement. So let's say this year New York experiences torrential rain again and her basement floods; Chen may need to do what one Brooklyn homeowner did and spend $15,000 on a commercial-grade sump pump. "We had two storms back-to-back, and our basement flooded," the homeowner says. "We were literally spending 24 hours a day bucketing out our basement, and we never want to go through that again." Since she'll be grocery shopping for a five-person household, let's give Chen a budget of $400 a week based on the grocery bills of two families who do the Wegmans-Costco-Target circuit. (A not-insubstantial portion of that, many parents find, will go to berries for her toddler. Two parents we spoke to spend $75 a month a month just on strawberries and blueberries.)
Audrey
wants
her
kids
to
have
a
childhood
like
hers
on
the
UES,
summers
on
Long
Island,
and
season
tickets
to
the
Jets.
Audrey is 25 years old and works at an investment firm in Manhattan. In this future, let's say she has children who are 6, 7, and 9 years old.
What She Wants
I'd be living on the Upper East Side with a husband and three kids. In my dream, it's a four-bedroom apartment with natural light and high ceilings, ideally on Park, Madison, or Fifth in the 70s or 80s, either in an older building that's renovated or a more modern one, and I'd probably get a decorator. We'd lease one car in the city, a seven- or eight-seater. And we'd have a second home on Long Island. I'd cook three or four nights a week and order in the rest of the time from our local Italian place, and every week or so I'd do drinks and dinner with friends, maybe in the West Village at Cafe Cluny or Rosemary's. If my husband would go with me, I'd love us to have season tickets to the Jets. Nails once a month, a haircut three times a year, and highlights if I start going gray. I would also want a membership at a high-end gym and regular facials.
I'd like my kids to go to one of the magnet schools because they're really good, and free is nice — like Hunter or Bronx Science. A nanny from 9 a.m. to 6 p.m. while my husband and I are at work, and my children would play an instrument and a sport. In the summer, I'd make my kids go to a summerlong sailing camp on Long Island, and for vacation, we'd go somewhere in the Caribbean and stay at a resort with a beach and activities. We'd also join a Reform or Conservative synagogue, which is a whole ordeal in itself. If I'm living on the Upper East Side, the subway can be really inconvenient, and I wouldn't want my kids going alone, so we'd probably do a lot of cabs. If I'm being perfectly honest, a lot of this is very similar to either my life or the life I saw growing up in New York, and I think I turned out okay.
What It'll Cost
An apartment with Audrey's exact parameters will be at least $4.5 million, and it might not even be that nice — you're paying for the address. But things get better if she's willing to lose a bedroom. We found her a three-bedroom at 1088 Park Avenue that costs $2.8 million (two of the children can share a room). There'll be a 50 percent down payment, standard for fancy UES co-ops, and it'll cost $151,166 for things like closing fees, the flip tax, and the mansion tax. Her monthlies (including utilities) will be $12,958. If Audrey wants professional help decorating, one interior designer who handles high-end apartments in Manhattan says that would start at $60,000 a room. (Children's rooms are half that.) Every building has the occasional special assessment: There's a lobby renovation or a repainting, and everyone has to chip in; this could range from a few hundred dollars to tens of thousands. Let's say that this year Audrey's building needs façade work and elevator mechanical rehab, like one Manhattan co-op owner we spoke to — he recently got a bill of $19,000 to cover the costs.
Ian
wants
a
bike
and
a
motorcycle,
pasta
and
board-game
nights,
and
his
life
to
look
a
lot
like
it is
now.
Ian is a 25-year-old arborist in Manhattan.
What He Wants
I'd like to buy in the southern part of Washington Heights, a basement apartment in a brownstone with a little backyard where I could grow native plants and wildflowers. I'd live with a partner. No children but two cats. I'd still take public transit, though my favorite way of getting around is by motorcycle. There's one I've been fawning over, a Moto Guzzi V7, so I'd love to upgrade to that someday. For exercise, I'd buy an inflatable kayak and ride my bike — just a decent-framed, fixed-gear bike will do. Once a month, I'd get a barbershop haircut. I quite like the experience of buying clothes secondhand, but not every Goodwill is created equal, so in the future I'd shop at more-curated secondhand stores, like a Beacon's Closet.
One thing I try to avoid is lifestyle creep. Some of my peers have taken high-earning jobs, and I've seen how every part of their life becomes more expensive at the same time, almost like the expenses are chasing them. So I'm very focused on keeping some things unchanged and concentrating my money on experiences. For example, the New York Botanical Garden has these arboriculture courses, and right now the cost is too high, but I'd sign up for those or for sailing or drawing lessons. We'd cook most nights, and we'd still shop at Trader Joe's. We'd dine out three nights a week — a good Mexican place with plastic tablecloths where I can get a burrito the size of my head or a local Chinese restaurant. Twice a month, we'd go out to a bar, order a couple house cocktails, then go to a club for dancing. And twice a month, we'd also have people over for board games; we'd cook spaghetti and meatballs for six or seven people, make some martinis and dark-and-stormys, and put out candles for vibes. Ikea sells them in big packages, which is good enough for me. And three weeks a year, we'd travel — going abroad to Chile or Australia one week, then visiting friends around the country. I'd also like to get more into camping and take a weeklong RV road trip somewhere up to Canada.
What It'll Cost
Owning one floor of a brownstone isn't impossible in Washington Heights, but it isn't particularly likely. According to broker Louis Pulice, the practice of splitting up townhouses into condos hasn't crept much farther north than the Upper West Side. Ian could purchase an entire brownstone ($2.4 million) and rent out the upper units, but let's assume he doesn't want to become a landlord and instead goes the rental route. A brownstone apartment with outdoor space only occasionally comes on the rental market; when it does, it'll cost around $3,700 a month. (He lucked out — no broker's fee.)
Louise
wants
a
Victorian
near
the
Staten
Island
Ferry,
four
kids
in
Catholic
school,
and
a
night out
in
Manhattan
every
few
months.
Louise is a 23-year-old events coordinator in Staten Island. In this future, let's say she's raising children who are 5, 7, 9, and 11.
What She Wants
I'd own a house on the North Shore of Staten Island, so it wouldn't be so difficult to get to the ferry — maybe in a nice area close to St. George or in West Brighton, within walking distance of a coffee shop or deli. I'd like an old Victorian house with columns and a pop of color. I would love to have a porch or balcony, and I want a yard. I don't need a housekeeper; the only thing I'd want is a landscaper or a lawn-mowing service.
I'd be married and have four kids (I have seven siblings), so we would need a minivan. I'd send my kids to a Catholic school so that can be their starting point for understanding the world. Ideally, I would work from home a couple of days a week or shift to part time, and my husband could work remotely one day a week; then we could get family to cover a day or week. I'd definitely put my kids in ballet class and on some sports teams — not football or wrestling or boxing or anything high contact, but I'd be okay with soccer, baseball, basketball. And in the summers, theater or dance or sports camp.
I work events, so I get gowns from Windsor, but I'd switch to something a bit more sophisticated, like Macy's. Every two months, I'd take the ferry into Manhattan to see the ballet, Broadway, or summer opera. Once a week, it'd be nice to have one date night and then one dinner out with friends, and we'd probably get family to watch the kids. We'd probably go to a place with $18-to-$25 entrées like Ho'Brah Staten Island or Bayou. Once I have my own space, I'd host themed parties every so often, like a Met Gala red-carpet viewing where we all dress to the theme of the costume exhibit: 20 to 30 guests with platters of food from Costco. Once every five to ten years, I'd do a big trip to another country, and I'd like to plan more local trips to see family for a week where we'd probably just stay at their house.
What It'll Cost
Compared with other private schools in New York, Catholic schools tend to be more affordable because they're subsidized by the diocese. So the total cost of sending all four kids to a Catholic elementary school, such as Blessed Sacrament, would start at $20,400 a year, plus the occasional donation for a fundraising event, say $500 for a raffle basket (you can elect not to participate, one local parent says, but you'd be the odd person out). According to Louise's mother, Lea, families at Catholic schools typically spend around $400 for their child to join the school basketball or soccer team, though this would be taking the more modest route: "Sports are a big, big thing in Staten Island," Lea says. "Some people's kids are doing three or four or five sports and go to basketball camps and basketball clinic. Our family didn't do nearly as much." Fifty-minute ballet classes at a nearby school like Mrs. Rosemary's Dance Studio cost $65 per kid per month, though Lea says some offer scholarships for male dancers.
Rachel
wants
a
house
with
a
pool
in
Bronxville,
an
au
pair,
and
an
annual
trip
to
Florida
to
see
the
in-laws.
Rachel is a 30-year-old theater agent in Queens. In this future, let's say she's raising children who are 6, 8, and 10.
What She Wants
We'd live in Westchester, specifically in Bronxville, because it's not too far from the city — that way, I could still commute into the office a few times a week. Also it's walkable, so our kids could take the bus or walk to school and I'd go to the grocery store without driving. Our ideal house is two stories and four bedrooms and close to the train station. We'd want a pool, but we don't need a ton of land — we do not have green thumbs — so we're fine with it being on top of another house. We'd have a weekly housekeeper and a snowplow guy for the winters. One car would be fine.
We'd have three kids. A family member has an au pair who's a study-abroad student, and it's actually not that crazy compared to day care, so I'd prefer that, plus my parents don't live too far away, so they could babysit. The kids would go to public school and do some sort of team activity and play a musical instrument. We'd have at least two dogs, a Pomeranian and a Shetland sheepdog. We love paddle tennis and would have a paddle-tennis permit for the family. At that point, we'd probably want some community. Maybe a rec club, and I'm not opposed to a country club, but it depends on the price, and it has to be a family-oriented place. I would also want to join a church. And I'd be planning charitable events — fundraisers for the church or charitable drives for a social club. Three or four times a year, we'd take a trip to Florida, where we'd stay in a family house (I'd drop the dogs off at my parents'). Every September, we'd do a family trip to the Jersey shore with my parents, where we'd rent a house and go out for every meal — just one nice dinner and then the rest of the time it's beach food, clam-shack types of places.
What It'll Cost
Suburban homeownership seems appealing when compared to an impossible-to-please New York City co-op board. If Rachel buys, say, a $1.6 million very walkable Tudor at 25 Parkway Road (sadly, it lacks a pool, which can be hard to come by in Bronxville, given the small lots), she'll pay around $10,062 a month, which includes Westchester's eye-popping property taxes, and likely $32,898 in closing costs. This feels like a "transition from the city" home; if she loves it here, and wants to give up her three-minute walk to the train station and farmers' market, she can move into the leafier, more expensive part of Bronxville.
Charlotte
wants
to
rent
in
Park
Slope,
get
her
name
on
the
wall
at
Film
Forum,
and
not
worry about
picking
up
a
hardcover.
Charlotte is a 29-year-old journalist in Brooklyn. In this future, let's say she's raising a 13-year-old.
What She Wants
I'd be married with one child, and we'd rent a three-bedroom duplex apartment right near the park on the border of Windsor Terrace. It would have a dishwasher, roof access, and an abundance of closets. We'd have a cleaning person once a month, and I'd send my laundry out. We'd own a hybrid or electric four-door car and rent a parking spot in a garage. My kid would go to good public elementary and middle schools, then something like Stuyvesant for high school. They'd be heavily into the arts. I'll be the type of parent who takes my kid to museums literally every weekend. I'd be a member at MoMA and the Whitney, and I'd donate enough to get my name on the wall at Film Forum and get all the perks. Plus art camp and music classes. I'd always have two cats. We'd eat out once a week at a new place and also get pizza every week — but nice pizza. I'd shop at Whole Foods and Trader Joe's, instead of the bodega or the corner market. We'd save up for a big international trip every other year with the cheapest flights we could find. I'd go to Japan many times.
I deal with chronic pain, so I'd see an actually good physical therapist, a good regular therapist, and have acupuncture and massages every other month. Plus a monthly yoga pass and a nice gym membership — better than Blink but not as fancy as Equinox. And I'd outsource my hair care — I have thick curly hair that takes an hour to wash, so I'd go to a hair lady for monthly deep cleaning, conditioning, and detangling. I'd be able to casually buy a Rachel Antonoff sweater, and I'd have a little vanity of makeup — the fancy mascara, not Maybelline or Sephora store brand, and the $30 eyeliner. I also collect retro video games, which is an expensive hobby. And every weekend, I could stop in at a record store or bookstore and buy a book or a record for my collection without feeling bad about it.
What It'll Cost
In all likelihood, Charlotte's 13-year-old will need some test prep for the SHSAT, a.k.a. the Stuy test. This could theoretically start when the kid is 3 — not unusual in this city. Or she could adopt the comparatively laid-back approach of one Manhattan parent we spoke to: His child's regimen includes 12 hours of private tutoring ($140 an hour) plus test-prep classes the summer before and in the fall of eighth grade ($2,090), as well as a year's subscription to Elissa Stein's High School 411 newsletter ($200) and a onetime high-school-admissions consult with Stein herself ($260 an hour). Outside school, those weekly music lessons come in at $250 a month, but luckily, the other costs of raising her artistic child will be more moderate: around $340 a year for the family memberships to the MoMA and the Whitney, plus $250 to get her name on the Film Forum wall. And now that Charlotte's child is 13, she'll no longer need a babysitter for her nights out: "More often than not, he's at a sleepover anyway, and I coordinate my going out with his social activities," one Brooklyn parent tells us of her tween's social calendar. In the summer, Charlotte's teen could get a babysitting gig, but many Stuy students are extremely achievement oriented, and even though freshman year will not yet have begun, it's not out of the question for them to start optimizing their breaks for college applications. If Charlotte's child is ready to enter that rat race, they might enroll in the popular–among–Park Slope–parents Great Books writers' workshop at Amherst ($3,095 for a week), but if they want a lower-key summer, they might go to the Brooklyn Museum camp ($3,250 for five weeks).
Bri
wants
an
Anaïs
Nin–ish
house
in
Hudson,
a
healthy
assortment
of
Maryam
Nassir
Zadeh,
and
a
Mini
Cooper.
Bri is a 30-year-old data analyst in Brooklyn. In this future, let's say she's raising children who are 8 and 11.
What She Wants
In an ideal world, I'd design and build a home in Hudson inspired by Anaïs Nin's in L.A. It would have three bedrooms, have a garden and a stream in the backyard, and would not be super-close to other houses. It would have room for a sewing studio. And in that sewing studio I'd have a serger and a sewing machine and a big table that I can get to on all sides and really iron. I'd also have a one-bedroom in Greenpoint. Both my partner and I would have flexible hours, so we'd split caretaking duties of our two kids. They'd do pre-K to second grade in a Montessori school, then public school for the rest. They'd go to day camp in the summer and do activities during the school year — whatever they're interested in — twice a week per kid. The house would have an open-door policy with lots of people coming in and out and lots of dinner parties, which means keeping the house stocked with food from the grocery store and the farmers' market. I'd want a Mini Cooper to get around.
I'd be able to casually buy things from Paloma Wool, YanYan knits, Arthur Apparel, Maryam Nassir Zadeh, and Tangerine, a shop in Williamsburg. Maybe one new piece a week. I also want to be able to buy real investment furniture — big wooden tables from antiques stores in Hudson that are "rustic chic" or "modern rustic farmhouse" or whatever. I don't love traveling, but we'd go on two weeklong family trips a year, flying economy and staying in boutique hotels. Maybe to Mexico, where we'd spend two nights in Oaxaca, then go to Mexico City, where we'd stay in the Brooklyn Heights of Mexico City rather than the Times Square of Mexico City.
What It'll Cost
Building a house is expensive — probably more than Bri thinks. "Some people don't realize that you have to dig a well; you're not on town water or town sewer. So you'd need to construct a septic field and a septic tank for all of your waste and even road access," says Kimberly Ackert, an architect. "Also you may not have power going to the property. Adding all those things could be $100,000 to $200,000." The more straightforward option, she says, is to buy an existing house and renovate, but that's not cheap either: The costs, she estimates, would range from $300 to $500 a square foot (so in this case, it would be a $750,000 renovation). "No matter how many hotel rooms you get in New York City, no matter how many fancy dinners you have, train tickets to the city, or even vacations, nothing could compare to home renovations," says a resident who renovated a house in Hudson. "$100,000 goes away in a blip. You buy the Victorian mansion, you're going to start at a million dollars of renovation. That's, like, standard." 279 Scudderhook Road, listed at $925,000, has a stream out back. Bri's closing costs would be $23,909, and her monthly payments would be around $5,825.