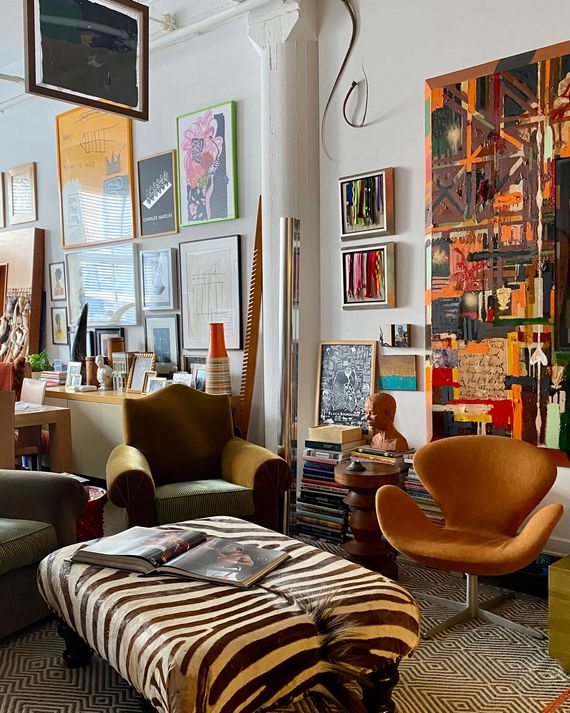 Courtney Sloane was born and raised in Jersey City, but, like many ambitious creative people, looked across the river to fulfill her dreams in New York City. In 1997, she met her future wife, the artist Cheryl R. Riley, and 13 years ago they began moving their lives back across the Hudson to her hometown. First they settled into this 1,400 square foot loft in a former A&P supermarket warehouse, with high ceilings, thick walls and cement floors beautifully worn with age. Then, in, 2012 Sloane moved her design practice over the river to be closer to home. Finally, in 2015, she opened a design gallery, Sloane Square, on the building's ground floor.
"It's been sweet being home in the town where I was born and raised," says Sloane, who has become "super-engaged in my community," just as her late mother was. She's on the board of the Hudson Pride Center where she works with Hudson Pride, the Jersey City LBGTQ community center ("the largest in the state" she notes.)
"Courtney has an eccentric personal style as an interior designer," Riley says, of the evolving pastiche of art and furniture that Sloane has amassed including an Arne Jacobsen Swan chair, and a zebra ottoman. Their loft is brimming with books, art, and furniture amassed over years of travel and collecting. Sloane has worked with clients that include Queen Latifah, Sean "P. Diddy" Combs, Sony, and AvalonBay Communities Inc. and traveled back and forth to central America between 2012–14 collaborating with Atuto artisan Studio on a project with indigenous potters. Riley, a former advertising executive, and now a member of the Black Artist + Designers Guild has been creating art, designing furniture, and working as an art adviser since 1986 with a focus on artists of the Black diaspora. Her designs are part of the permanent collections at the Cooper Hewitt and National Museum of African American History and Culture, and this past August, Riley was commissioned along with 17 other artists, by the United States Tennis Association to create artwork in response to Black Lives Matter at the Arthur Ashe Stadium. Her text based project for that will soon be available in a limited edition print series.
The building also offers studio space, a convenience at any time, but especially during the pandemic. They are homebodies, happily, but the loft is made to for socializing. That a vintage guitar leaning on the wall? It's waiting, Sloane says, "for visitors to strum."
Top image: These "two wood chair frames I purchased at one of Donghia's fabulous annual sales back in the day," Riley says, "One of my favorite vendors, Houston Upholstery covered them for me in mohair. One is mustard and the other gray velvet. The large painting is by my friend, the Atlanta artist, Radcliffe Bailey. He's represented in New York by Jack Shainman Gallery where our god daughter, Joeonna Bellorado-Samuels is a director." Each day, another page is turned in the Muhammad Ali book on the ottoman.
The leather sofa is from Sloane's design atelier and gallery shop, Sloane Square. Riley purchased the wood painted masks in the corner decades ago from a friend who was a former Peace Corps volunteer. "The solid wood drum table in the foreground was from a quirky shop near Cheryl's favorite restaurant, Zuni Cafe, in San Francisco." Sloane says. The boxed wall art is by Chakaia Booker. A head by Noah Davis is in the upper left above an elephant painting by John Goodman.
Riley and Sloane decided that when they ran out of shelf space for their extensive collection of art and design books, they would create pedestals with the overflow as seen here. Sloane found the terra cotta head in a shop called Frame Atelier. They discovered the blackboard drawing by Deborah Grant at The Studio Museum in Harlem's Artist Residency exhibit.
A photograph of Riley (left) and Sloane (right) in 1997 the year they met and fell in love. "We wanted to solidify our commitment before it was legal everywhere, we have had numerous and different types of commitment ceremonies up till D.C. and New Jersey made it real." Riley says. The bronze sculpture by late artist, Donald Locke, was a gift to Riley from his son. The framed mixed media figure on the right is by Zoë Charlton.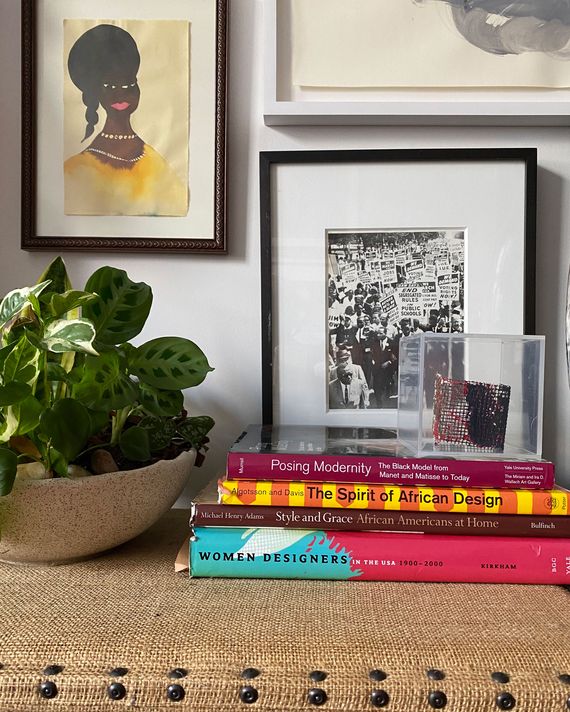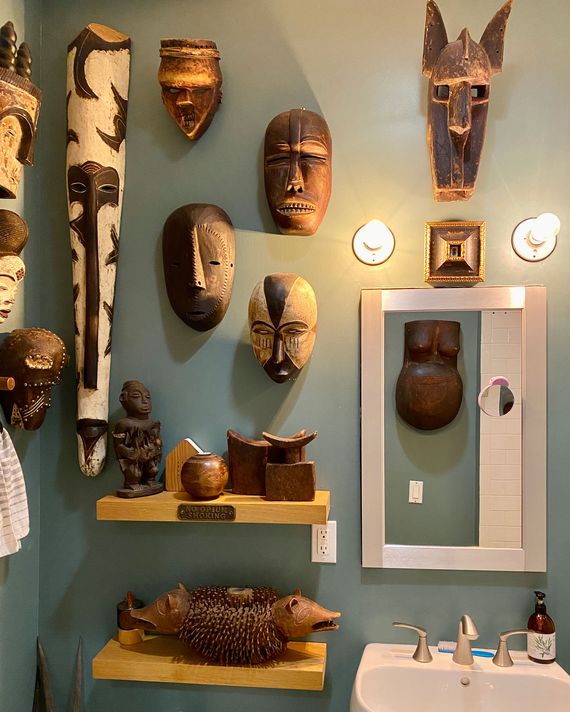 One wall of Riley's home studio where her sculpture installation, Transcendence Preserved 2017–2019, is on view. "I used vintage implements that are treated with gold paint wherever the hand touched them and encased the pieces in custom vinyl slipcovers. They symbolize preservation of survival and thriving tactics employed by a spectrum of people to transcend their station." Riley says of the piece.
Sloane found the chair at an antique market and reupholstered it with Kuba cloth fabric. Two more blackboard artworks by Deborah Grant share the wall with a guitar found at a pawnshop. "African posts lean into a Stephen Dean 2004 stack of French novels that are numbered and must be stacked in exactly the color sequence specified." Riley first encountered Dean's work at a Whitney Biennial where she saw his 2001 video, Pulse, five times she was so mesmerized by it.