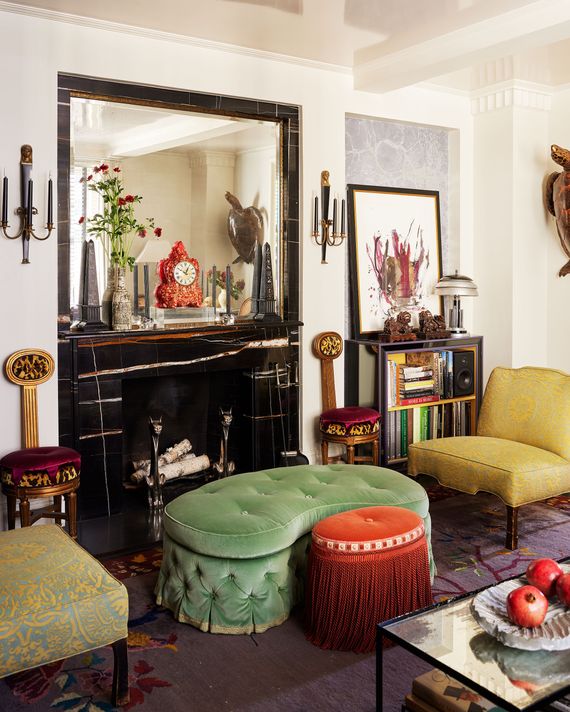 The Living Room:
Dan
Lobitz designed the "nesting" ottomans in front of the fireplace. The slipper chairs covered in Fortuny fabric are from
Beall & Bell
in Greenport. The gold chairs flanking the fireplace are from Full House in Easton, Pennsylvania. The sconces and slate obelisks are from Andrew Spindler Antiques in Essex, Massachusetts.
Photo: David Land
When architect Dan Lobitz began dating photographer Mark Jacobson in 2004, he had been living for over a decade in a rent-stabilized studio with 11-foot ceilings and a marble fireplace on the Carrie Bradshaw block of Perry Street. They moved in together the next year, but Sex and the City continued to have a presence in their lives for years. "The shooting schedules for the series and subsequent movies were brutal and intrusive," Lobitz says, not to mention the fans on pilgrimage, and in any case, they needed more room. In 2009, they bought this one-bedroom in a classic West Village Bing & Bing building.
It took them a year of work before they moved in. "The apartment didn't look anything like it does now," Jacobson says. "Dan changed every single thing." They took down some walls, put in pocket doors between the living room and bedroom, redid the red-brick fireplace, and in general made it "more loftlike."
Lobitz is a partner at Robert A.M. Stern Architects, where his thoughtfully contextual luxury-residential projects include the Four Seasons Downtown, 70 Vestry Street, and the upcoming 1 Mayfair in the heart of London. So when it came to designing his own place, he was exacting. "If a closet door was not centered by a quarter of an inch, it got changed," Jacobson says. "It was an organic process. And we didn't rush it."
After the renovation was finished they began the task of decorating. "As you well know, it goes on forever!" jokes Lobitz. Their friends William T. Georgis and his late husband, Richard Marshall, who shared a second home in La Jolla, California, made it fun. "Bill would see something on his shopping trips and alert us," says Lobitz. Some of their best finds for this classic New York apartment were from shops out west.