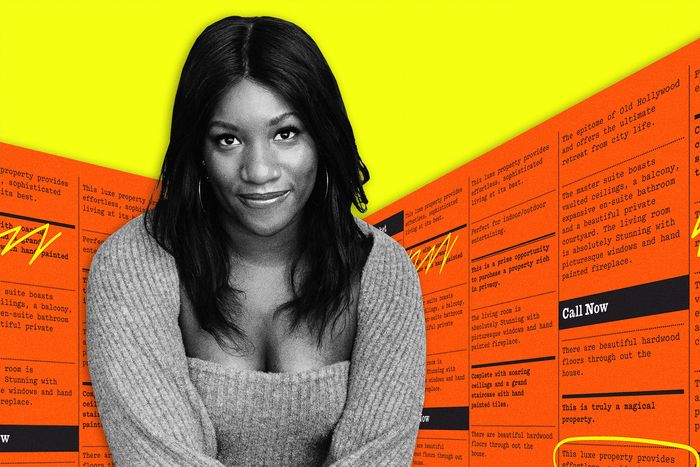 Photo-Illustration: Curbed; Photo: Scarlet Raven
I recently moved to New Orleans from New York City. I wanted to live somewhere less expensive that did not have winter. I used Zillow when I was considering moving to L.A., but for New Orleans I browsed Latter & Blum, a big real-estate company around here, or just the websites of individual buildings. In New Orleans, I don't have a car, so I'm always walking. That means I've gotten obsessed with certain buildings. If I'm in an Uber going through more suburban areas, I'll take a photo of a house, then immediately Google the address to see the pictures inside.
I look at real-estate listings wherever I am. When I hosted a podcast, I had to travel a lot for recording — so I looked up homes all over the place, in Portland, in D.C., in San Francisco. Especially San Francisco. I just always need to know exactly what hilarious prices people pay to live there.
The Ones She's Saved
A French Quarter Townhouse Overlooking a Courtyard and Pool
I'm obsessed with these townhouses on Dauphine Street, which is on the edge of the French Quarter and kind of isolated from all the craziness. This one I walk by all the time and there are always really nice cars going in there, so I had to Google it. It's beautiful: historic looks with just enough modernity. I don't fantasize about DIY projects or construction. I want to move into a house and happily live there.
A Penthouse With a Dining Area That Seats 14 
This penthouse loft is in the Central Business District here, which is kind of like living in Tribeca. You have city views from the huge windows. I need a big beautiful bathtub, and there are two here. The kitchen backsplash is all mirrored. I'm a Leo. I love mirrors anywhere they are.
A Two-Story Penthouse With Two Private Terraces
I love this apartment because it feels like a house. I love the idea of an apartment with a staircase because I'm really conscious of hurricane safety. There are a lot of houses here called shotgun houses, which are low to the ground. I would never live in one of those, because I would be stressed the whole time. I want to elevate myself as high as possible. The staircase here makes the apartment feel doubly high, so I'd feel reinforced and safe. I also love all the built-in shelving. And the outdoor entertainment area is important because it's warm here all year round. You could have people outside in February and it'd be fine.
A Restored Queen Anne Home With a Sunroom
This is more of a traditional house, but it's not a shotgun. It's two stories and I find comfort in that. It has such great natural light. There are so many beautiful bay windows. It's off of St. Charles Avenue, which is one of the main parade routes here, and all of the houses along it are humongous. I would see if it's possible to put a pool in the backyard. You'll notice there are a bunch of sitting rooms, which is so typical of New Orleans life. In New York, it'd be like, This is an office and this is another office. The way New Yorkers think about work is how people here think about socializing and relaxing.