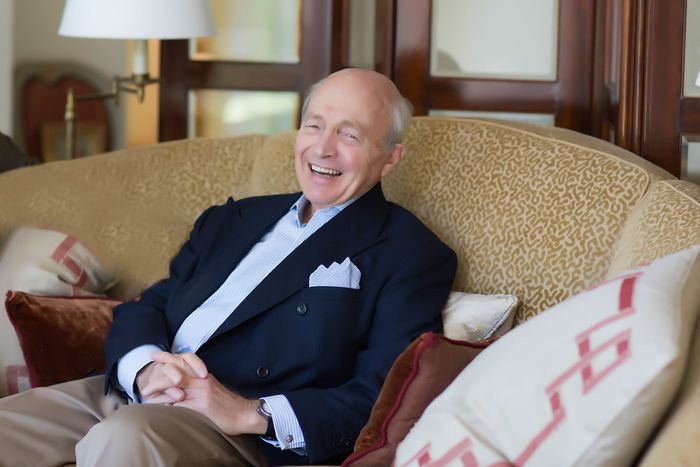 Photo: Amy Herndon Photography, Courtesy of Easton Steinmeyer & Associates
When I became an editor at House & Garden in the 1990s, the architect David Easton, who died this past Thursday at 83, was among an elite tribe of top-tier designers — among them Mark Hampton, Mario Buatta, Albert Hadley, and Sister Parish — I was a little intimidated by. He was master of the neoclassical style then favored by the very wealthy who wanted their homes to look like they'd been living aristocratically for generations. He was exquisitely well educated in architectural history, and he'd made his name with his design of a 23,500-square-foot, 45-room Georgian mansion near Charlottesville, Virginia, called Albemarle House, built in 1985 for John and Patricia Kluge. So when I finally met him, and he was wickedly funny and not at all stuffy, I thought, Oh my God, this isn't who I thought he'd be. He threw me a curve ball by being delightful. Years later, he'd invite me to his Valentine's Day dinners, at which we guests would all get a ring, and a marriage proposal.
"Obviously he was so informed and educated, scholarly, but we also all loved him because he was a rascal!," interior designer Alexa Hampton said. "He would wait until the elevator doors closed in the D&D building to make like the most embarrassing comments. He brought joy and happiness everywhere he went."
"I think he understood what people wanted; I think he made sure he understood how people wanted to live," says Cobus Gauche, who worked with Easton as his studio manager for 17 years. "I cannot tell you how many times I would fly back on the plane with him after meeting a potential client and he would scribble the house on a napkin, on the plane. And he would hand that napkin to the staff, and he would draw it up, and client's took that napkin and framed it, and said, 'This is how our house started.'"
All of this took a certain kind of discreet charm — he had a habit of having his car drop him off a block away from a meeting with a client, for example, so as to arrive less grandly, on foot. "He would walk into a restaurant and see the maître d' and get on his knees and say, 'Will you marry me?'" says Gauche. "It was just his way. He was always quirky; he never took himself seriously."
But he took the work itself very seriously. "When I went to work there I thought I knew everything; I got there and I realized I knew nothing," says interior designer Matthew Patrick Smyth, who worked at Easton's firm from 1982 to the beginning of 1988, when they did the house for the Kluges, as well as work for Woody Johnson, Libet Johnson, and Martin and Patricia Raynes. "You went there and you learned, you apprenticed. And you start from the bottom; you absorb and you either sink or swim. It was a training program and I am not sure that is available for young people, which is sad."
"I still approach design using many of the tools that he always shared regarding scale, proportion, texture and color," says designer Sheila Bridges.
Martha Stewart, a friend of his, tells the story of meeting him at a dinner party in 1982 in Easton, Connecticut: "I sat next to a very charming man, very handsome, debonair, and I didn't know his name, I didn't know him, and it was in a beautiful, beautiful house, an old mansion. And he said to me, 'Well, what kind of houses do you like, Martha?' and I said, 'I have been in three houses recently that I really love.' This house for one that we were in in Easton, and a house in Greenwich owned by Memrie Lewis, and a house in New York owned by Peter Brandt's brother-in-law, a paper magnate. He and Peter were partners. He lived in a townhouse on East 73rd Street, right off of Madison Avenue. And he said, 'What do you like about them?' And I said, 'I love antique furniture and I love high ceilings and I love beautiful positioning of furniture, incorporation of art and decorative objects, and whoever did those houses must be very, very talented.' And he was beaming, and he said, 'Martha, I'm David Easton, and I did all three of those houses.' He didn't say a word until after I had finished. And we were friends ever since."
"He was always focused on the work," says Smyth. "It wasn't about the publicity, and he was very discreet. For the work that he did and the clients he had, he wasn't out there promoting himself. The work promoted itself. And that is what I found so interesting, and that is what I have tried to base my practice on … we are in a different world now with social media."
Easton was born in Louisville, Kentucky, in 1937 and was smitten by design from an early age, visiting Marshall Field's department store in Chicago with his grandmother, where he was delighted by the fantasy and design of the store's Trend House. He moved to New York City in 1959, received an architecture degree from Pratt after studying with the widow of one of the founders of the Bauhaus, Sibyl Moholy-Nagy. He won the Fontainebleau scholarship that allowed him to study in Europe before returning to New York, where he worked with modern furniture designer, Edward Wormley; and then in 1967, he joined the well-known firm Parish-Hadley before starting his own practice in 1972.
"David Easton and I were hired the same day at Parish-Hadley," remembers Bunny Williams. They shared an office. "I spent weeks and weeks with a man who was the funniest, the most well-read, well-traveled, interesting person I have ever met in my life. And he really was a creative genius, I mean he drew beautifully, and he had this incredible handwriting that was illegible. But everything he thought about design he would just sketch it out. It came to him completely instinctively. He saw it all, with no tedious moments … he was the most outrageous person I have ever met, and always had me on the floor in hysterics."
A skilled classicist who could conjure up Georgian mansions on the back of a napkin, he made his name creating extraordinary architectural feats for media barons of the 1980s. More recently, his tastes, and commissions, became less formal, but his rooms still shimmered with luxurious textures and a brilliantly edited array of art and decorative objects. His home in Tulsa, Oklahoma, where he lived with his husband, James Steinmeyer, reflected that aesthetic evolution.
"I always just got a sense that his entire ethos was quality, and living well, and just being a gentleman, and what a gentleman meant," remembers Joy Moyler. "He just always exuded these old films of the top hat and the overcoat and that sort of esteemed, dignified sense of living about self. Which is reflected in the work. I don't think we will see this kind of design again, and I'll tell you why. When I see designers running around without socks on and always in khakis and things, I recognize it as a style and lifestyle, but it's not the same impact that you would ever get from a Mark Hampton, or Mario Buatta, or David Easton. You can still produce amazing work, but have a sense of refinement to you, and I think it sort of reared its head during casual Fridays and people just never let it go."
His passing, then, marks the end of both an era of being a designer and of an era of design. "The yearning for grand, proper, old-school design is very attached to him: wanting a big wonderful Irish Regency house, a Georgian manor done to the nines," says Hampton.
But there was also a worldview to it as well. "The taste is gentlemanly, dignified," says interior designer Kitty Hawks. "There is sanity and an order and a calm to what David Easton did, and I don't think, especially in a world that is so full of disorder, I don't think that it will go away."
"I think what we looked to David Easton for was enlightenment as well as decoration," says Jeffrey Bilhuber, who once found himself "a blink away from buying" the Easton-designed Balderbrae, "his quintessential country house. I was reverential to it. It represented an enormously refined, enlightened eye, and an academic eye." But in the end, he decided against it. "Decorators are barometers of change. Decoration is time and place. And he was the perfect ambassador for that time and place."
"Albemarle was what put him on the map. It's what got him into that class of designers," says Gauche. "Back then, we had the luxury of people not being in a rush, homes could take five years to finish, and now people don't want to take that long, and the younger clients come in and that is not what they want. Give me modern, give me glass, and give me steel."
And even if he never went that far, "towards the last ten years he was much more about contemporary," Gauche continued. "He said he had to listen to the changing tastes of his clients, and I have to adapt to it, and he did. In his book in 2010, he ends with saying, 'I think after all this time I found out how truly I want to live,' and he sketched out a house that he wanted to build and it was all about open living. And it wasn't the enfilade of spaces anymore that people had wanted."
His work: