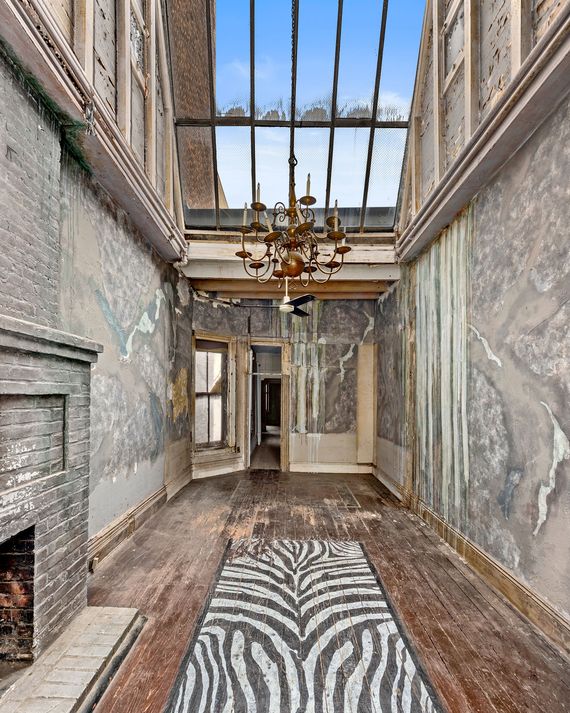 The Living Room (As It Was):
An artist couple had lived here for decades. As new owner Kay Lee puts it, "It's usually in the before and after photos that the before looks terrible, but for us, the before looked amazing!"
Photo: The Steven Cohen Team of Douglas Elliman
The fifth-floor walk-up apartment on West 11th Street, which has a 22-foot-tall skylight but in places is only eight feet wide, had been owned by an artist couple since the 1960s and was redolent with delightful crumbly bohemian detail: There were flowers painted on the bathroom door and kitchen ceiling and a trompe l'oeil zebra-skin rug painted on the floor. When it went on the market for $685,000 in the fall of 2021, after the couple had died and their possessions (including two six-foot-tall stuffed lions) were cleared out, visitors crowded the open house, many imagining they could hold on to the dilapidated romance of the place and still make it modern and livable.
Jonathan Chong and Kay Lee ended up being the buyers, and they too had those fantasies. "In the beginning, we thought, We can just keep it like this," Chong recalls. But soon reality set in. "Literally a week after we closed on the place, the pipes started leaking into the apartments below us, so we were like, 'It looks nice in pictures, but when you go there, everything is falling apart.'"
Plus there was no bedroom to speak of in the narrow 550-square-foot space, and what remained of the kitchen and bathroom was antiquated and close to nonfunctional. Chong and Lee brought in architects Noam Dvir and Daniel Rauchwerger's firm BoND to try to make it work.
"There was a fantastic mystery to it," says Rauchwerger. "That is rare to find. We initially had a design that meant to keep most of the walls as they were, complete with paint stains and rough patches, then planned to sand the floors and replace baseboards, electrical, and plumbing. We wanted that old-world feeling with some fresher materials for contrast, but reality is different from design dreams."
Soon, "we understood we had to sober up from our fascination" with preserving the shabbiness, Dvir says. There were rotting wood beams, aged-out plumbing, and disintegrating walls. "We didn't want to remake it in a fake, artificial way."
The apartment became modern and spare. The architects chose a light-gray palette and used textured paints for the open space, where the light changes from the skylight's northern exposure. The renovation took about a year. Materials had to be taken up a narrow staircase, and no more than four people could be working at once.
Lee and Chong had contemplated a Murphy bed or small sleeping nook, neither of which was appealing. Instead, the architects thought up a bed-in-a-box, built by artist duo Lesser Miracle. Cut and assembled on-site, it took six weeks to complete.
"We've lived in the Village for the past 12 years," says Lee. "Before that, we lived in Soho, so always the same kind of buildings: walk-ups, old. That is just kind of our thing."