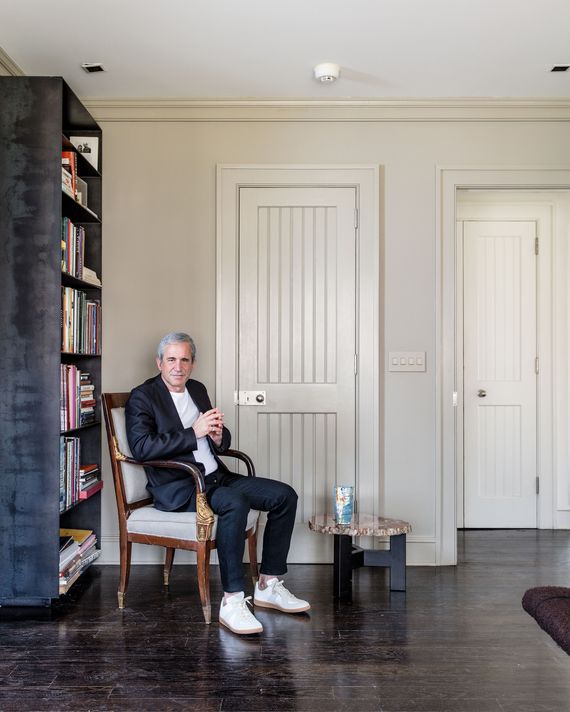 When Dennis Freedman was in college at Penn State, he used to read Domus, the Italian magazine founded in 1928 by Gio Ponti, and imagine inhabiting a world of high design. "There were all these pieces I was fascinated by, but they were not kind of accessible," he recalls.
But out of school, his career as a creative director (W magazine, from 1993 to 2010, then Barneys New York, 2010 to 2017) took him to some of the most interesting locations all over the world. Whether he found himself at lunch with Baron de Redé on the Ile Saint-Louis in Paris or in a village on the Arabian Sea shoreline of Kerala, he would always be on the lookout for objects and furniture to add to his collection. Finally, this world of design was accessible. And if it wasn't, he would sleuth it out. He bought his first piece in 1998 at a sale at Christie's South Kensington in London for Italian Radical Design, organized by Simon Andrews, who he afterward got to know well. Freedman studied the catalogue and ended up buying a Studio 65–designed Capitello chair, from 1971.
"And then I thought, how am I going to get it into my apartment?" he recalls. "It made it into my bedroom and took up half the room."
He will search for a piece he has his eye on, even having seen it only from a photograph, no matter how long it takes him; he doesn't give up, ever. And if, as is often the case, he can't afford to pay for it outright, he does so on a payment plan. "If you're a committed collector, most dealers will usually be happy to do that," he notes. Freedman explains that he has a five-minute window for making decisions. "You're part archaeologist, without a doubt," he says. "And it takes an instinct, and the other thing — and this is really true — I don't think I have ever had to think more than five minutes, five, and I know. I guess what is unusual, I realize now, is that it is not so common. It's immediate; you just know."
Today, his collection fills his apartment in New York; his home in East Hampton, where architect Deborah Berke designed a gallery space in the basement; and a 3,000-square-foot storage space on Long Island. To make more room for more things he becomes obsessed with, he sometimes deaccessions. He's donated pieces (including that Capitello chair) to the Museum of Fine Arts in Houston. And now, until August 11, a selection of his eclectic collection is on exhibit and for sale at Zesty Meyers and Evan Snyderman's R & Company, the gallery Freedman has been frequenting since it opened in 2000.
Freedman walked me through the show and told me the how-I-got-this-thing stories of his collection. He recalled that lunch, together with journalist James Reginato, at the late de Redé's legendary residence, the Hotel Lambert. "It was the three of us at a very small table having lunch in one of the great salons. So, we are sitting there surrounded by, I would say, pieces from the 17th century to the 19th century, and I turned around and against the wall was a console that was something that I had never seen; it was bronze and the base was a unicorn with a human torso and then this very thick glass top. And I knew that was not from the 19th century. I said to him, 'Could you tell me about that console?' And he said the name of the man who made it, but the name, and it's impossible to spell, is Bronislaw Krzysztof; that is what he said, but I couldn't even spell it if I did remember it. So, I left, and all I could think of was that console."
A bit over a year later, he passed RCM Galerie in Paris, owned by his friend Robert Murphy: "In Robert's window, there was a lobster and crab chair, and the minute I saw it, I knew it was by the same artist, Bronislaw Krzysztof."
Then, during a house sale in Paris, Freedman spied two fox chairs, also by Krzysztof, and he bought them.
"Yves Gastou, the great French 20th-century dealer, also helped me shape my collection," Freedman says as we walk over to a table with a landscape of thumbs rising out of the top. While visiting Gastou's shop on Rue Bonaparte, "I go upstairs to his storage area, and everything is all piled up, and I see this top leaning against the wall, and the base over here, and I asked, 'What is that? This is a surrealist landscape!'" It was by Marie-Claude de Fouquieres, who, he was told, is still alive. "Well, that was the five-minute rule! I said, I'm buying this piece! And that was another payment plan." He got her number and went to see her. "She told me … I will never forget, I said to her that I just acquired … the thumb! I didn't know what to call it. She said, 'Do you know you are the first person to buy that?' It was made in 1970. It's resin, but it looks like glass."
Freedman's discovery of the prototype for the Sushi Sofa came about during a trip to Brazil for a shoot for W. "I wanted to meet the Campana brothers, so during a shoot with Philip- Lorca diCorcia in São Paulo," he says, he reached out. "I'll never forget; I went to the studio, I walked in the door, and they started showing me the Bubble Wrap Chair, and I asked what they had, and they had everything, including at that moment the prototype of the Favela Chair."
But the Sushi Sofa wasn't there, just a photograph of it. "It had never been seen by anybody," Freedman says. "I remember when I saw the photograph — those are all carpet linings; every single one is rolled by hand. It is the first prototype."
The chairs and table that look as if Giacometti might have dreamed them up for his surreal figures are in fact by French sculptor Martine Boileau (1923–2007), who Freedman discovered during another visit to the storage area at Gastou's gallery. "Function is not necessarily the point," of certain pieces of furniture, he believes. "These are meant to be seen, these transcend. The set is meant to be admired by itself."
The most surprising pieces to me were a pair of faux-porphyry lamps on stands that most certainly had spent time in a very grand house, as did most of Renzo Mongiardino's commissions.
"I studied Mongiardino, and this could not be more emblematic of his work," Freedman says. "He fills a specific niche of the greatest collectors: Agnelli, Nureyev, Lee Radziwill, Princess Firyal. And the reason they worked with Mongiardino, which is very interesting, I discovered, is they did not want the modernism of that time; they didn't want what everybody wanted, and the only person who could do it on the level that he did in the 20th century was Mongiardino."