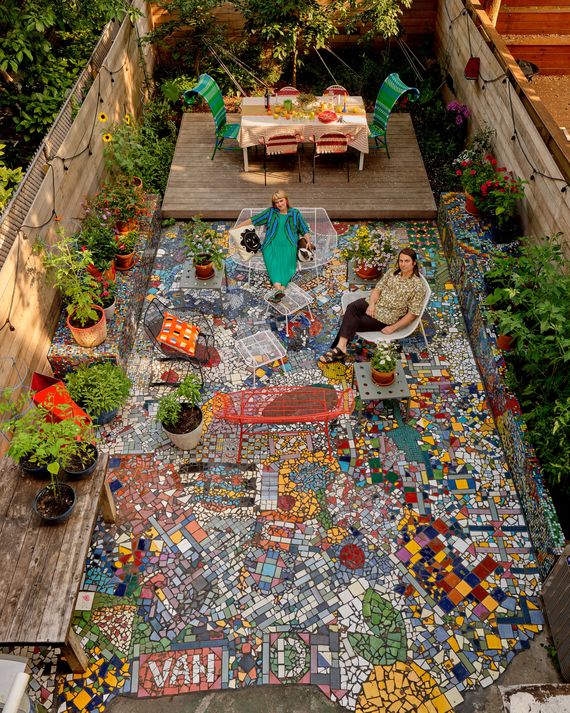 Ellen Van Dusen, Snips, and Ben Sigerson, in the midst of the mosaic. The dogwood trees were planted as saplings, having journeyed from Van Dusen's parents' house in Washington, D.C.
Photo: Sean Davidson
Back in 2017, when designer Ellen Van Dusen bought this 1899 brownstone in Bedford-Stuyvesant, the backyard was a tumble of weeds and concrete. "It was painted green, probably 30 years ago," she recalls. "It was fun, but it didn't feel warm." Van Dusen is known for the colorful modern prints on everything she designs, from clothing to homewares and bedding. In keeping with that, she decided to turn the yard into a big mosaic.
She'd already tiled the fireplace in her kitchen by herself when she decided to enlist the help of her friend the artist Matt Chambers, who had taught himself how to tile when fixing up his house (a onetime barn) in Montana. "I think she liked that there is just so much chaos in the way that I work, so she just kind of offered to work on her backyard when she started to do the build-out on her house," Chambers says.
It took three years to finalize the installation. In the meantime, Van Dusen and her husband, Ben Sigerson, a VP at Converseon, an AI company that does natural-language processing, moved in, along with her two brothers, who took the apartments upstairs.
Chambers and his main collaborator, Wally Whitehurst, "drew a lot of inspiration for tiling in general from Shinro Ohtake's bathhouse in Naoshima, Japan, and Jorge Pardo's spaces, his Mountain bar and sea-view house specifically," Chambers says. But there was no overall plan;
30 or so friends pitched in ideas. "It felt like a quilting group and allowed Wally and me to work on the composition slowly," Chambers says.
They started three years ago by laying down the foundation for the tiles, and each year Chambers and Whitehurst, with friends in tow, would come and work on the backyard for weeks at a time. It was "all seconds materials, i.e., damaged tiles, things that have bubbles, so it ended up Ellen had some tiles, I had these tiles by Heath Ceramics in the Bay Area," Chambers says. "They have a factory outlet that sells damaged tiles and then a lot of these new glass tiles were also damaged, so it felt great." There was a learning curve. At one point, they had to take out an already completed section to create a drainage area in the floor.
As the installation progressed, Tasha Goldthwait added a pizza slice and Eric Mast a portrait of Snips, Van Dusen's Boston terrier, to name but a few of the embedded images. Van Dusen tiled a shark head in homage to her friend Lorien Stern's designs. "This is going to be a forever evolving project," Van Dusen says of the mosaicwork, which could one day creep into the house.