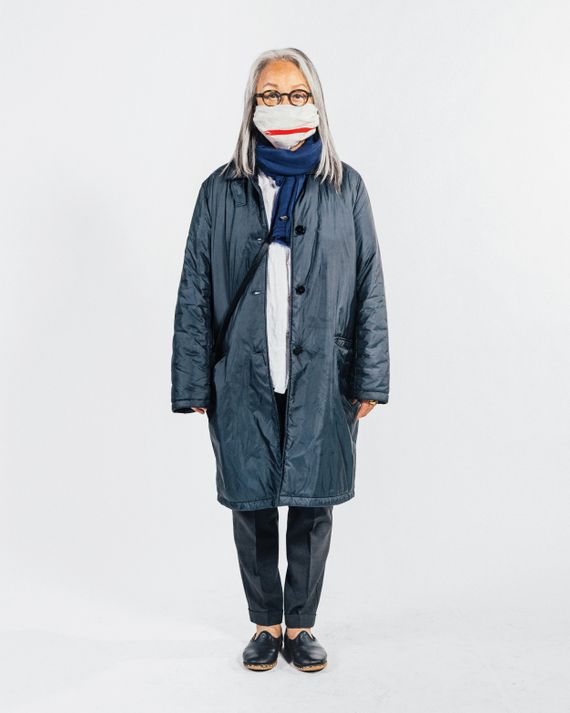 Myonggi Sul.
Photo: DeSean McClinton-Holland
Myonggi Sul (pictured above), Retired, Upper West Side.
Who did you come see the show with?
My former student Eric — I'm a retired Pratt professor. I think that, aesthetically, we are kind of in agreement on what's good and what's not so good.
What did you teach?
Interior design. I had a bachelor's degree in English literature, but it didn't hold my interest enough for me to pursue that field. I minored in art, and I'm still a painter. My brother is a fine artist. I keep sending my paintings to him, hoping for a critique, and he just says, "Okay, it's good."
Any favorite pieces?
The video in the second room of a truck mixing cement. It was an assault on my senses, but at the same time, it was meditative.
You're a gallery attendant?
Yes. In Colombia, where I'm from, I had my own gallery, and then I won a fellowship with the Drawing Center. I fell in love with my now-husband and ended up at Dia. My husband is from Wyoming. He is an optimist. That's something I really love about him.
What did you think of the exhibition?
Spectacular. Before COVID, there were rumors that Chelsea was dying. This is proof there's so much life. It was almost like last year — not that it didn't happen, but this has made it feel worth it. And with the beautiful new David Hammons sculpture on the Hudson, and the Whitney showing Dan Graham on the terrace, and the return of the Armory art fair at Javits! I got my vaccine there because I wanted the full circular experience.
Nice outfit.
It's Saint Laurent. I was in the country, in the Hamptons, and this was the only shirt and skirt I had. I'd never worn the skirt before. So I put it on and came to New York.