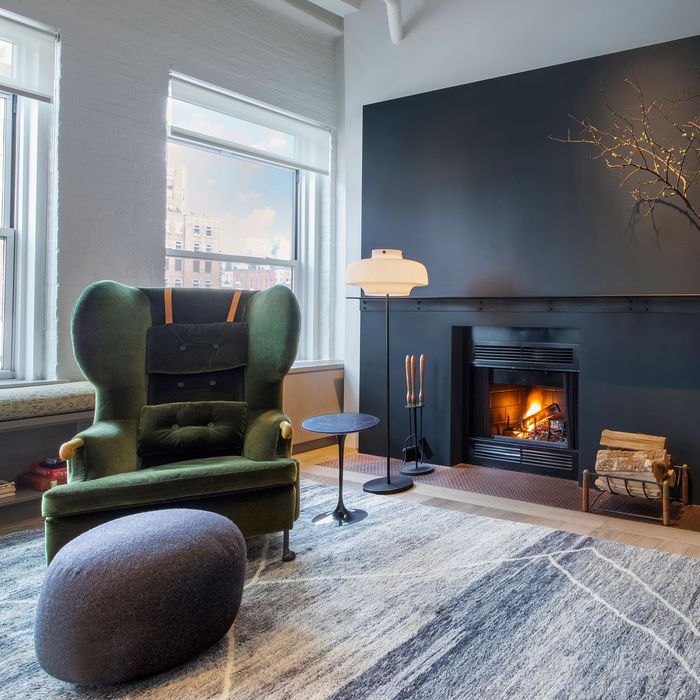 The living-room wall: 
"We approached it like a floating plane," Lembo says of the new fireplace wall. "It's inspired by the monolith in Kubrick's
2001: A Space Odyssey.
" The HAL 9000 eye on the TV screen does not control anything in the apartment, however.
Photo: Eric van den Brulle
"I have always been drawn to that weird place where nature and industry meet," says filmmaker David Gordon Green, describing his childhood growing up in Arkansas and East Texas, where he spent time exploring "rusted-out old buildings where a tree was growing through the floor and vines were covering the dilapidated brick." His Hollywood success as director of The Sitter, Pineapple Express, Joe, and the 2019 remake of Halloween, among other TV and film projects, didn't inspire him to live in Los Angeles; instead, he based himself in Charleston, South Carolina. But he had long wanted the perfect New York City place, and when he found this 1,250-square-foot loft that hadn't been touched in 35 years, he had a "tornado of ideas" for how to remake it. He signed on with designer Joseph Lembo, who had experience with the building and shares a love of film, to collaborate with him.
"It was literally like a month after Halloween was released," says Green, who has two more sequels coming out of that franchise as well as a TV series based on Hellraiser.  "And my first agenda was to settle into this place and find the right way to do it."
"So we had a connection," Lembo says about their love for film and his experience working with director Michael Cimino on his 1985 film Year of the Dragon, "and somehow Stanley Kubrick came into our conversation. We are both fanatics about Stanley's work." The gut renovation entailed creating a larger kitchen, two bedrooms, and an open living room. Lembo proposed taking out all the Sheetrock and using steel and glass — specifically dichroic glass, which has micro-layers of metals or oxides so its color shifts depending on the angle of view. It can feel a bit like being on a spaceship.
"I was always saying, 'Let's go too far and then let's see what's realistic,'" Green says about diving into the design process. The dichroic glass in the bedroom walls can appear to be pink, orange, or bright green at various times of the day. "The apartment itself has the temperament based on the sun, so I never know what color the atmosphere is going to be. It's like a mood ring in the apartment. When I was trying to comprehend when Joseph first pitched me the idea, I said, 'You mean like on an escalator mall in the '80s,'" he says, laughing. "And Joseph said, 'Exactly.'"
"It's just awesome to have a retreat," Green says of his loft, "where I can come and write and listen to music and read and cook and rest. It's so weird to come to the big city to recharge, but that's what I do."