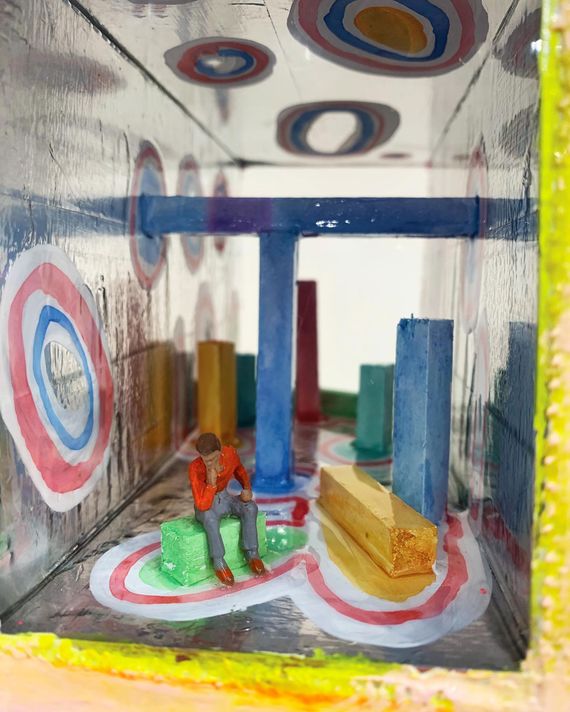 Photo: Mark Roskams, Courtsey Daniel Cooney Fine Art
For his new exhibition, the artist Doug Meyer has imagined a world where people can indulge in escapist bunkers offering different experiences. He calls the show "Wyldlands," and it is captivating not only for the strange beauty of its 15 sculptures but also for its prescient narrative, one that might have seemed preposterous a year and a half ago but is somehow eerily plausible after what we've been through since. Meyer presents us with a multimedia platform that fleshes out the infrastructure of how this strange new world operates showing us products and ephemera transporting us to the year 2037 where the wealthy isolate themselves from the ever-evolving pathogens of the day.
Meyer has designed every aspect of what we see including the platforms featuring the sculpture bunkers covered with fine powder sand. There's even a Wyldlands handbook. It's a fairytale nightmare of Meyer's making that is actually the making of our own.
Meyer is a polymath designer — he has worked with his brother, Gene Meyer, on a line of rugs among other commercial and residential projects. He's an artist and curator: His Heros Project and the book that followed, celebrated 50 creative talents we lost to the AIDS epidemic and traveled from New York to Miami and Los Angeles in 2016. His artwork probes the mysteries and possibilities through his own surreal lens of storytelling. He started work on this show at the onset of the lockdown, when fear and bewilderment was taking hold in a year no one could have imagined.
"It's a cautionary tale," he tells me. "I don't find it far fetched at all. I think we could have taken this much further than we actually did."