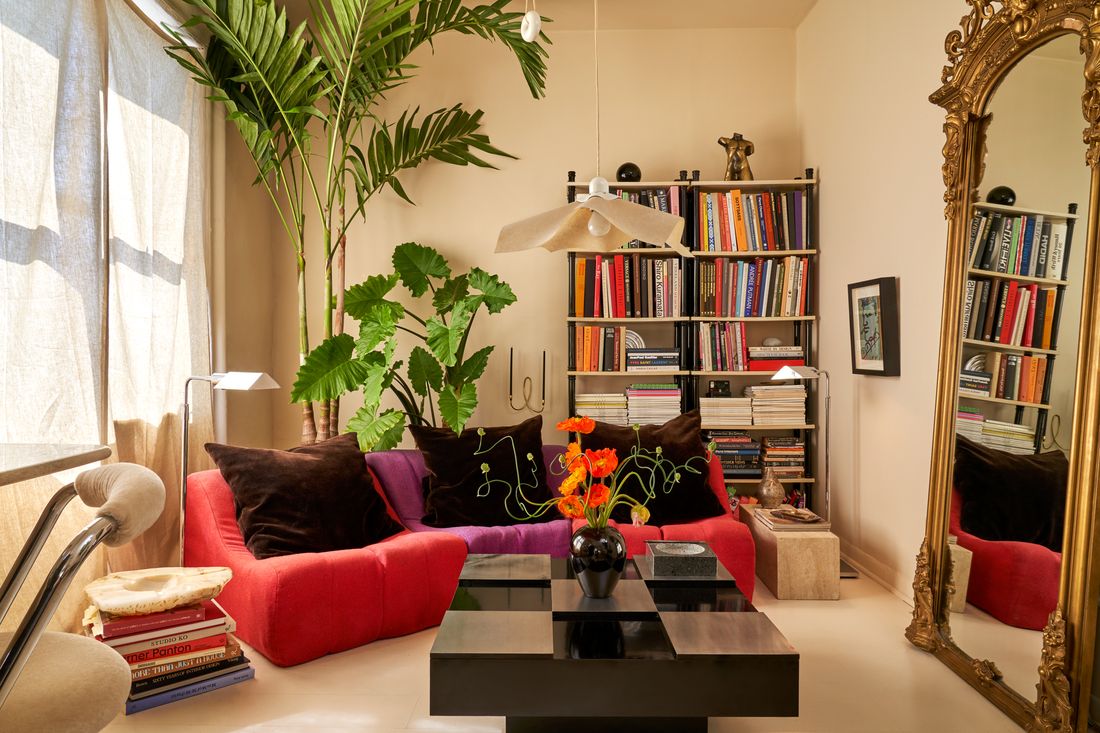 "My sofa is a rare Kwok Hoi Chan sofa from Paris that I splurged on at an auction for next to nothing. The floor-length gilt mirror was saved from a soon-to-be-demolished house in Philadelphia." The coffee table is by Willy Rizzo. "He's one of my favorite designers. He did a lot of party furniture in the '70s." The '40s candle sconce is from
Wyeth
in Sagaponack.
Photo: Seth Caplan
Darren Jett had been living in a ground-floor apartment with a view of a brick wall for five years when the pandemic hit. After a few months of lockdown, he realized he needed light, air, and maybe a view, and he found this sunny, sixth-floor, 300-square-foot south-facing studio, from which he can look out on the towers of the Financial District and the World Trade Center.
In decorating it, "I leaned into the brightness of the apartment by painting everything, including the floors, a light yet moody cream color," he says.
Because he wasn't sure when he'd be traveling again, he decided that "I wanted my new home to feel like my favorite hotel lobbies, bars, and escapes — full of personality that become sexy and alluring, yet equally transportive and comfortable," he says. It was also the perfect place to nurture his sun-loving plants for "the jungle vibe I'd always wanted."
Jett's personal style is inspired by fashion, films, and his experience working with designers Will Cooper and Rafael de Cardenas. Art and design have been front and center for Jett since he was young, and during the height of the pandemic, he decided to launch his own design business.
A native of rural Tennessee, Jett grew up in a 1909 farmhouse with a big front porch, until his family moved to a modern home that Jett helped design when he was 15. After attending the University of Tennessee, Jett came to New York in 2013, digging into the art-and-design scene, where he says his education really began. His diminutive oasis is packed with treasures he's found at auctions and from sleuthing around design stores near and far.
"It has definitely taken me the last year to get here," Jett says. "It's my 300-square-foot paradise in Alphabet City."