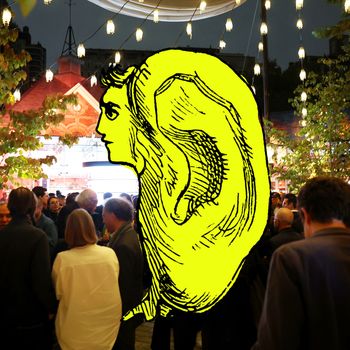 Photo-Illustration: Curbed; Photo: Monica Schipper/Getty Images for Netflix
Living in New York means discreetly, passively listening in — to breakups at bars, friend fights on the subway, and gossip about complete strangers or, from time to time, people you do in fact know. But what happens when one situates themselves in ultraspecific spots around the city, over extended periods of time, and listens intently? One learns a surprising amount about the state of things. This time, we caught the crowd outside the two main Lincoln Center theaters during the New York Film Festival — Margaret Brown's The Descendant was just letting out, and the line for Kelly Reichardt's new film, Showing Up, was starting to snake around the block.
It spoke to so many things that we talk about in the woke world.
Really powerful.
When they said "the human spirit," I was like, "Ding ding ding!"
The diving I thought was really beautiful.
And the birds, the more reflexive …
This might be very naïve but I didn't know anything about the — Condita?
Oh. About the Clotilda?
I really appreciated their attitude, even if their ancestors did own slaves.
It was one of those films with, like, beautiful moments, but eh.
It's set in Paris?
Yeah, he goes to all these different forums, like a cockfight …
So it's ethnographic. Margaret Mead presents!
Yeah.
She's being contrarian.
Yeah. She said she actually liked that Poitras movie.
Somebody was saying there was a gift to the drama school at [X] for $150 million dollars. It was for a production, and they didn't use it.
[X] has billions of dollars! Give it to us! We need it. We just got a gift of, like, $30 million. Just for the arts center. There was a room that used to be a pool, then got used for storage. Now it has skylights. Really nice.
You still in Brooklyn?
Flatbush. Your old stomping grounds. Really great historic, strange old neighborhood. One street is really poor, one street is very rich. There's a new Target.
Those long tracking shots — there was a Romanian feel.
It could have used some editing. He's pontificating over socialism with a Russian oligarch. There's a lot of metaphors. They have this water slide and have her just slide-slide-sliding along on it.
I have these new pants, and they come up to here on me. I think I'm gonna love them, but even as studio pants it's like, "Oh, no."
The short is deceptively simple. People are like, "Oh, it's just a father and daughter in this little thing." Um, well, no, it's actually like the core of this archetypal relationship. Sorry.
You two went to Bard together.
Great to see you. It's been too long.
I didn't get it.
I mean, you're not gonna get it because it's not a good edit.
I just came back from parents weekend with [X]. You would not believe — they're, like, full men with girlfriends. I'm finding stashes of drugs! Like a pharmacy in [X's] room! I saw, like, condom wrappers and Smirnoff lemonade bottles and this thing that supposedly holds pot.
I've yet to become a late-period Zemeckis completist. But I assume it's his greatest film since Welcome to Marwen.
[Laughs.]
I mean, I loved it. I thought it was good. I just thought —
Yeah?
It was a little "art movie."
I got on the phone expecting them to have something to say. But they were just like, "What's your take?" And I just riffed, man, and they loved it. "It's 2035. What happens when unemployment hits 60 percent? In a Rust Belt town, there's a boy about 20 —" Ah, hey! What did you see?
It gets cold. We have a fire every night. We just watch movies.
Aww.
And that was the last time I saw a Frederick Wiseman.