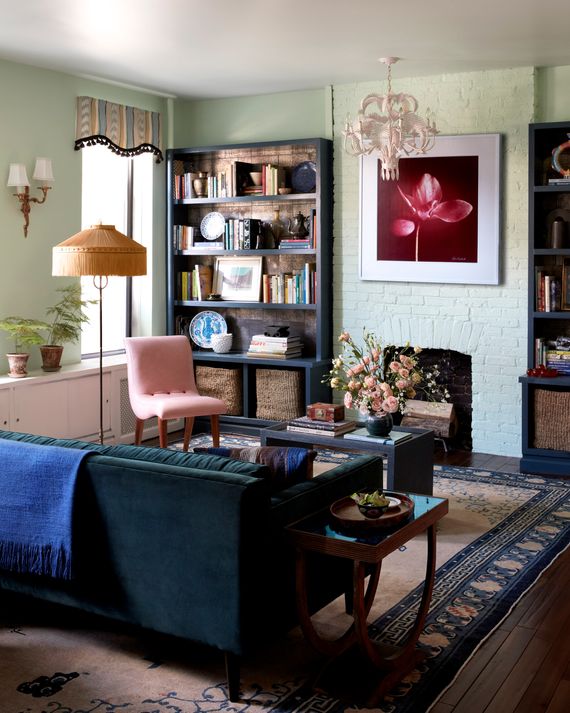 The Living Room:
The walls have been painted "Light Pistachio" from Benjamin Moore. The custom valances are covered in Jim Thompson fabric with Kravet tassel trim.
Photo: Michael Granacki
I don't have a very good sense of style," product manager Anna Turner says. Which isn't to say she doesn't know what she likes, it's just that, left on her own devices, she tends to choose something practical. She'd been living in a rental in the East Village where "I just went for the most functional thing, so a lot of my stuff was Ikea, shove-a-shelf -into-a-corner-that-works," she says. But "I wasn't happy with how it looked."
When she bought her first apartment, a two-bedroom in Park Slope, she found herself admiring the exuberant work of legendary California designer Tony Duquette on Pinterest. "I wanted eclectic, maximalist," Turner says, "but I wanted it to be livable and functional as much as possible."
She found designer Tara McCauley on a neighborhood Facebook group, liked what she saw on her website, and reached out. It was the first solo job for McCauley, who had worked with designer Nick Olsen for eight years. McCauley kept Duquette in mind but kept her scheme for the apartment modern and pared down, befitting a young professional living with her black Lab mix, Tippy, and two cats. She also incorporated pieces which Turner had collected during her childhood living in Pakistan, Kyrgyzstan, Serbia, and Croatia when her parents worked in the State Department.
"Anna's directive to source only things with a story behind them was a dream come true," says McCauley.
The color scheme in the open living/dining kitchen was inspired by Duquette. "We both loved the 'Adrian Green' walls in the drawing room at Dawnridge" (Duquette's residence in Beverly Hills), McCauley notes, "but I wanted something a bit fresher and energizing in the living/dining room." She landed on what she calls "Prada green" and had her painter try to match the familiar pale mint color of the brand, ending up with Benjamin Moore's "Light Pistachio."
Turner wanted to keep the original solar shades in the living room, so McCauley suggested custom valances (a Duquette signature) using a Jim Thompson cotton woven stripe fabric.
"I feel like I finally see my personality expressed in my surroundings," Turner says. "Working with a design professional like Tara has enabled me to surrender my poorer design instincts. Left to my own devices, everything would be functional and a neutral color."