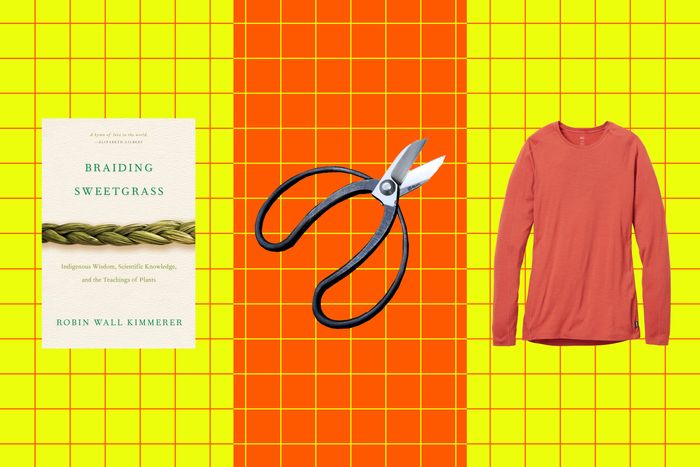 Photo-Illustration: Curbed; Photos: Retailers
Over the last year, even the staunchest optimists among us likely experienced waves of climate-related nausea. Extreme weather events like Hurricane Ida have turned communities upside down. Google searches for "climate anxiety" have shot up some 565 percent. Therapists have begun developing "climate-aware" practices.
Shopping for the climate-anxious is a tricky task (one must eschew excessive plastic and anything single-use). But short of buying them an actual tree or a whole house generator, what might they actually appreciate?
To find out, we consulted a handful of people actively engaged in environmental education, sustainable design, or the outdoors more generally. Their suggestions range from broader themes for gifting (like items to help the recipient de-stress or get outside) to specific products (a buckwheat yoga bolster and a newly published eco-anxiety guidebook). And we included a few unconventional gift ideas that don't involve purchasing physical products at all.
Calming gifts
"When facing climate anxiety, I've found there is really nothing more comforting than tuning in to natural cycles and systems," says Rosie Spinks, who writes a newsletter on how to live in a climate emergency. "One system is simply you." Spinks says a yoga bolster is a grounding, comforting tool one can use to down-regulate when feeling anxious and to connect with the ground when in need of reassurance or restoration. This one from Yogamatters is extra earthy since it's made with organic buckwheat filling rather than polyester or other synthetic materials.
Dr. Susan Clayton, a professor of psychology and environmental studies at the College of Wooster, suggests giving something that contributes to a stress-reducing activity like knitting or woodworking, especially if the item is made by local artisans rather than a multinational company. Cross-stitching is an especially giftable craft because you can find tons of beginner-friendly kits with fun designs. The Stitch Mill, a cross-stitch kit and patternmaker based out of Montpelier, Vermont, offers plenty of nature themes like ferns and houseplants.
Many therapists recommend journaling as a calming routine. This minimalist notebook is certified sustainably sourced in the U.S. with 30 percent recycled paper. For every purchase, Northbooks partners with Eden Projects to plant a tree in communities suffering from deforestation.
Nature gifts
Photo: B)Jessica Lim
"Get them outside — being in nature is the best cure for anxiety," says architect Mette Aamodt, whose firm, Aamodt/Plumb, focuses on building carbon-neutral homes using nontoxic materials and passive-design strategies. The Parks Project, which sells a range of outdoor gear from an enamelware set to this well-rated shroom-themed hammock, donates a portion of every sale to the National Parks Conservation Association.
Willy Blackmore, Curbed's resident gardening expert, suggests giving a propagation station like this live-edge cedar stand with natural coloring. "It's super-easy to grow houseplants from cuttings," he says. "There's something wonderful about learning how to make new plants — and it cuts out all of the negative associations with industrial-scale production of houseplants."
"Basically anything from Niwaki is a great gift," says Blackmore. These Japanese carbon-steel scissors are suitable for cut flowers, ikebana, and light pruning in the garden.
Birdwatching is another stress-relieving activity worth encouraging, Clayton says. Each spread in this weatherproof notebook has empty space for a sketch or photo as well as lines for notes.
Stephanie Foo, a writer and radio producer who became a New York City Parks Department Super Steward in order to tackle her climate anxiety, recommends a long-sleeved UV-protective shirt for those who would like to spend more time outside. This one from REI — available for women and men — is similar to the sold-out one Foo wears.
This window solar charger (with an easy-to-install suction-cup hook) powers up devices via a 10-kilowatt panel and USB port. Five percent of purchases during the holiday season will go toward Native Renewables, a nonprofit that provides solar power to homes on Navajo and Hopi reservations.
Helpful and hopeful books
Recommended by Foo and Isaias Hernandez, a content creator using Instagram and TikTok for environmental education and activism, this collection of essays by Indigenous botanist Robin Wall Kimmerer reflects on the lessons we can learn from the reciprocal relationship humans have with other living beings (such as asters, strawberries, and salamanders). "It does a wonderful job making the connection between the planet, people, and animals," Hernandez says.
Hernandez recommends this "easy read" by psychoanalyst Anouchka Grose, which was published last year, for "people wanting to understand more about their Earth emotions."
This book of personal stories from Mary Siisip Geniusz, an apprentice and friend of renowned Anishinaabe ethnobotanist Keewaydinoquay Pesche, "provides an excellent guide to foraging edible and medicinal plants, and has rich stories and Native wisdom," per Foo.
This new book by Jared Green, an editor at the American Society of Landscape Architects, highlights 35 projects around the world — homes, schools, parks, offices, and more — that make use of solar, wind, and geothermal energy. These include the Block Island Wind Farm off Rhode Island (the first commercial offshore wind farm in the U.S.) and a solar-powered net-zero prefab-rowhouse project in Sweden.
Donations and more
A few experts we consulted suggested donating to an environmental organization on behalf of a loved one. Foo supports tribes that practice stewardship such as the Amah Mutsun Land Trust, the First Nations Development Institute, and the Native Land Conservancy.
Foo also suggested purchasing premium subscriptions to outdoorsy apps like PictureThis, which identifies plants, or AllTrails, for someone who loves hiking.
Another idea from Aamodt: Get them a Community-Supported Agriculture membership (more info on CSAs in the New York area here). "It will support regenerative agriculture, shorten the supply chain, and get some healthy veggies on their plate."