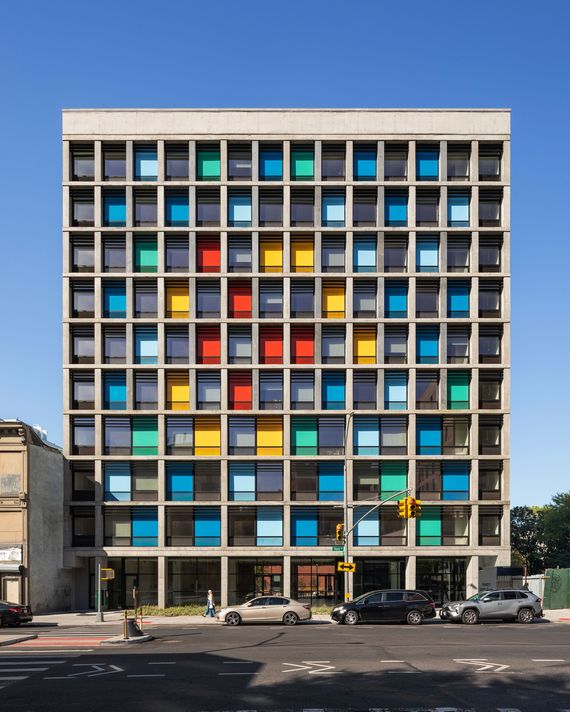 The colors of the metal-paneled façade are inspired by many of the flags of Latin America.
Photo: Michael Moran
The architect Alexander Gorlin is a modernist, and his firm's El Borinquen Residence, an affordable- and supportive-housing development in the Bronx, draws on those vibrant mid-century traditions. "The massing is based on Latin American modernist slabs raised on 'pilotis,'" Gorlin says. Thus, the building will "invite the community in and create a higher ceiling for the common spaces on the ground floor."
He was hired by Dr. Rosa Gil, the CEO of Comunilife, to design with the heritage of the local Latinx community in mind; Borinquen is the Taíno name of Puerto Rico. Quncie Williams, from Gorlin's office, was the project architect for the 148-unit, 90,000-square-foot building in which art would be part of the everyday experience. There is a gallery exhibition area for local Bronx artists and the opportunity to create temporary studio space with movable partitions.
Of the 148 apartments, 90 are designated for youths aging out of foster care and formerly houseless individuals living with special needs. The remaining 57 units are affordable apartments for low-income seniors and community residents. (The last is for the super.)
"My goal has always been, in these buildings, to create upbeat, positive, cheerful places to live," Gorlin says. "Places that people can identify with and feel proud of."
And it is cheerful. "Color was the way of animating the façade and giving variety in an affordable manner," Gorlin says. He'd deployed a palette in other affordable-housing projects in the past, notably the Nehemiah Spring Creek townhouses, but "this is the most symbolic use of color because the client really wanted a Latin theme, so what does that mean? And then what Dr. Gil really wanted was a Puerto Rican theme, so I delved into understanding what colors are symbolic of Latin America, including looking at the flags."
The tile work surrounding the elevator bank repeats the exterior metal-panel colors and adds some more. Nearby, the mural by artists Aurelio del Muro and Marta Blair interprets the poem "Rio Grande de Loiza," by Puerto Rican poet Julia de Burgos. Gorlin and Comunilife interviewed local artists for the mural.
Gorlin's commitment to designing affordable housing dates back to his education at Cooper Union. "I read Le Corbusier's book Un Maison, Une Palais at face value." His practice, whether working with the affluent or the underserved, applies the same thinking: "Everyone deserves to live in a well-designed house."
"In the 'architectural desert' of the Bronx," Dr. Gil wrote in an email to Gorlin, "El Borinquen stands out as an architectural oasis, designed with respect and integrating the diverse cultural and artistic idiosyncrasies of the Latinx community."
Plus, "it's entirely affordable," Gorlin notes. "It's not one of those buildings that is market rate and then 20 percent is affordable. It's 100 percent affordable."