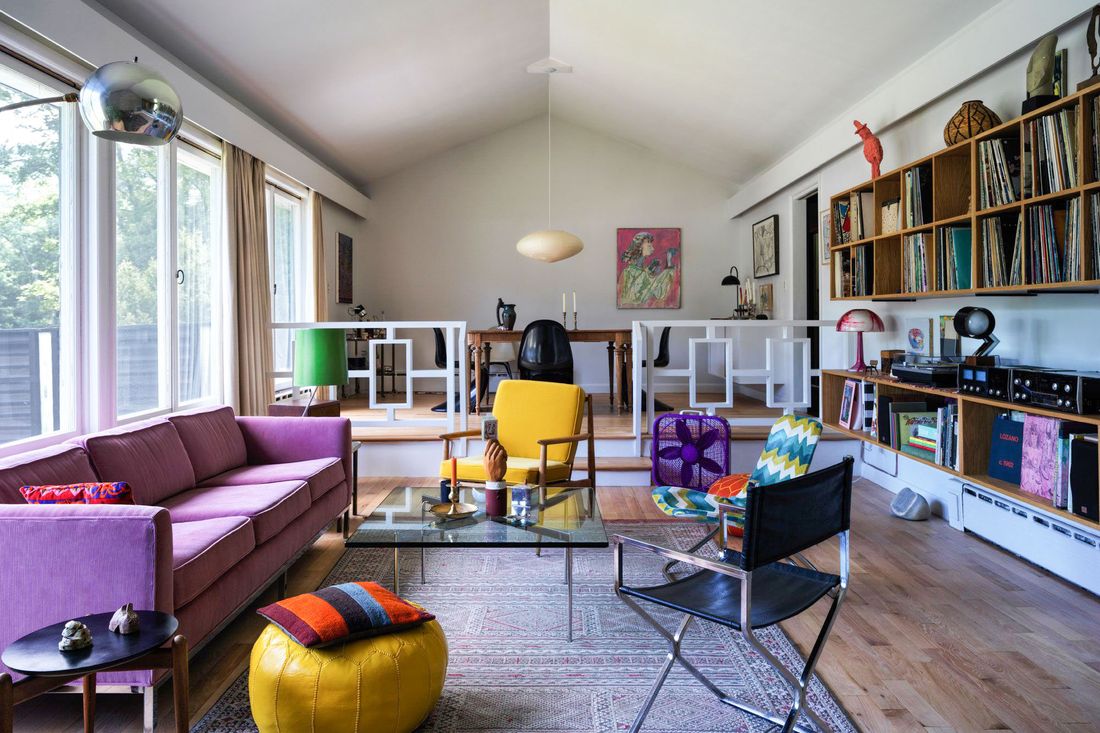 The Living Room:
"Michael [Berryhill] chose the yellow fabric for that one chair," Eleanor Friedberger says, "but the pink couch is like the centerpiece that I have been hoarding. It was like navy-blue corduroy that was kind of destroyed, and it was our big splurge to recover it in that pink corduroy."
Photo: Chris Mottalini
So just recently, my brother and I started playing together again," says Eleanor Friedberger, who, along with her brother, Matthew, formed the band the Fiery Furnaces, which had been on hiatus since 2011 while they each engaged in various solo projects. They recorded their new single, "Down at the So and So on Somewhere," in February in a studio upstate (they are working on their next album now) not too far from this house (pictured), where she lives with the artist Michael Berryhill.
The Fiery Furnaces were formed in Brooklyn in 2000, when that was still a vibrant scene. Friedberger moved to Ulster County in 2013, when she couldn't afford to live in the city anymore as a full-time musician. She bought a place with a friend in Kerhonkson, a onetime Borscht Belt resort town, and made a go of trying to fix up what she describes as "this huge factory building that we thought would be a fun thing to tackle."
Maybe it was too much to tackle. Last year, she and Berryhill decided to look for a house together, but they found the prices too high in Kerhonkson (and this was before the recent pandemic run-up upstate). Looking around, they saw a listing on Zillow for this 1955 house, also in Ulster County. It was in their price range in the quiet town of Ellenville that, Friedberger says, with evident relief, "has not become hip at all."
"We looked at each other and said, 'Oh my God, this is our dream house.' I mean, like, immediately walking in. It was really exciting," Friedberger says. In many charming ways, the four-bedroom, four-bath 3,330-square-foot house was timeless, with the original louvered windows and putty-pink-wallpapered bathrooms. Friedberger and Berryhill even kept some of the bedroom curtains. Best of all, the house gave them enough space to work at home. Berryhill moved from Sunset Park, where he had been living in a space under the BQE. "I always thought I wanted a tiny house and then like a big studio," Berryhill says. "I never liked houses with a lot of square footage, but this one is so beautiful and so livable and useful that it works."
When they took up the wall-to-wall carpeting, "it was beautiful 1950s plywood beneath the carpeting," Friedberger says, "so we thought we could get away with just having plywood floors, but it was too patchy." Berryhill got to work and made plywood planks that Friedberger says look like "Scandinavian wide-plank flooring. He hand-beveled each plank!" Berryhill's carpentry skills fashioned the circular shelving niche in the wall of the kitchen/dining area. "It was like making a sculpture which I didn't know how to make," Berryhill says. "I was very excited when it worked out." He also built Friedberger a stage in the basement, where he has a workspace that he can cordon off with a movable wall on wheels should they desire privacy.
The original owner of the house was a film exhibitor, and Friedberger says they found a trove of paperwork in the basement, including punch lists and drawings for the deck that was added in 1963. Doing research online, they also found complaints to the local authorities that he was operating a business out of the basement; apparently, projectionists from hotels and bungalow colonies in the area would come to the house at all hours of the night, raising questions in the minds of nosy neighbors. "Secretly, we were hoping that he was shooting blue movies or something more fun," Friedberger says. Their work on the house took five months, recalls Friedberger, and just when they finished, they were able to shelter in place. Though they can't wait to have visitors.
*This article appears in the September 14, 2020, issue of New York Magazine. Subscribe Now!