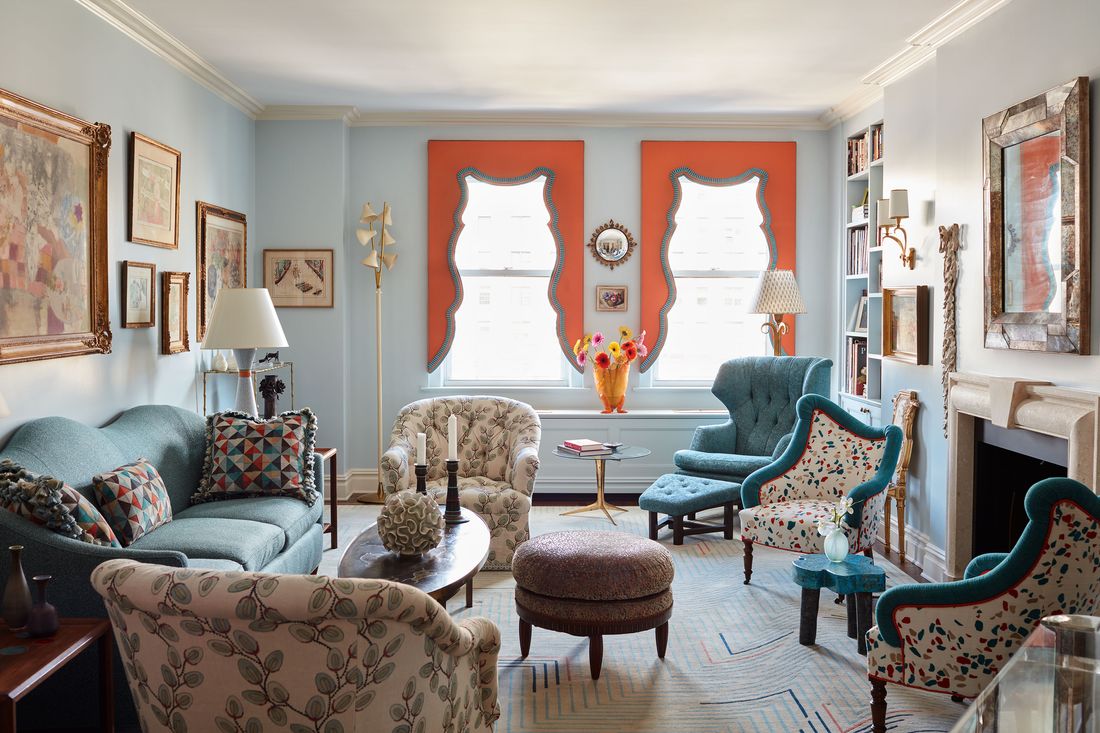 The Living Room:
"I had to beg my mother for them," says Elizabeth Pyne Singer of the confetti-print slipper chairs by the fireplace from Les Puces in Paris. (Her mother, Ann Pyne, for the record, worries that the orange lambrequins over the windows call too much attention to themselves.) The carpet is by Federica Tondato.
Photo: Ngoc Minh Ngo
Interior design runs in Elizabeth Pyne Singer's family. In 2009, after seven years at Sotheby's, she joined McMillen, Inc., the venerable decorating firm. The company was founded in 1924 by Eleanor Brown when she was known as "Mrs. Drury McMillen" (though she later divorced McMillen and remarried, her firm retained his name). Designers Mark Hampton and Albert Hadley worked at McMillen before setting out on their own. But more to the point, Singer's late grandmother Betty Sherrill had reigned for 40 years as McMillen's chairman, until 2002, and Singer's mother, Ann Pyne, is currently its president. So there's a lot of history to live up to. Not to mention that working with your mother might not be an ideal situation for many. It does, however, provide the occasion for a lively give-and-take.
"I obsessed over every single detail, as I do for my clients," Singer says of the process of decorating the exuberant pattern-on-pattern confection of a Carnegie Hill apartment for her husband, Oliver Singer, and their two children, Wilhelmina, 5, and Forbes, 2½.
The building was designed by Rosario Candela during the Great Depression but as a rental; when the Singers gutted it, they were surprised to find that "the construction materials were not very good," she says. "When we wanted to widen a doorway, the whole wall came down because it was just crumbly material."
In the end, the changes they made were so respectful of tradition and proportion the renovation left it looking like it was always meant to be. The last thing Singer wanted to do was make it "loftlike." The 2,000-square-foot classic six maintains its formal layout of public and private rooms. She still wishes she hadn't made a concession to her husband not to close off the living room with double doors, as he wanted it to feel more open, but it's one of her few regrets.
"I am now a firm believer that all rooms should have the ability to be closed off, even if they are open 99.99 percent of the time. Especially if you have two children under 5 years old in a New York City apartment."
When Pyne walks into our meeting, she's quick to compliment her daughter: "I had nothing to do with the decorating, and I like the way it all came out." Well, mostly. There is the matter of the lambrequins over the windows in the living room, which "look a little bit flat and a bit too orange," Pyne says. "To me, your eye goes straight to the lambrequins, so in my opinion they sort of hijack the room when you first come in. But all of Elizabeth's friends love them."
The conversation flows between the pair much the way you imagine it does during the workday. "I totally love working with my mom," Singer says. "But remember when I told you my apartment is totally me? She said, 'Well, it's a lot me, too!' " Ultimately, it's a family story. Hanging above Singer's bed is a portrait of her paternal grandmother, Evelyn Sloane Pyne, circa 1934, by Bernard Boutet de Monvel. "My mother reminds me it's on loan," she says.