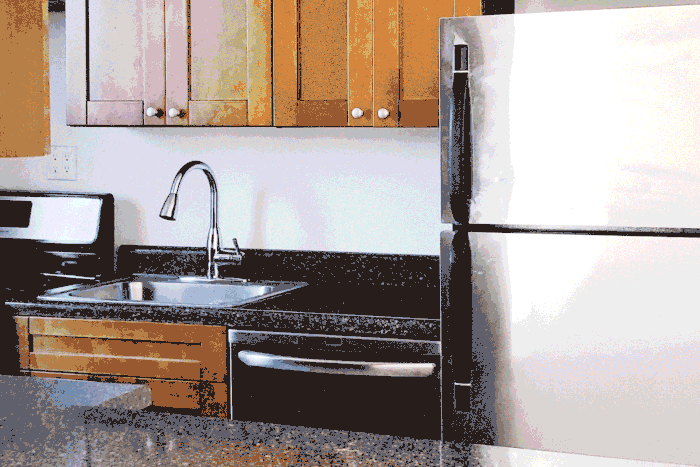 In this series, Looking to Settle, Emily Gould will chronicle her search to find a two-bedroom apartment.
The other day I went to see an apartment in a newly constructed building two blocks from where I (for now!!) live. I found it via its current inhabitant, who wrote me after my last column went up to say she was moving out of her place — a $4,800-per-month two-bedroom, two-bathroom, approximately 800 square feet — and did I want to have a look? The building's lobby was decorated with a frieze featuring white-painted bicycle parts embedded in the wall. Perhaps it was an ill-considered homage to "ghost bikes," the white-painted bicycles erected at the sites where bicyclists have been killed by drivers? It also reminded me of the opening credits of Westworld. Whatever it was, it was by far the most interesting thing about the building, which was the same cardboard-y new construction I've seen dozens of iterations of already.
I got a lot of emails like this after my first Looking to Settle column. People wrote to let me know they were moving out of their places in Ditmas and Crown Heights, and invited me to come take a look. One online acquaintance sent a listing for a unit for sale in her Sunset Park building, which sounded dreamy — she described it as "like a commune, with 21 kids in 24 apartments." The unit was prewar, mint condition, and under market at $699,000 for three bedrooms. The catch? One bathroom, a situation I find personally untenable.
Other correspondents simply wanted to inform me of the existence of a land called "New Jersey." And still others wanted me to know how delighted they are to have recently landed a house in Ridgewood or a spacious prewar apartment in Forest Hills, or Kensington, or Sunset Park. The Bronx is having a renaissance! And hey, did you know that many parts of Manhattan are now cheaper than Brooklyn? What's that? You did know? SAME HERE! I ALREADY KNEW ABOUT ALL OF THESE OPTIONS.
But I've thought about it long and hard, and for this next stage of my life, I have decided that I am not going to leave the three-mile radius of where I currently live. There are a lot of practical reasons for this that I could boringly list for you, my kids' beloved public school topping that list. I thought about that list the other day as I walked down Greene to Franklin to pick up the mail that, despite my best efforts, still gets delivered to the apartment where I lived from 2011 to 2018.
On the south side of Greene between Classon and Franklin I have a favorite tree. A cherry tree, it canopies the sidewalk with its knobbly branches. The spring that I was pregnant with my now-7-year-old son, Raffi, I looked up into its branches every time I passed under it, tracking its progress from flower to budding fruit. "When those cherries are red, I will have a baby," I thought, and when they were, I did. When the midwives cleared me to walk down the stairs from my third-story walkup for the first time, I went to the northwest corner of Greene and Franklin and into the community garden. A neighbor took a photo of us, crazy-eyed and radiant — our first family photo. The neighbor turned out to be a professional photographer with a 6-month-old of his own, and as our kids got bigger they took their first steps in that garden, and fed worms and snails to the garden's community chickens. Raffi's first word was chicken (well, "kika").
Turning onto my old block of Franklin, I nodded hellos at the guys who sit outside the pizza place all day, smoking and arguing about soccer. I exchanged fist bumps with W., a beautiful man who spends the time he isn't in the gym working on his enormous muscles sitting on his stoop, greeting every neighborhood kid by name as they walk home from school. By the time I arrived at my old apartment, I'd passed and said hello to about 15 different people I know because our kids are around the same age, some of whom are dear friends, some of whom are objects of longstanding fascination. For example — the woman with head-to-toe tattoos and three kids and a stay-at-home husband — is she incredibly famous in some niche way, like rock stardom or tattoo modeling?
On my old front stoop I was greeted by the nice guy who lives with his family in what used to be my apartment. He handed off my packages — one of the galleys was of a new history of tomatoes, which came with tomato-flavored candy — weird, but I'm glad I had the chance to experience it. He invited me up to see the old place, but I told him I wasn't emotionally ready for that, which he understood. But he did say that knowing that my kids were born in that apartment makes him happier to live there. I promised him I'd get in touch with the publicists who keep bombarding him with padded mailers full of promising debuts, bid him farewell, and went to the bar that occupies my old building's first floor.
Anyway, I'm not moving to Montclair. But staying in the area is seeming more and more difficult. The third apartment I saw this week was a three-bedroom, 1.5-bath apartment at 388 Classon, which has since gone into contract. It was listed for $3,900, and I sincerely hope no one is paying a penny more for this shithole. The broker asked me to take my shoes off outside the door — which, of course, I was happy to do out of respect for the current tenants. Once I'd walked downstairs to the sub-basement that comprised the bulk of the living space, I was less than thrilled to be barefoot. Crumbs of something or other crunched under my soles with every step. Even if you could imagine this unit being clean, it still would have naked rods in corners instead of closets and a general ambiance I can only describe as "serial-killer-y." I ran back outside so quickly that I was still lacing up my sneakers on the sidewalk on Classon.