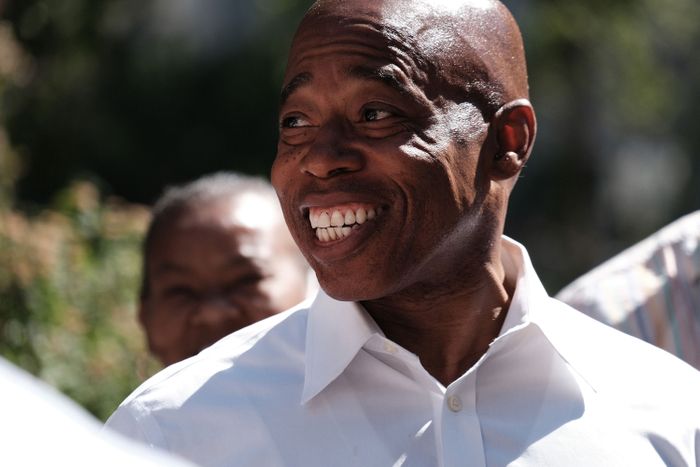 Photo: Spencer Platt/Getty Images
From Met Gala afterparties to Monaco (yes, the country) to Michael's, the midtown restaurant where people go to see elite media personalities and not eat a $34 Cobb salad, our next mayor is having a very rich and very social version of the spicy vaxx summer and fall we all meant to have.
Barring his death or a truly wild act of God, Eric Adams will be elected mayor of New York City in November and will take office on New Year's Day.
He is the opposite of a lame duck. For months now, he has been the most sprightly duck around town.
His unelectable Republican opponent is Curtis Sliwa, a street mercenary and former mob kidnap victim who lives with either 16 or 17 cats.
Even so, Adams is aggressively fundraising for this nonelection, with a grand tour of New York City's richest, most wonderful, and sometimes most awful people. Ladies and gentleman, your next mayor!
Back in mid-August, he entered a "meet-and-greet marathon," as Jerry Levin threw him a fundraiser in Westhampton where Mr. Levin also pimped his water brand (we won't name it!). He was asked about anti-Semitism on a visit to the Hampton Synagogue (the Hamptons' "rabbi to the stars"), and the good news is, one attendee reported, "he has a plan to put an end to it."
His summer plans also included fundraisers with Matthew Hiltzik — you remember him from his work repping Harvey Weinstein, which included menacing journalists writing about his despicable client — and Ken Sunshine (perhaps you also remember him from his work repping Harvey Weinstein). There was also Hank Sheinkopf, now working on some operation brigading Alexandria Ocasio-Cortez for clients or reasons unclear at this time!
There he is with Dennis Mehiel, former owner of the Helios 2 yacht, which you can now charter for $234,500 a week, and Harvey "you never have too many Picassos" Manes.
But that's par for the course in politics. You want money? Ask for it from rich people!
Thus, there was a party with Marcella Guarino Hymowitz, husband of Gregg Hymowitz. If that name rings a bell, it's either because he's the father, with Debby Hymowitz, of teen social-media queen Lilli Hymowitz or because Debby left him for SoulCycle queen Stacey Griffith, who you remember either from her great classes or from the time she got vaccinated early because she's a "teacher."
And there was Colby Mugrabi, the more sympathetic member of the messiest rich family in the world, custodians of at least a thousand Warhols.
Even with all this, the vegan former police officer and Brooklyn borough president managed to spend four days in Monaco — right after the Department of Buildings was banging on his Bed-Stuy door looking for him to verify reports of an illegal apartment. (Adams maintains that he lives in the basement.)
Then it was off to Martha's Vineyard!
On September 1, he spent his birthday (he is 61) raising money on a 120-foot yacht. The host was Yang Gao, Richie Romero's partner in nightclubs.
Next we knew, he was being ushered by the legendarily aggressive publicist Ronn Torossian (whose client list includes the Eric Trump Foundation) to the Soho nightclub Zero Bond to hang with Charli and Dixie D'Amelio, the most famous teens in America. Paris Hilton was also present.
But that wasn't his only trip to Zero Bond that week — he also attended a private dinner there with a guest list that included Torossian (hmm!) and Jonathan Cheban, who made his fame doing this at nightclubs ages ago when not appearing on Keeping Up With the Kardashians and learning how to build an empire. (Cheban has since changed his name to FoodGod. He grew up in Fort Lee, New Jersey, so he and our future mayor, who may or may not live there, have a lot in common.)
Through all this, Adams spent quite a bit of time building bridges to the Republican infrastructure, including perennial candidate and supermarket mogul John Catsimatidis and also Bo Dietl, whose political highlights include coming in sixth place in the 2017 Democratic primary and whose career seems to have often revolved around investigating women who complained of sexual harassment.
What a town!
Amid all this fabulous cash-raising, Adams did step out and help motorists in the most recent hurricane; that disaster has spurred him into talking about climate change and the future of the city. He has also been riding our lackadaisical and embittered outgoing mayor on the current disaster at Rikers Island, a hopeful sign.
Naturally, our next mayor also stepped out to declare that New York City is "going to be a place where we welcome business," apparently unlike the entire history of New York City to date. In a city where the rich hold all the purse strings and puppet strings, would we have it any other way?