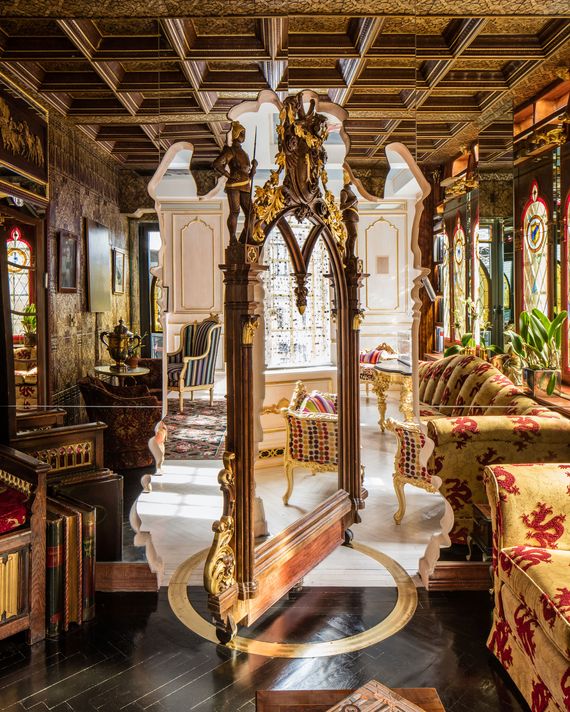 The Walk-Through Mirror:
A section of the wall swivels open between the library and the living room.
Photo: Evan Joseph
On a well-mannered block of the Upper East Side, lined with the sort of nondescriptly elegant limestone buildings that seem to value discretion above all else, there was, invisible to passersby, a fabulous secret.
Nothing untoward, just unexpected. It was Gail Ann Lowe Maidman's wonderland, a 14-room, exuberantly theatrical duplex that she obsessively worked and reworked over the years into something astonishing — unlike any other apartment I've ever visited —so personal, and peculiar, that I couldn't get it out of my head once I'd seen it. I wanted to know who Gail was and what drove her to do this.
"My mother always wanted to be an actress," her daughter, Starr Kempin, told me, sitting in the gothic library of the apartment, which she inherited after her mother's death in 2016 but only recently took possession of. "She went to the American Academy of Dramatic Arts, but my grandfather didn't approve, so he made her work in his office." Later in life, though, in this apartment, Gail was the star.
Gail was born to a prosperous and striving New York family. Her father, Edwin S. Lowe, had immigrated to the U.S. from Poland in 1928. The eldest son of a Hasidic rabbi, he was a traveling salesman during the Depression. It was on one of his stops, at a small-town carnival in Georgia, that the seed of his fortune was planted when he noticed a crowd gathered around a game of Beano, in which the caller shouted out numbers and players filled in their cards. Intrigued by the players' fervor, Lowe tried out the game at home; in the thrill of winning, a woman in the group yelled "Bingo!" instead of "Beano." He got the idea to market the game commercially and asked a mathematician from Columbia University to come up with 6,000 new Bingo cards, all with nonrepeating number combinations. (According to the book A Toy Is Born, by Marvin Kaye, the mathematician then lost his mind.)
But Bingo wasn't Lowe's only jackpot. As family lore has it, he was invited on a yacht by a couple who entertained their guests with what they called the Yacht Game, which used handmade score cards. The wife came to Lowe's office and asked him to make 1,000 game cards to give to friends; in return, she agreed to Lowe's request for the rights to market the game commercially. He changed the name to Yahtzee and — bingo! — the rest is history. Lowe sold his company to Milton Bradley in 1973 for $26 million (about $160 million today) and went into real estate. And although he also dabbled in the theater, producing A Talent for Murder with Claudette Colbert on Broadway in 1981, he was not very supportive of his daughter's stage dreams.
According to her daughter, Gail used to make prank calls in a Yiddish accent to her father's office manager, pretending to be a disgruntled customer who had purchased a faulty Mah-jongg set. "My mom just tortured this man," says Starr. Eventually, her fake customer was passed on to her father to placate, and, according to her daughter, she would pry into his romantic life. But her father and the fake-voice character became friends. Finally, after seven years, she revealed that she was the annoying lady.
As we talk, Starr points out the portrait of her paternal great-grandfather over the fireplace. He is dressed like an Edwardian gentleman, complete with top hat, but as in so many family histories, liberties had been taken. "He was actually a Hasidic rabbi," Starr explains. "I always say my grandfather secularized him. He wore a shtreimel and had a white beard, but my grandfather, who became a very secular Jew, had his portrait painted like that."
In 1965, Gail married her first husband, Stephen Denis Haymes. In 1972, they moved into the 14-room, 5,000-square-foot duplex on the Upper East Side, tucked away in a discreet 1920s building, where Starr and her brother, Evan Haymes, grew up. Back then, it looked nothing like it does today; it had initially been decorated by Gail's mother, Jeanette "Beauty" Lowe, in a heavy 18th-century-French theme with gilded furniture and lots of chandeliers and mirrors. Although it wasn't without its own fanciful moments, including an ice-cream parlor off the kitchen and a latticed breakfast room, the wonderland it would become was still years away. The rather conventionally ritzy rooms were well suited to the granddaughter of that made-up Edwardian gentleman.
Then two things shook up Gail's life — and freed her, too: her divorce from Haymes, finalized in 1999 (they made new case law in the process, with the judge finding that Gail could sue on the grounds of abandonment even after the couple had briefly patched things up), then Beauty's death in 2000. Something uncorked in Gail that could not be stopped.
She married Richard Maidman, an attorney who had helped with her divorce. "She was very depressed when she was getting divorced," recalls Evan; he was surprised that she remarried. (Maidman, who became a real-estate developer, died in 2016, the same year as Gail.) "She loved the theater, she loved Stephen Sondheim, and she was a prolific reader. I almost thought she remarried for two reasons: one, so that Starr and I wouldn't worry about her being alone, and two, because she thought Richard was an elegant catch — not that she cared, but she wanted my father to seethe with envy."
Around then, the apartment project began. Maidman was happy to let Gail indulge herself. "The thing I will say: I didn't feel he was being as careful as one would be if they were the actual owner," Evan says. "It was my mother's apartment and her project, and because only her resources were involved, this was entirely her unfettered production."
What came about was unlike anything I've ever seen. "There was not a doubtful bone in her body," says Isaac Mizrahi, whose cousin married into Gail's extended family, and who got to know Gail later in her life (and first sent me pictures of the apartment). "You know, you expect an apartment on the Upper East Side to have a certain kind of décor, right? Conforming to a certain real-estate code, and it just didn't." Or as artist Laurie Simmons said after her visit to the apartment: "What Gail did was very tender and very sincere; that's what I love about it. There was nothing tongue-in-cheek or ironic or camp."
The evolution of the apartment became the embodiment of her creative stream of consciousness, designed to delight herself and her family and everyone else she welcomed there. What emerged was an immersive, spirited work of art for a woman who spent nights at the St. Francis de Sales church homeless shelter, where she volunteered for years, and the next day lunched at Le Cirque with her husband, with whom she dined out almost every evening (despite the fact that, according to Starr, her favorite meal was Coca-Cola and a Hershey bar with almonds). When she liked the sound of a musician she heard playing during one of her walks in Central Park, she invited him to entertain at her parties. She loved entertaining family and friends in the duplex, where meals would be concocted in a kitchen decorated to resemble a western ranch inspired by the set of Agnes de Mille's ballet Rodeo, complete with a giant wooden horse containing a washer and dryer. Gail's own fleeting culinary efforts came to a halt after an incident when, Evan says, a turkey she was cooking for Thanksgiving exploded in the oven.
As the apartment renovation snowballed, Gail studied interior design at Parsons and the New York School of Interior Design and started her own firm, Silk Purse Interiors. Her raspberry-red business card read SILK PURSE LLC, help stamp out ordinary, listing interior design, retail windows, and tablescapes as services for her clients.
"For many years, she walked around with construction dust in the air, and she utterly loved it," Evan says. "She loved the smell of construction."
Her decorating projects outside the duplex home included, in 2007, some furnished rental apartments in various buildings on the Upper East Side owned by Townhouse Management, her husband Maidman's real-estate company. She would find furniture and accessories at places like Housing Works and assign each apartment a theme — Greek, French provincial. She gave one apartment a tropical-island motif with straw and rattan furnishings and a floor-to-ceiling mural of the seaside.
In 2009, she decorated an apartment in the Onyx, a condo in Chelsea developed by Evan. She wanted to celebrate the city, so she prescribed custom wallpaper with images of Central Park and lower Manhattan. She wore a dress printed with a city skyline to do press promotions.
Gail also liked to dream up elaborate tablescapes for social events. She visited Industrial Plastics, a store then on Canal Street, and ordered six-foot-tall fiberglass statues of Lady Liberty and bald eagles for the couple's annual Fourth of July party at their comparatively restrained house in Sands Point on the North Shore of Long Island. When she discovered that the store's owner, Emily Kaufman, did custom work, Gail pulled out all the stops. Kaufman created a Passover table-scape for her with "a three-dimensional tray that was filled with sand and then had these plexi vitrines that looked like waves parting," she says. "She filled it with water and fish, and she had it as a centerpiece on the table so it looked like the parting of the Red Sea."
Jim Digregorio, besides installing and reinstalling the western-themed kitchen, helped with the construction and installation of many party decorations Gail dreamed up, which inevitably involved live fish, tree branches gathered off the ground in Central Park, and mounds of dirt for floral authenticity. For a friend's sports-themed anniversary party in South Carolina, Digregorio drove down a truck filled with props so he could construct a putting green and a fishpond.
"She had a couple of guys that worked for her that I would call 'Eldin,' " Kaufman says with a laugh, referencing the house-painter character in the sitcom Murphy Brown who was always there when Brown came home and never seemed to leave. One of her Eldins was the artist Janusz Gilewicz, who painted a koi pond on Gail's bathroom floor with his assistant Samantha Wong; they signed their names backward on the work to be read in a nearby mirror. "This was one of the gems in her incredible vision," Gilewicz says. They painted the fish in such a way that "when you would wear 3-D glasses, fish would appear to jump out the water." He says he left several pairs of the glasses in a drawer. "Also, in the fishpond, I included her favorite numbers, like Nos. 7 and 21, so it was a very personal work." The floor, by the way, is gold leaf.
One of the highlights of Gail's year, and one of her most deeply personal projects, was the production of her annual holiday cards. The photographer Jerry Ruotolo said it took them a full 24 hours, "12 noon to 12 noon," to complete the photographs for just one card. Costumes and props were rented, and Photoshop work done later by Duggal placed Gail and Richard in various settings; one year they inhabited Breakfast at Tiffany's; another they starred in A Chorus Line. Their 2011 card, the theme of which was "Lucky Catch," began with Gail as a mermaid and Richard as a fisherman and went on to depict Gail dressed as Jeannie from I Dream of Jeannie, Tinker Bell from Peter Pan, and a wood nymph with her lucky leprechaun.
Gail died in 2016 of cancer. "I can't erase my mother," Starr tells me. Nothing has been changed since her death. "She always said, 'When it's over, you're finished.' She just didn't want to finish this apartment, and it's so crazy because when she finished, she passed away."