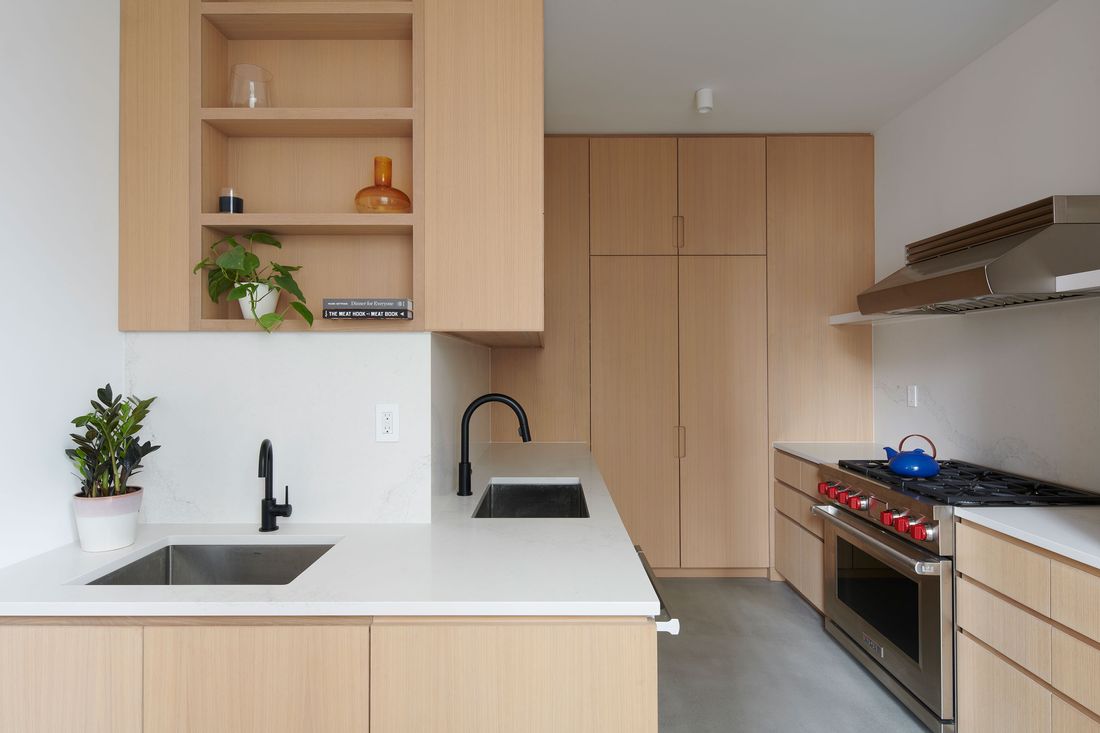 The Kitchen After:
"It's all white oak," Neufeld says of the new millwork. "We did matte concrete floors and white walls and countertops, so it's kind of a light box in a way. That whole back wall became storage."
Photo: Kevin Kunstadt
"They did not want walls," says architect Shane Neufeld of his firm Light and Air's clients, Yuan Jiang, a data scientist who works for a large tech company, and her husband, William Chen, who works at an investment management company. The couple had started looking for a loft space two years ago while renting in downtown Brooklyn. "We definitely wanted a loft layout because I think that's what makes New York really unique," Jiang says.
They found this 1,200-square-foot loft in the Financial District that had last been renovated in the '80s. It's in a converted 19th-century factory building which, as it turns out, Neufeld had experience in: He had already done an apartment — his in-laws' — there.
Out went the dark stained finishes and floors; in came white oak, concrete floors, and Caesarstone countertops in the kitchen. "My intention was to create surfaces that would reflect and bounce the light around," Neufeld says. Neufeld also had a mandate to create storage and display shelving. "I have a collection of Eevee evolutions because I grew up with Pokémon since I was a child," Chen says. "And when Toys 'R' Us went out of business, I decided I must have a full set of them." He has nine, plus a few duplicates.
Jiang has her own collection of "Pusheen and Winnie the Pooh plushies," she says. "I probably have over 500 hidden away in the loft right now, but we are planning to display them on the bookshelves that Shane designed for us."
The no-walls request "forced us to think creatively about how to control the space through the architecture itself," Neufeld says.