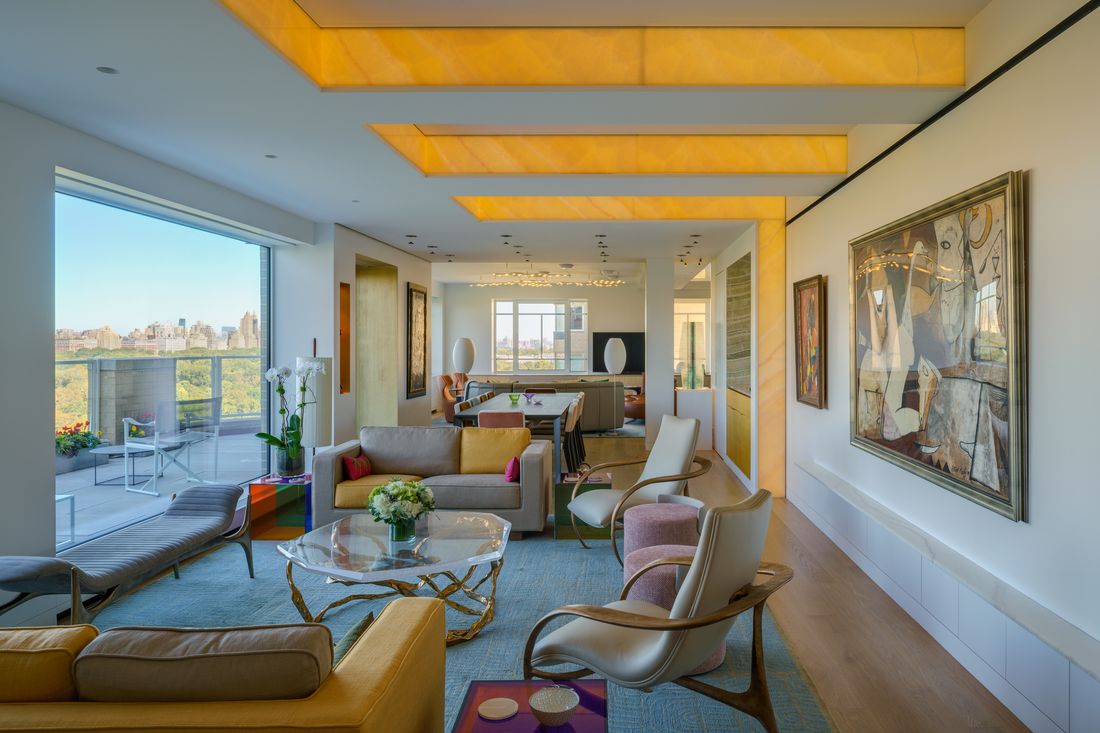 Living Room:
toward the dining and family room shows how the back-lit horizontal and vertical onyx panels define each area. "Even though the ceilings are eight-feet," Amale Andraos says, "we carved this kind of extra height wherever possible." The India Mahdavi Bluffer sofas, Gabriella Bronze chairs by Vladimir Kagan, and Paul Mathieu Ruban cocktail table are from
Ralph Pucci
.
Photo: Adam Friedberg
We weren't the usual suspects," architect Dan Wood says about the choice of his and his wife's Amale Andraos's architecture firm WORKac, to renovate their penthouse in a landmarked prewar Emery Roth building on the Upper East Side. WORKac, founded in 2003, had built its reputation working in loft buildings as well as projects that include their 2016 renovation of the 1857 cast-iron Stealth Building and Diane von Furstenberg's 2007 Meatpacking flagship store, office, and diamond-shaped penthouse. The new clients "were very interested in working with Amale, specifically," says Wood. "They were very interested in working with a woman, and that Amale was not from the U.S., as they are both immigrants as well." (Andraos is also dean of the Columbia University Graduate School of Architecture, Planning and Preservation.)
Their new clients' penthouse had a 2,800-square-foot interior and 400 square feet of outdoor space with breathtaking views over Central Park. But those views were framed by conservative windows and eight-foot ceilings.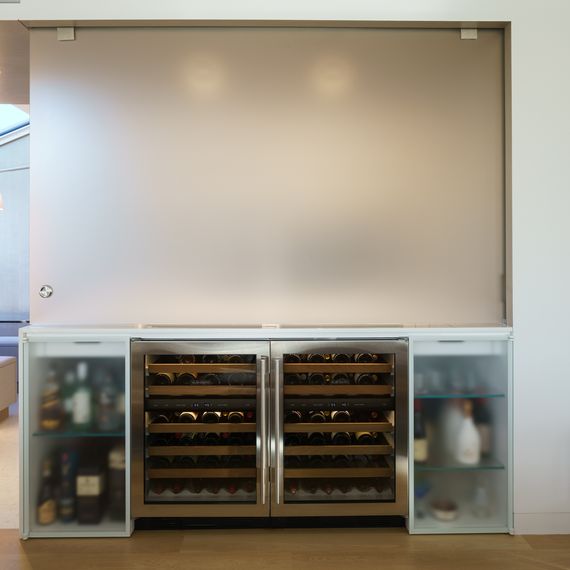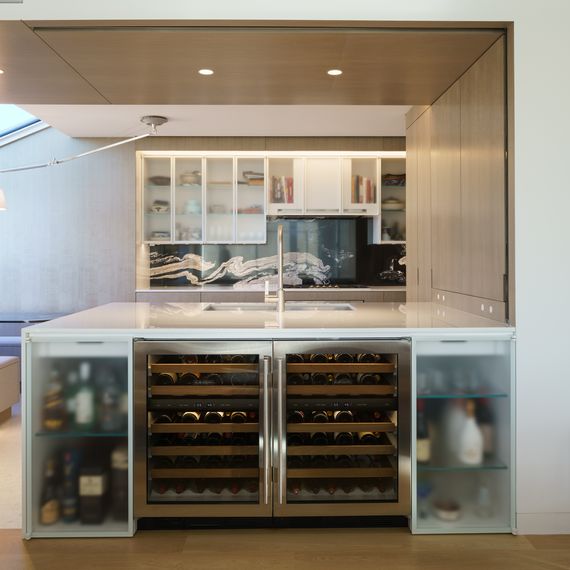 And then there was the solarium …
"These solariums were really controversial," Wood says of the cracked-plastic sunroom their clients inherited. "They were often built without a permit so we had to do a lot of research and digging to prove that this had been there before some law was passed to be able to redo it."
Grand but respectful gestures were in order to open up the space and still maintain the enfilade of rooms that all overlooked the park. "In fact, we probably could have done more," Wood says about the scope of the window renovation. "It was easier to get through landmarks than the co-op board."
The plan to bring in light and maximize the views was threefold: replace the stingy windows; maintain the separate living, dining, and family room areas after taking down walls while keeping the space airy and open; and employ materials including gold leaf and onyx.