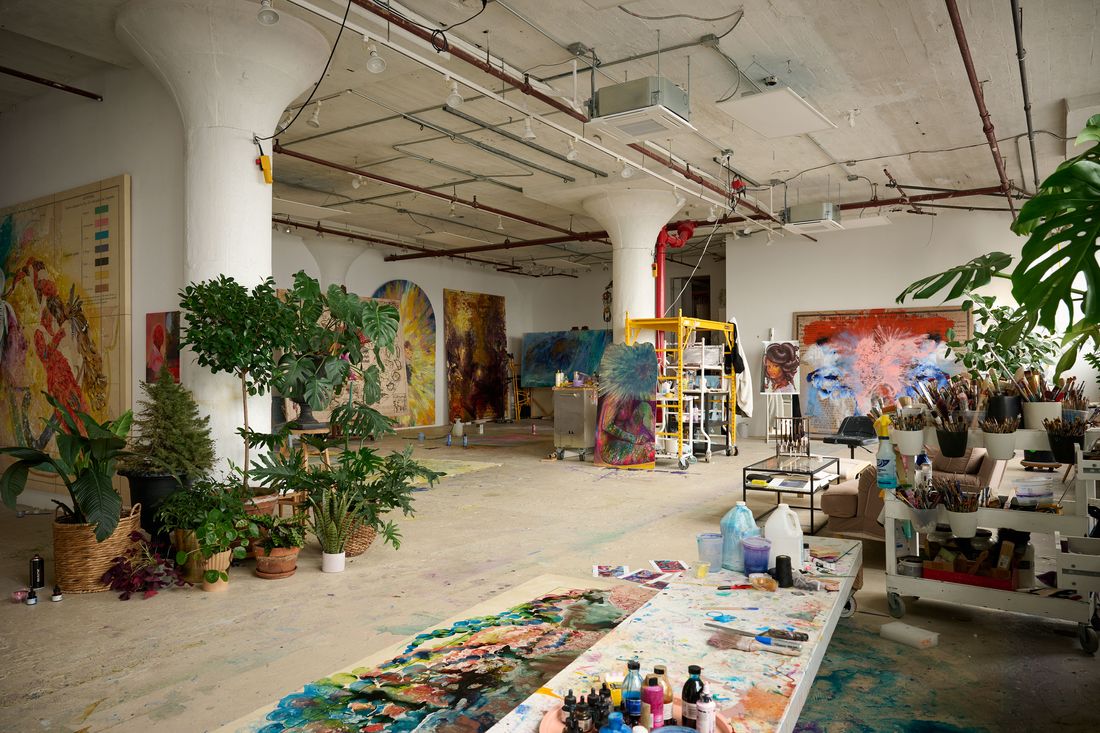 At Work:
Paintings in progress for upcoming shows at the Louisiana Museum of Modern Art in Denmark and ICA Boston.
Photo: Jason Schmidt
In 2021, Firelei Báez was about to embark on a six-month fellowship at the American Academy in Rome prior to preparing work for the Venice Biennale when her landlord in the South Bronx doubled her rent. At first she looked close by the old space, but "all the spaces in the South Bronx were more expensive than here," she says. So she looked in other neighborhoods. Many of the spaces — she looked at ten to 15 — she would have needed to do a lot of work on, "and most had very low ceilings," she says. She wanted something closer to 18 feet, "especially for the sculptural work."
When she found this 5,000-square-foot space in Red Hook in 2021, it was twice the size of her old place and it had a kitchen already. Plus "there were walls in place, and all I had to do was just tweak it to what I needed." Still, there were compromises, like the 12-foot ceilings. The tweaking entailed building bookshelves, switching out kitchen counters, building a rack for painting storage, and enlarging the doorways so her eight-by-ten-foot canvases could get in and out. The place also had pedigree: The artists Carol Bove and Jordan Wolfson had both previously used it as their studio.
Design Hunting
Art Studios Week
Wendy Goodman visits four studios in four neighborhoods.
Báez was born in the Dominican Republic in Santiago de los Caballeros (her grandfather was from Haiti originally). At 7, she accompanied her mother and sisters to the U.S., eventually settling in Miami. Her heritage has continued to inform her work, which explores the history and myths of the Caribbean diaspora. When she was little, "I went to a different school every year," she says.
She went to college at the Cooper Union, then graduate school at Hunter. But she never stopped moving. At various times, her roommates included artists Jacolby Satterwhite, Heather Hart, and Simone Leigh. She would hold down five jobs and paint in whatever space she could find. "My studio time would be from 5 p.m. to 5 a.m.," she says.
Her current loft is divided into three large studio spaces on one side with the living area on the other. Unfinished work in various stages is everywhere, and all canvases begin on the floor, where Báez has constructed a rolling platform from which she can perch and move from one area to another. Many of the canvases start with enlarged scans of old maps or book pages, a practice that started when she was a student. "I have been working on these book pages since I was an undergrad at Cooper," Báez says. "The school library would deaccession books, and as the school was about art, engineering, and architecture, it was almost a divesting of ethics and ideas, the old guard, or things that were not in sync with the present." Painting on the book pages, she says, was "almost like exploring a moment; these became an open space of a larger exploration." The canvases are eight by ten or larger. They are works to get lost in, in which Báez conjures new narratives emerging from old ones. (She shows with James Cohan and has a work currently on view as part of MoMA's "Chosen Memories" exhibition.)
"I think growing up in precarity prepared me for the life of an artist because I knew that poverty wasn't the end of things and I knew that moving wasn't insurmountable. If I had grown up with the idea that a change in my environment was the end of all things, it would have destroyed me."